SLT bags Merc athletic crown
By Lakshman Ranasinghe
View(s):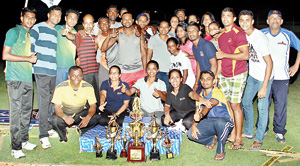 Sri Lanka Telecom with an aggregate of 418 points won the Overall Championship at the 32nd Mercantile Athletics meet concluded at the Mahinda Rajapaksa International Athletic Stadium Homagama recently. Telecom had a clear lead over the first runner-up Sampath Bank (235 points) and second runner-up SriLankan Airlines.
Sri Lanka Telecom dominated the meet by winning the championships in the Overall Masters Women's and Men's events too. Twenty eight new records were established in this year's meet was participated by a host of Indian competitors.
H. L. Lahiru Dilanka of the International Institute of Knowledge Management with a record jump of 7.22mts in the Long Jump event was adjudged the Best Athlete in the Men's category while Nayomika Jayatilleke of Janashakthi Insurance PLC won the Best Athlete in the Women's category for her Triple Jump of 10.44mts. Commercial Bank's D.M.P. Pathirage and Zain Tuan (Standard Chartered Bank) were the Novices champions in the Women's and Men's categories both excelling in the Long Jump event with jumps of 4.33m and 6.22m respectively.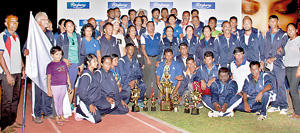 Following are the winners of Challenge Trophies with their events and performances:
Best Athletes:
Over 55: Men – K.P.M. Fernando (SriLankan Airlines) Shot Putt 9.39m; Over 50: Women – D.M.I. Karunaratne (Sri Lanka Telecom) Long Jump 3.19m; Men – L.D. Samaratunga (Gateway Hotel) Discus Throw 39.40m; Over 45: Women – K.P. Priyanganie (Sri Lanka Telecom) 100m 14.72secs; Men: – M.R.R.S. Mawela (SriLankan Airlines) High Jump 1.60m; Over 40: Women – S.D. Hemanthi (Colombo Dockyard) 1500m 5:37.87secs; Men – H.J.S. De S. Siriwardene (Airport and Aviation) Long Jump 5.85m; Over 35: Women – W.A. Sujeewa Dilrukshi (MAS Intimates Slimtex) Long Jump 3.79m; Over 35: men – Nuwan Vidanagamage (Sampath Bank) 110m Hurdle 15.35secs; Over 30:-Women – Narmadha Gayathri (SriLankan Airlines) Long Jump 3.88m; Championship Category: Women – Nayomika Jayathilake (Janashakthi Insurance) Triple Jump 10.44m; Men – H.L. Lahiru Dilanka (International Institute of Knowledge Management) Long Jump 7.22m ) (New meet record);; Novices: Women – D.M.P. Pathirage (Commercial Bank) Long Jump 4.33m; Men – Zain Tuan (Standard Chartered Bank) Long Jump 6.22m; Indian Best Athlete: Women – Olivia Alice Roberts 100m 14.52secs (new meet record); Men – Shelton D' Costa Discus Throw 38.75m; Best Athlete: Women – Nayomika Jayathilake (Janashakthi Insurance) Triple Jump 10.44m; Men – H.L. Lahiru Dilanka (International Institute of Knowledge Management) Long Jump 7.22m;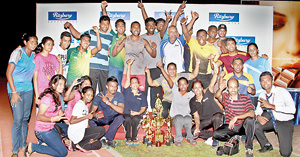 Overall Masters Champions: Women – Sri Lanka Telecom); Men – Sri Lanka Telecom; Overall Championship Category: Women – Janashakthi Insurance); Men – International Institute of Knowledge Management; Overall Novices: Women – MAS Intimates; Men – Sampath Bank; Overall Champions: Women – Sri Lanka Telecom; Men – Sri Lanka Telecom; 32nd Annual Athletic Meet Champions: Sri Lanka Telecom (418 points); 1st Runner-up – Sampath Bank (235 points); 2nd Runner-up – SriLankan Airlines (166 points)