Rugby rumbled at Longden Place
By Zainab Hassen
View(s):
Yesterday at the CR&FC ground proved to be quite a treat to all rugby enthusiasts and past ruggerites as the Royal Rumble came to town with their catch line 'reunite the pack and relive the wonder years' and according to the kaleidoscope of players of all ages and sizes who were present a brilliant day of rugby.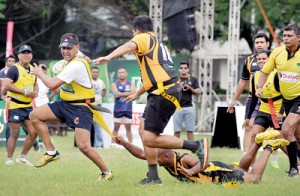 As the gloomy clouds shaded the green fields of Longdon Place the event was in full swing with the crowd jamming to the hits of yesteryear and the free flow of thirst quenches over every table. The first game kicked off with Ananda and Joes Blues with the Minister of Telecommunications Harin Fernando gracing the field. The first match was won by the Ananda with a narrow escape from the jaws of the Joes team 10-5. The next match played host to the international team that travelled all the way from Pakistan and they went against the formidable team of Zahira but failed to convert all that pressure into points. Zahira came on top with the scoreboard reading 10-5.
At 3.00pm Trinity and Wesley locked horns and the heated game ended with a tie, followed by Joes blues trampling over Old Bens to secure a convincing 30-0 win. After a bit of a break where the crowd fed their jolly mood with more quenches and food from the plethora of stalls available all over the park.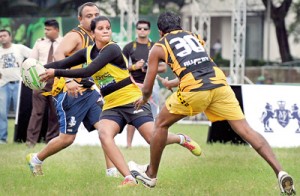 The rugby rumble continued and the first Over-40s match was played against D.S.S vs Lanka Lions Dubai where the Emiratis stamped their supremacy with a 15-5 win. A quick switch to the younger lads, the Lanka Lions from Dubai and Qatar had a good day with the Lanka Lions from Qatar beating the Trinity Lions from Kandy 10-0. Prior to that match the Science old boys thrashed the Wesley Double Blues 25-0. A few notable players would be past S. Thomas' superstar Devin Jayasinghe, the undefeated Science team also spouted out two ex-Tuskers Amila Chathuranga, who played for Sri Lanka in 2009, and Tuan Shamrock, who played for Sri Lanka in 2011. The Royalists had quite a young team employing the fresh legs of boys who recently left college. The Over-40s team Velocity had a few stars from back in the day, Ravindra Wakedapola who represented the country in his young days.