Past athletes to do a special lap
View(s):

A dozen athletic greats of yesteryear met last week at the auditorium of the Director General of the Ministry of Sports, to officially launch the National Champions of Sri Lanka Athletic (NCSLA) spearheaded by former national long jump and triple jump champion Gregory de Silva. The inaugural meeting was attended by De Silva, who is the founder General Secretary, former top athletes A.S.M. Khan, Wimalasena Perera, Janendra Fernando, Prince Barthelot, Surangani Wijendra, N.G. Wimaladasa, Mallika Sarathchandra, P.N.L. Gunawardana, Dilema Peterson, K.S. Srinath and Shanthi de Abrew. The President of the NCSLA, the long distance great S.L.B. Rosa could not attend the meeting due to other commitments.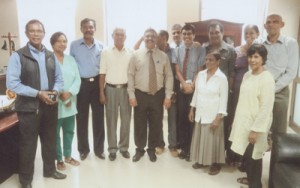 The meeting overall was more of a kind of reunion for the former greats of Sri Lanka athletics, who had competed together under the Lion flag globally or against each other at national events. Though they were rivals on track and field they were sporty enough to share their thoughts off it and continue with true amity. But now spending the latter stage of life, the group spoke more about the sport than of themselves.
"We should try to make our group strong with more members and contribute towards the development of Sri Lanka athletic. This is a long overdue but timely move by Gregory (de Silva) and we all should thank him for getting us all back together. Our objective should be to support each other while supporting the promising young athletes of Sri Lanka, who will take forward the legacy of Sri Lanka athletic," stated a vociferous A.S.M. Khan, who was enthralled by seeing his former track and field buddies.
At the meeting the inaugural set of members, who form out the Executive Committee of NCSLA unanimously approved their constitution which includes 10 clauses. De Silva stated that the NCSLA would open the doors for membership and will officially make its launch very soon.
"We met the top sports administrators of the country and got their blessings. We already had a few rounds of discussions before conducting our inaugural Ex-Co meeting. The basic ten-clause constitution was accepted by all and also was the logo. But it is clear that the constitution will be expanded in time to come. This could be the beginning of a long and fruitful journey ahead for Sri Lanka athletics," De Silva said.
To date 15 former champions ranging from the eras of the 1950s to the 1980s have obtained membership and it will be open for former athletes who had placed first at any track and field event and represented Sri Lanka internationally at top level. Those who were placed second or third could apply for membership as associate members according to De Silva. The NCSLA officials are eagerly expecting more to join in the group and those interested could contact its General Secretary on 0775639359 or by email on shirogreg@aol.com with regard to membership. - NA