Inter-company netball from Oct 17
View(s):

All plans have been set afoot to host the annual Inter-Company Netball Championship, conducted by the SriLankasports.com, on October 17 at the St. Joseph's College Indoor Stadium in Colombo. Inaugurated in 2006, the tournament held for establishments reached a new pinnacle after being hosted for four consecutive years.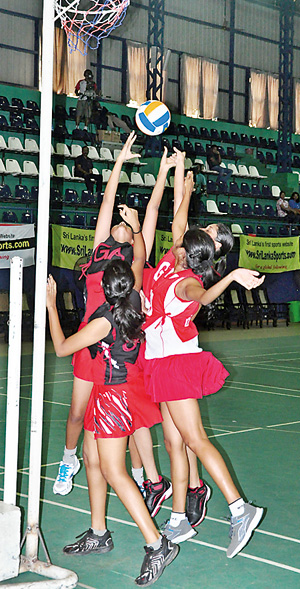 "Since 2010 the Inter-Company netball tournament reached the pinnacle in Sri Lanka with its innovative concepts and approach. It has acclaimed the much awaited Inter-Company Netball Championship in the country with the demand and the requests of the netball enthusiasts," stated Hishan Welmilla, the head of SriLankasports.com, the country's first sports website.
The tournament will be held in two divisions according to its current structure. 12 teams each will be entertained in each division totaling the total number of teams to 24. Apart from the female event the organisers will conduct a Mixed category, where only eight teams will be given the opportunity to compete.
The unique netball championship has adopted the seven-a-side rugby format where each game will be played with two halves, each consisting seven minutes with a one-minute break. After the first round the categories will be separated into Cup, Plate, Bowl and Shield according to the placing of the division.
Last year Hatton National Bank clinched the Division One title while LB Finance took away the Division Two championship. Nations Trust Bank won the Mixed Division championship. The third and fourth places of the Division I were won by HSBC and Ceylon Biscuits respectively. Brandix and Amaya Lake won the third and fourth places of Division Two respectively while Nations Trust Bank became runner up in the Mixed Division.