Haturusinghe as head coach?
Likely to take over before next month's Windies tour
View(s):
Former Sri Lanka Shadow Coach Chandika Haturusinghe is likely to join Sri Lanka cricket as its Head Coach before next month's West Indies inbound tour, the Sunday Times reliably learns.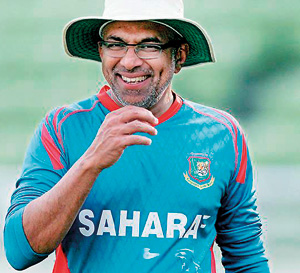 The move to get Haturusinghe, who is at present coaching the high-riding Bangladesh team, was in the air for the past few weeks and it gained momentum after the incumbent Lankan coach Marvan Atapattu tendered his resignation to the Lankan cricket authorities, and it was accepted.
A senior SLC official speaking on condition of anonymity said, "Negotiations have been going on for the past few weeks and it is very likely that Haturusinghe would join our ranks before the West Indies tour. With the present team in this parlous state we need some responsible person to guide them at this juncture."
He also indicated that the authorities were also having discussions with former Sri Lanka coach – South African Graham Ford.
"I am sure there would be someone taking over the position very soon," he said.
SLC Interim Committee chairman Sidath Wettimuny speaking on the subject told the Sunday Times "Selecting the proper coach is our top priority and we are working on that. Lots of coaches have shown interest in the job. At the same time there may be problems in the dates because those who are already in employment may have to make certain arrangement before they move.
"We may not be able to close in on an individual before the tour of the West Indies and until such time one of our local coaches could handle the side. For instance Sri Lanka head of coaching Jerome Jayaratne had all the qualifications to do the job, maybe he can handle the side till we find the right man to fill in the post of head coach of Sri Lanka cricket".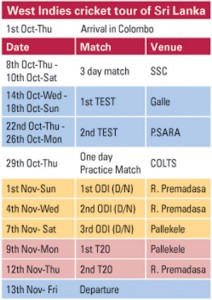 Haturusinghe, a product of Veluwana and Ananda College Colombo, Chandika Haturusinghe retired from first-class cricket at the end of the 2004–05 season, and Twenty20 cricket at the end of the following season.
Soon after, he took up the position as coach of United Arab Emirates in December 2005 and served in that position for one year, before taking up the responsibility to coach the Sri Lanka 'A' team.
In 2009, he was named senior assistant to Sri Lanka's national coach and named 'Shadow Coach' of Trevor Bayliss. However, his contract was terminated following a disagreement with the then Interim Committee Chairman, D. Somachandra de Silva, after he returned early from a Lankan tour of Zimbabwe.
Even at that time the then Sri Lanka captain Kumar Sangakkara made a fervent appeal to the authorities to retain him, but it was of no avail. Even on a later date when the position was vacant once again Sangakkara went on record saying, "My preference has been publicly known to everyone. I think we have a great opportunity to have a completely Sri Lankan coaching unit. That would be amazing if we can do it. We had candidates of the calibre of Chandika Haturusinghe, who is now the assistant coach at New South Wales, which is a great loss to us. He made an amazing contribution to our cricket and he is an extremely capable coach."
After losing the Lankan job, Haturusinghe took up permanent residency in Australia. He was appointed assistant coach of New South Wales in September 2011, on a two-year contract. When senior coach Anthony Stuart was dismissed from the position in December 2012, midway through the 2012–13 season, Haturusinghe was named acting coach for the remainder of the season. Trevor Bayliss was appointed coach of New South Wales for the 2013–14 season, with Haturusinghe remaining as senior assistant and also taking over from Shane Duff as coach of the Sydney Thunder in the Big Bash League.
In May 2014, Haturusinghe was named as coach of the Bangladesh national side, replacing Shane Jurgensen, who had resigned following the 2014 ICC World Twenty20. Right now Bangladesh cricket is experiencing a wave of success under Haturusinghe's guidance At present the Lankan cricketers and the training staff are on a two week break and are scheduled to begin their training for the forthcoming West Indies tour on September 20.