Appreciations
View(s):

He lived, tried new things, invented and tested
Dr. Ray Wijewardene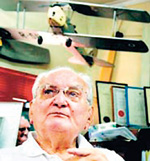 "I am a good aircraft designer!" This must be the only egotistic sentence I ever heard from him. He elaborated, "I say this with certainty, because all bad aircraft designers are six feet under, and are pushing daisies!" Two decades after our first encounter, the good aircraft designer too left us, courtesy 'natural causes' and not design flaw.
He left us impoverished as is usually the case when the exceptional cross over to the great beyond. And yet, it is also true that he left us empowered; perhaps even beyond our ability to comprehend right now. This is what a life of close to nine decades of principled engagement, gentleness and commitment to better the lives of friend and neighbour produces. He showed us, by the articulation of idea and its application, that the human race does have access to a clear path to sustainability.
My first encounter with Dr. Ray Wijewardene was in the 1990's when I was an eager undergraduate waiting for the guest lecturer on Engineering Design at the University of Moratuwa. His message was clear: if you are not going to use the product you designed or if you are not even prepared to test it, never dump it on someone else! This is why he could boast about being a good aircraft designer. He made aircrafts, gliders and gyrocopters and most importantly flew them!
His first flight had in fact been a disaster. This was in the 1920's and the place the beautiful building which now houses the USAID. A larger number of Buddhist monks had assembled there for an almsgiving, leaving a heap of umbrellas in the verandah. Young Ray, just like the old Ray, had ideas. He had grabbed as many umbrellas as he could, climbed the stairs to the uppermost balcony and tried to parachute his way down to the garden below. There was a thud loud enough to disrupt the almsgiving. Looking back, that's what he did all his life. He lived. He tried new things. He invented. He tested.
He had what some might say were abstract notions about the world and human beings. He once drew the attention of an audience to the question of sustainability. He explained only two types of species have growing populations in this world – insects and humans. Whilst insects have instincts deeply rooted in the interest of the 'community', humans have only self-interest, he pointed out.
He insisted that until and unless we give up our individualistic agendas there is nothing but darkness at the end of the tunnel of evolution. His vision for a sustainable future for the inhabitants of the planet was based on the Asian wisdom rooted on frugality and interdependence. He had clear definitions for needs and wants. He once thundered "we, all of us can live happily, only if we are satisfied with our needs". He was not living in a romantic communist world, where wealth was equally shared. He was referring to the history of human civilisation in our part of the world going back to many millennia with little or no burden to other species that also inhabited the planet.
There are many things we could learn from this great human being. Let me mention what I consider to be the most important.
He was about action. About doing. He did many things. Far more things than an average engineer would in a lifetime. From the ill-fated parachuting adventure to his unforgettable river journey from Getambe to Trincomalee (in a discarded Aluminum pipe canoe), from flying home from the UK in a rickety aircraft with the only navigation support being a pipe to see the Northern African desert below to bungee jumping at 79, Dr. Ray was a 'doer'. While we, his followers, wrote thousands of pages of technical and policy papers on biomass development he was quietly running a 3.5 kW gasifier on his coconut plantation.
On another occasion, Indika Gallage of Enerfab was demonstrating a fuel wood chipper, feeding stick after stick. Ray, impressed by the performance pointed out to a larger branch of a Casuarina tree and mischievously suggested "can we put that in?" They tried. The machine came to a grinding halt. This was followed however with a lively explanation of how a tiny motor can store bits of energy in a monstrous flywheel and deliver that energy in a split second to tear up even the toughest piece of wood. His fearless action gave rise to the development of a home grown fuel wood process technology, capable of processing a large volume of fuel wood in a very short period of time with the least possible energy expenditure.
He must have been the first to try out an electric car in Sri Lanka.  His fascination with action knew no bounds. He excelled in sports and painting, and I am told music as well. When he was in Mexico for the Olympics some locals had dared him to enter a bull ring. He was all of a sudden quite the willing matador!
He told us "I was in the wrong place at the absolutely wrong time. A charging bull headed towards me. I didn't know what to do." He survived and went on to be placed fourth in a sailing event.  This second remarkable personality trait was his analytical capability, which took him to the root causes of problems from where he unearthed quite unorthodox solutions.
Once, being privy to an undergraduate design project to modernise the rubber tapping process, he is supposed to have demanded the reason for the approach taken by the students to modify the tapping knife. Dr. Thusitha Sugathapala, supervisor of the project tried to explain that it is where the problem lay. Dr. Ray had gone much deeper into the issue. Why do you need a knife? To cut open the bark. Why do you want to cut it open? To bleed out the latex. Isn't there a biotechnology to pump out latex without cutting open the bark? The session had gone deeper into the root causes, leaving the students and everyone who were involved in deep thought about a rubber tree which will yield latex without getting damaged by a tapping knife, in rain or sunshine.
Another of his arguments, about water being used (misused?) as a means of weed control and short cycle energy from biomass displayed his free thinking and analysis of root causes of problems. His many such investigations and lively discussions led so many young engineers to think deep enough to dig out root causes of problems.
Above all, the finest quality of this great Sri Lankan was his humbleness. He was self-effacing to a fault. Once I was approached by the good editor of SLEN and some other important council members of IESL to coax Dr. Ray to accept a lifetime achievement award. When I went to see him he was with a group of young engineers, discussing the future of the company they were involved in. I meekly approached him and told him about the proposition. He shot back "Muhude inna loku malu kawda?" (Which are the bigger fish in the sea?) – I answered thoru, moru, thalmassu (seer, sharks and whales). He thundered "ehenam haal massa mokotada?" (Why chase the sprat then?). I tried to explain about his services to humankind and Sri Lanka and how the Institute of Engineers of Sri Lanka (IESL) would be honoured by his acceptance of the award. He said "Harsha, the greatest honour you can bring me is by out-performing me! Go back, work even harder, bring my countrymen out of poverty, you will feel my happiness, wherever I may be when that happens."
He belonged to an influential section of society and to a generation of happier citizens of this country. He would tell us endless stories about how the Beira Lake was bordering their neighbourhood during his childhood. Whether the Beira Lake was cutting though the city to reach their compound or they had such vast extents of land we don't know. However influential his family and well connected he was, he never exhibited even a trace of snobbishness. He was the bridge. To most of us, he was the last bridge which linked us to the elite as well as to people of a bygone era. He belonged to a group of people who came from a happier, less stressful country. His loving kindness to all of us saw many down trodden people getting the attention due to them.
Of all the good things he did for us, one element of complex process of problem- solving out-shines the others.
He empowered us to think hard, discover root causes of problems, design a variety of solutions based on our values and to fearlessly and without egotistic refrain to self-evaluate solutions and most importantly 'do it as if it is meant for you' without vacillation and lack of commitment. If we really stick to this process, our extrication from poverty and unsustainable lifestyles could be nearer than we think. I am sure that all of us who were fortunate to be in his shadow, even for a brief moment will feel his happiness… from wherever he may be. I know all of my dear colleagues in the engineering fraternity will join me to say thank you for the life well lived and happiness he gave us and also to wish him the supreme bliss of Nirvana.
-Harsha Wickramasinghe
---
A simple, gracious lady Shiranee Rubera
Shiranee Rubera
It was an afternoon sometime in the latter part of 1969. I had joined Lever Brothers (as Unilever was then known) and was Product Manager, Toilet Soaps in the Marketing Division. The advertising agency handling Levers products at the time was J. Walter Thompson. One afternoon, keeping to a prior appointment, a saree-clad lady walked into my cubicle carrying a few artworks pasted on fairly large size white thick art board and presented the material for an advertising campaign.
That was my first meeting with Shiranee Rubera, one of the two designated Agency Account Executives to coordinate with the product managers. That association led to a family friendship which lasted over four decades until her departure last weekend. Being away from Sri Lanka, after I got a SMS from her daughter Renuka, my mind went back to those early days.
Following severe restrictions by the government after 1970, firms cut down their advertising budgets which adversely affected the advertising agencies. Thompsons decided to close shop but the senior management staff was offered the facilities to continue if they so wished. These included the premises they had rented and the furniture. The senior managers discussed their plight with the major clients and almost all assured that they would continue to work with them if they formed a new outfit. 'Thompson Associates Limited' (TAL) was thus born and among the Board members was Shiranee.
I moved over to Ceylon Tobacco in 1971 by which time Shiranee had become a family friend. Whenever she dropped in at my place, my wife joined and we discussed Peradeniya campus days (both of us were senior to her), gardening and other matters of interest.
Two agencies were handling CTC's product advertising at the time and TAL was selected to do corporate advertising when CTC launched a planned programme of public relations activities – CSR in today's terminology. I handled both marketing and corporate communications. Unlike today, marketing plans and advertising briefs were 'short and sweet' and were minus the jargon used in text books. It was more through discussion between the agency and the client that campaigns were planned. Shiranee continued to coordinate the work and played a pivotal role in formulating ideas, and planning and executing PR activities.
After 1977 CTC diversified into new areas with the accent on exports. CTC started an orchid plantation at Kalagedihenaand set up a state-of-the-art lab. The company also developed houseplants for export.When CTC decided to open a shop to sell orchids at the office premises of the newly formed CTC Services at Horton Place, Shiranee's contribution from suggesting a name for the shop (we picked 'Fern & Flower') to planning an effective publicity campaign was invaluable.
Shiranee led the agency team in planning campaigns to create awareness of CTC PR activities ranging from prevention of soil erosion in tobacco growing areas, tree planting campaigns, to sponsoring the annual Sinhala drama festival, and musical evenings to promote new talent. The agency had a vital role to play both in advertising as well as event coordination.
CTC's decision to go into the insurance business threw up a big challenge to advertising agencies. We invited four agencies to present campaigns. The selection was a tough one. From CTC we had a high powered team to evaluate the presentations. With CTC allying with Eagle Star, BAT's insurance arm, we selected 'CTC Eagle Insurance' as the name. Though the eagle was a powerful symbol to be used in advertising, we wondered how people would react since it was considered a ferocious bird. Shiranee guided the TAL team and the presentation by creative director Upali Attanayake was so effective that they won the account. TAL's Sinhala campaign proved to be most effective. For 25 years Tal has remained the agency for the company though CTC Eagle changed hands nearly half a dozen times.
Over the years TAL has seen changes in the top management. Directors left to set up on their own and Shiranee with colleague Anan Wijesuriya continued. While inviting a couple of persons to join the board, Shiranee's daughter and Anan's son Keith were groomed to take over. They watched the youngsters taking TAL forward.
In what was looked upon as a 'glamorous industry', simplicity was the hallmark of both Shiranee and Anan. After the latter passed away, Shiranee continued to head the agency but gave a free hand to the juniors to proceed. Meanwhile, she got into social service and as president of the Lions Club of Colombo Oasis twice, she planned and executed several programmes to help the needy. Having launched a project to upgrade facilities in a ward in the Mental Hospital, she saw to it that the project continued even after she finished her term of office. She personally spoke to doctors and arranged several eye clinics at several outlying areas.
In the latter years of her life, she joined the team of leaders at Sumithrayo. She was indeed a caring friend to those who sought her counselling. She did delegate work to others but always followed up at a personal level.
She preferred not to be in the limelight at ad industry activities but contributed with her knowledge and experience. Seniors in the industry valued her contribution. She was unanimously elected as President of the Sri Lanka Chapter of the International Advertising Association in 1997. It was recognition of her seniority and ability to represent the industry meaningfully.
Her family will miss an affectionate mother and grandmother. Her friends will miss a simple, kind-hearted and fine human being.
-D.C. Ranatunga