Thou too Sirisena: The Rajapaksa way in New York?
View(s):

Is Sri Lanka's Permanent Mission to the United Nations in New York getting ready for another jumbo sized delegation to attend the UN General Assembly (UNGA) sessions?

So the preparations seem to suggest. An advertisement in the mission's official website has called for quotations for hiring of vehicles from September 20 to October 4.

Among the fleet the mission is seeking are: Luxury sedans (four seater/black), Lincoln Sedans (four seater/black), Benz Sedans (four seater/black), SUVs Suburban (seven seater/black), Passenger Van (14 seater), Mini Vans (14 seater), Cargo trucks/vans and Mini Buses (15-20 seater and 50 to 75 seater).

The mission not only wants these vehicles that are manufactured after 2012 but also says, "chauffeurs must be exceptionally courteous, knowledgeable of New York, and fluent in English language. They should be attired in lounge suit."
President Maithripala Sirisena is due to attend the UNGA sessions which begin on September 15. Pope Francis is scheduled to address the assembly on September 25.

Judging by the passenger capacity of the fleet that is being sought the question being raised in Government circles is whether there would be a repeat of the past years with a delegation of nearly 100. In the past years, Jumbo-sized delegations from Sri Lanka have flown with former President Mahinda Rajapaksa when he attended the UNGA sessions.

They were accommodated in choice New York hotels, including the Waldorf Astoria, a pearl of the Hilton Hotel chain, provided limousines for travel and even issued with mobile telephones at tax payer's expenses. They ran thumping bills calling their homes in Sri Lanka and some of them watched blue-films, or X-rated adult movies on Sri Lankan tax payer's expense.
---
Modi tweets CBK meeting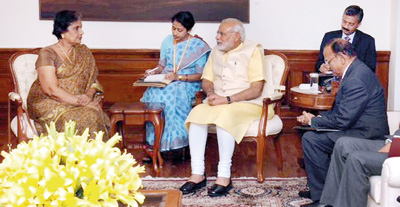 "Met former President of Sri Lanka, Mrs. Chandrika Kumaratunga," tweeted Indian Prime Minister Narendra Modi yesterday with this photograph.
Ms. Kumaratunga was in New Delhi to attend a  religious conference.
---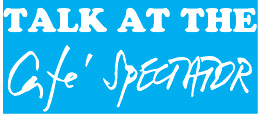 Flares over the Blairs
Cherie Blair got up close and personal with Sri Lankan nature on a recent trip to the country – perhaps a little too "up close and personal" for comfort.  The wife of former British Prime Minister Tony Blair was staying with her family at the eco-friendly Ulagalla Resort in the ancient city of Anuradhapura when she slipped and fell into an ornamental pond, reports the Daily Mail newspaper.
It reports a guest as saying: "Cherie didn't injure herself, but looked slightly foolish. It was the talk of the hotel." Mr. and Ms. Blair were in Sri Lanka on holiday with their eldest son, Euan, his wife and a friend. They also spoke at two different events — Mr. Blair delivering the Lakshman Kadirgamar Memorial Lecture and Ms. Blair at a Bar Association seminar.
The British newspaper took a swipe at the pair, saying that the Blairs and their two protection officers were put up at the luxurious hotel — and that, "The multi-million-pound annual bill for Blair's protection officers, and their expenses, is footed by the British taxpayer."
---
Stitch in time to save Yahapalanaya from men like these
Reputed local tailoring firms had a windfall after the August 17 parliamentary elections.
Most parliamentarians who felt it was not too comfortable to be in lounge suits chose to stitch the national dress.
One seasoned politician, not a Johnny come lately, was one of them. When his order was ready, he turned up at the tailor shop. The man was told that the cost was Rs. 29,500. He lost his cool and shouted at a sales assistant that he wanted a discount.
The trembling salesman rang his boss. "Give him a tie and a vest free of charge but collect the fee," the boss declared. So the salesman rushed to pick up the vest and the tie and place them in a polythene bag.
When he handed over the gift, the politician parted with the money. It was only Rs. 24,500. The salesman pleaded "Sir, Sir, what about the other five thousand rupees?" "Tell your boss that is all I have," said the politico as he walked out of the tailor shop. The man would not only wear the new dress but will also preach yahapalanaya (good governance) with that, said the irate salesman. Not a very Christian thing to do, he added.
---
Diplomat promotes his hotel at home
At least for one Sri Lankan diplomat in a European capital, promoting the country seems to come with other important chores.
The man is busy buying up kitchen equipment and other items for a hotel he has set up in the hills. He is busy shipping them regularly.
That is not all. Some would-be tourists are also being told that if they want their money's worth during a trip to the paradise isle, the best place was his own one.
---
Ravi plans revolutionary, futuristic budget
Hours after Finance Minister Ravi Karunanayake took his oaths, there were well-wishers calling at his Ministry.
One of them asked when the UNFGG's first budget would be presented. "It will be on November 14," declared Mr. Karunanayake who hurriedly added "wait and see. That will be a revolutionary and futuristic one."
---
She came in a dressing down
They were there in their ceremonial mess kits for the formal sit-down dinner to mark their anniversary.
A few rounds of drinks circulated as the chief guest and the lady, who were invited, arrived.
The embarrassment of some of the top-rungers who arranged the event showed in their faces. The chief guest duo had come with an uninvited guest, their daughter. If that was not much cause for concern, what the lassie wore — denim jeans and a T-shirt — appeared even more upsetting.
They had to go through the formal dinner with dress sense and etiquette thrown to the wind.
---
Sarcasm boiling over
The use of the hangars at the Mattala Mahinda Rajapaksa International Airport (MRIA) to store paddy was one of the issues raised at the inaugural sessions of Parliament on Tuesday. JVP leader Anura Kumara Dissanayaka, who raised the issue of the difficulties faced by farmers trying desperately to get a fair price for their paddy stocks, said that before the Government went ahead and stored surplus stocks of paddy at the airport, it should ensure that the airport could not be put to any other use.
UPFA MP Wimal Weerawansa, who was angered at the use of the Mattala airport, had another suggestion. "Parliament sits for only eight days a month, why don't you use it to store paddy during the rest of the days," he said with sarcasm oozing.
---
Dilan run out
An almsgiving in Kandy in memory of his beloved mother prevented UNP Chairman Malik Samarawickrema from taking his oaths as a Minister on Friday.
He was to be sworn in as the Minister of International Trade and Investment Promotion. He will take his oaths next week.
Insiders say the post of Deputy Speaker was also offered to Dilan Perera who opted out. He has also not been given a ministerial position.