Vijayaramaya rediscovered
View(s):

An ancient archaeological site of historic value was discovered by the Department of Archae-ology in the Anuradhapura District this week. Located a mile to the north from the famous Abhayagiri Vihara, the new site named 'Vijayaramaya' was found in a thick jungle by excavators. The 23-acre Vijayaramaya consists of ruins of a broken-down stupa, a shrine room, a poya house, halls and two ponds that date back hundreds of years.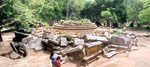 Conservation work at the site is being conducted by the Central Cultural Fund (CCF) under the guidance of the Archaeological Department. Director in charge of Central Cultural Fund's Anuradhapura project, Prof. T. G. Kulathunga, said the Vijayaramaya had been damaged by robbers.
He added that during the British era, a Commissioner in the Ceylon Civil Service – H.C.P. Bell- in a book written by him had stated that this particular site had been vandalised by treasure hunters. Prof. Kulathunga added that the CCF hoped to complete conservation work at the site within this year.