The public relations rip off to US 'lobbyists'
By Namini Wijedasa
View(s):
More than Rs. 872 million released by Central Bank Governor Cabraal on recommendation of Weeratunge and Sajin Vaas
American federal investigators probe lobbyist Zuberi and dubious companies; subpoenas possible on Lanka's ex-VVIPs
The payments were so covertly done that neither Cabinet nor Parliament knew of them. As with many other transactions, the cabal that struck deals for key members of the previous regime played the cards close to its chest.
But in July-August 2014, the Sunday Times exclusively revealed that the Sri Lanka Government had signed up with several lobbyists and public relations consultants in the United States through a go-between named Imaad Zuberi. This newspaper has now obtaind documentary proof of money transfers, not only to a company that Mr. Zuberi claimed to own, but to his personal bank account.
A total of US$ 6.5 million (Rs. 872,806,569, at prevailing rates) was released by the Central Bank of Sri Lanka between May 9 and September 10, 2014. None of it went through the prescribed channels —that is, via the Foreign Ministry and Sri Lanka's diplomatic mission in Washington, DC.
The Central Bank paid out the money on the written instructions of Sajin de Vass Gunawardena, then Monitoring MP to the Ministry of Foreign Affairs. Ajith Nivard Cabraal, then Governor of the Central Bank, and Lalith Weeratunga, then Secretary to President Mahinda Rajapaksa, recommended the disbursements in writing. The Sunday Times saw emails that validated this. Mr. Vass Gunawardena and Mr. Cabraal used their personal email accounts for the correspondence. The former's is sajinvg@gmail.com and the latter's is nivardcabraal3@gmail.com.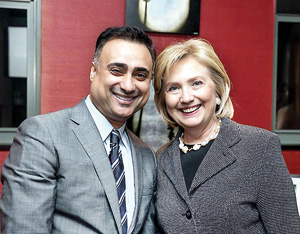 We shared evidence of these wire transfers with the US news magazine, Foreign Policy (FP), which published an extensive story on Mr. Zuberi on Friday. Bill Allison, senior staff writer, assisted our reporting by providing information about an ongoing US Department of Justice investigation into Rajapaksa assets in America.
The money allocated under this arrangement was only a fraction of what the former administration lavished on lobbyists and public relations agencies. Most were in the US but PR firms in Britain and India were also hired. As the Sunday Times reported in 2014, millions of dollars made their way into various accounts. Domestically, all decisions were taken behind closed doors. Those whose names appear in the paperwork, however, are Mr. Vass Gunawardena, Mr. Cabraal and Mr. Weeratunga.
A quick search of the FARA (Foreign Agents' Registration Act) register reveals contracts between 2008 and 2014 with Liberty International Group, LLC; Girgenti, Sienna Brielle; Brownstein Hyatt Farber Schreck; Majority Group, LLC; Burson-Marsteller, LLC (Washington, DC); Thompson Advisory Group, LLC; R&R Partners, Inc; Beltway Government Strategies, Inc; Bell Pottinger Communications Ltd; MSLGROUP Americas, Inc; Hedges Strategies; Madison Group, LLC; Square Patton Boggs, LLC; Levick Strategic Communications, LLC; Cranford Johnson Robinson, Inc; and Vigilant Worldwide Communications, LLC.
Despite all this, the Rajapaksa Government's relations with the West, particularly the United States, rapidly deteriorated. No cost/benefit analysis has been done of any of these agreements. For instance, it remains unclear what Mr. Zuberi and his WR Group provided Sri Lanka in return for such hefty outlays of public funds. There has certainly been no auditing.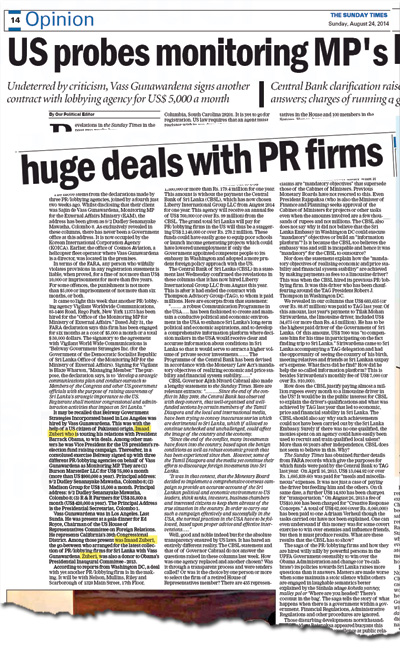 It has been possible to track some of the monies; but the bulk of it remains unaccounted for. When questioned by FP Magazine about what he spent it on, Mr. Zuberi replied, vaguely: "There were many pieces to the SL project and various entities were involved. How to allocate what to whom may have been complex at the outset but if there were any errors they were corrected."
Authoritative Government sources, including a senior minister of the former administration, confirmed that only a small group of Presidential confidants knew anything at all. Mr. Vass Gunawardena was repeatedly flagged as the agent who brokered these deals.
When the Sunday Times contacted Mr. Cabraal, he requested that our questions be texted to him. Asked via short message whether Imaad Zuberi had delivered what he promised, the former Governor of the Central Bank maintained a stoic silence. A request for an appointment to see him also went unanswered.
"I heard that they were not happy about the performance of this company because they had not done what was promised," the former minister said, requesting anonymity. "So they changed the people. They hired someone else." The deal with Zuberi ended abruptly in September, 2014, just four months after it was initiated.
However, considerable funds had already flown out of Sri Lanka in installments, unbeknownst to Cabinet or Parliament. The first tranche of US$ 3,500,000 (Rs. 469,972,768) was deposited on May 9, 2014, into Mr. Zuberi's Bank of America account. The reason: "Settlement of invoice per contract-Sri Lanka project".
On paper, the transaction is far from straightforward. An invoice for US$ 3.5 million was first issued by Renee Wu, Mr. Zuberi's wife, on a letterhead bearing the name Avenue Ventures. This is neither a lobby firm nor a PR company. Mr. Zuberi's Linkedin profile calls it "a boutique private equity and venture capital firm which also specializes in advisory (privatization, international joint-venture, cross-border transaction and valuation)". He reportedly closed over US$ 15 billion in transactions at Avenue.
This curious invoice, dated May 5, seeks payment for the "Sri Lanka project May 2014 invoice per contract". The beneficiary is named as Imaad Zuberi. Four days later, the Central Bank of Sri Lanka transferred the money.
A receipt was then issued, not by Mr. Zuberi or by Avenue ventures, but by a third entity called WR Group. It was signed by a man named Mark Skarulis as Director. Significantly, WR Group had not enlisted under the Foreign Agents' Registration Act (FARA) as mandatorily required by US law. It did not disclose its contract with the Sri Lankan Government, nor its earnings thereunder.
Mr. Zuberi received the first payment from WR Group in May 2014. It was sent by the Central Bank. But he did not register under FARA within the stipulated ten days. New information indicates that the WR Group might not even have existed at the time the contract was signed. According to investigations, the company was incorporated only on July 14, 2014, in Washington, DC. (Just three days later, the Cental Bank finally started depositing funds into the WR Group account.) Another WR Group registered in California was a business entity Mr. Zuberi's wife had filed for in 2008 and which lapsed in 2013.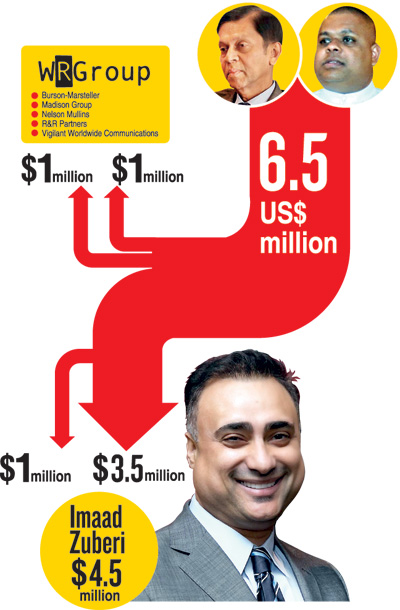 This could be why the Central Bank deposited two advances into Mr. Zuberi's personal account (they went into the WR Group account only after July). If true, it means the Sri Lanka Government entered into the initial understanding with a company that didn't exist and could not, therefore, have a bank account.
The second payment of US$ 1,000,000 was made on June 18, 2014. The disburser was, once again, the Central Bank. The beneficiary was Imaad Zuberi. "Nivard, please release the payment for the Month of June 2014," reads an email to the former Central Bank Governor from Vass Gunawardena. "I recommend this payment," supports Mr. Weeratunga. "Thank you. We will action same," replies Mr. Cabraal.
Again the invoice — prepared by Renee Wu — was on an Avenue Ventures letterhead. The third installment, also of US$ 1,000,000, was made on July 17, 2014. This time, it was paid directly to the WR Group. It is possible the company was only just set up.
The final transaction is dated September 10, 2014. US$ 1,000,000 was once again deposited in the account of the WR Group. Each of the payments was preceded by a letter from the Presidential Secretariat marked "CONFIDENTIAL" and signed by Mr. Weeratunga. They were addressed to Mr. Cabraal under the heading "International Communication Programme of the Government of Sri Lanka".
"I hereby confirm that the above invoice is related to the deliverables agreed between the Government of Sri Lanka and the WR Group in relation to the International Communication Programme," the former President's Secretary states. He has authorised two payments to Mr. Zuberi and two payments to the WR Group. He says it is in return for "deliverables" performed by the WR Group "to the satisfaction of the Government of Sri Lanka".
Why did Mr. Zuberi's personal account receive any money? One reason could be that, as explained above, the WR Group did not exist till July 2014. He had access to powerful US politicians but he was not a professional lobbyist. Millions of dollars' worth of "deliverables" are claimed to have been "performed" within four months. What were they, and what benefits did they bring Sri Lankan citizens?
Mr. Zuberi was evasive when asked details. He told FP that, "As a matter of policy, we don't comment on specifics relating to our work or on the terms beyond what is already been disclosed." The Sunday Times learns that even the agreement Mr. Zuberi inked with his Sri Lankan employers had no specifics. It only alluded to "business consulting".
Who delegated to Mr. Vass Gunawardena the power to instruct the Governor of the Central Bank, who is also head of the Monetary Board of Sri Lanka, to pay out millions of dollars from public funds to lobby groups? This was a bit much, even for an administration that showed scant regard for financial and administrative regulations. Who selected the lobby groups and negotiated payments? Who decided Cabinet and Parliament need not know?
It is possible that the Rajapaksa administration desperately wanted to turn the tide on war crimes charges. In February 2014, Mr. Weeratunga told editors in Colombo that, "In the US, this whole business of lobbying is the order of the day". "They (US politicians) just don't give an ear to you unless you go with someone whom they know," he explained. "It all depends on what lobbying company can really pitch you."
The next month, a third US-led resolution was passed in the UN Human Rights Council in Geneva. This one set in motion an independent inquiry, led by the Office of the High Commissioner for Human Rights, into the allegations. In April, Mr. Zuberi visited Sri Lanka with Mr. Skarulis. They met key figures in the Rajapaksa administration and, in late April, entered into the "business consulting" contract.
The two men are from the same school, although they attended it at different times. Mr. Zuberi is now interim Chief Executive Officer (CEO) of Skarulis's company, Cirqa Mobile, which makes a smartphone app. After Mr. Zuberi signed up with the Government of Sri Lanka, Mr. Skarulis floated and registered an entity called Beltway Government Strategies.
Beltway did not receive payments directly from the Central Bank of Sri Lanka but got an outlay of US$ 850,000. It then "outsourced" the Sri Lanka contract to five other firms –Burson-Marsteller, Madison Group, Nelson Mullins, R&R Partners and Vigilant Worldwide Communications. But both WR Group and Beltway stopped working as a foreign agent for Sri Lanka on September 30, 2014.
Mr Zuberi claimed to FP that the Government "did not keep their payment commitment. There are still outstanding invoices to be paid." He also said, "When we realized we weren't going to make any major impact, we wound down and (the Government of Sri Lanka) stopped paying for the project."
Incredibly, this implies that the entire contract had been worth even more than the US$ 6.5 million that is confirmed to have been paid to Mr. Zuberi and the WR Group. What could have cost that much?
There is another twist to this story. The payments to Mr. Zuberi have attracted the attention of US investigators, particularly in the wake of reports published in the Sunday Times last year. Mr. Zuberi, Mr. Skarulis and other lobbyists hired by them have all been subpoenaed for information on Rajapaksa assets. The lobbyists themselves are not targets of the investigation.
A subpoena is a writ issued by a government agency, most often a court, to compel testimony by a witness or production of evidence under a penalty for failure. A range of Rajapaksa family members — all with US addresses — are listed in the document. They are Basil Rajapaksa, Gotabaya Rajapaksa, Daminda Manoj Rajapaksa, Pushpa Rajapaksa, Thejani Rajapaksa, Bimalka Rajapaksa, Dudley Rajapaksa and Yatendra Rajapaksa.
Sources familiar with the probe said it is part of a US-led effort to trace and recover Rajapaksa assets in the US. The question they are asking is whether massive payments made over the years to lobbyists somehow ended up somewhere they shouldn't have.