After the polls the calm remains, except for a few incidents, say monitors
By Joshua Surendraraj
Serious clashes reported from Kurunegala, Kattankudy, Chilaw, Madampe and Akkaraipattu
View(s):
The situation in the country following the General Elections on August 17 was relatively peaceful in comparison to past elections, monitors and police say. According to police, around 26 post-poll incidents were reported upto Monday, with twelve people being hospitalised and 20 suspects being arrested.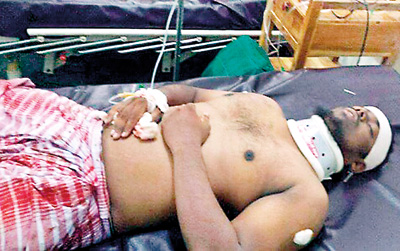 Adding that the situation was similar to what prevailed before the elections, the monitors however said they have asked Police to take strict action against those involved in assault incidents. Campaign for Free and Fair Elections (CaFFE) executive director Keerthi Tennakoon said although they received reports of 18 post poll violations, compared with the number of incidents and the scale of violence of past elections the situation was relatively peaceful this time. He said this was mainly due to the strict enforcement of the law.
Serious incidents were reported from Kurunegala, Kattankudy, Chilaw, Madampe and Akkaraipattu, Mr. Tennakoon said.
Three people including a pregnant woman sustained severe injuries following a clash on August 21 in Kattankudy. The clash occurred after M.L.A.M. Hizbullah was appointed to Parliament on the UPFA National List.
Mr. Tennakoon strongly condemned the incident stating that it was inhuman to attack a pregnant woman. While urging the Police to bring the perpetrators to book, Mr. Tennakoon said Katankudy was the only area where election monitors were intimidated.
In Ampara, three people sustained injuries in a clash between members of the All Ceylon Makkal Congress and the Sri Lanka Muslim Congress. Meanwhile People's Action for Free and Fair Elections (PAFFREL) reported about 21 incidents of post poll violence. These included two serious clashes in Kattankudy and Kurunegala.
According to the monitoring body's executive director a hotel in Kurunegala was attacked and set on fire allegedly by a group of UNP supporters. The hotel owner, who was attacked, was a supporter of former president Mahinda Rajapaksa. Two others who sustained injuries were hospitalised.