Julianne Moore campaigns to change name of high school
View(s):

Academy Award winning actress Julianne Moore has been so successful that she could probably get her high school renamed after her. At least some people would be for it. Instead, she's joined an effort to change the name of J.E.B. Stuart High School in Falls Church, Virginia, honoring a Confederate general, to Thurgood Marshall, the name of the first African American Supreme Court Justice.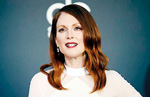 The campaign at the school began in June, following the shooting rampage at a historic black church in Charleston, South Carolina. Moore, who attended the school from 1975 to 1977, and a former classmate, producer Bruce Cohen, heard about it and created a petition for the cause on Change.org that had amassed 28,723 supporters as of Monday. The first time the two collaborated together was in a play when they were in ninth grade. In Tinseltown, they worked together on 2004's The Forgotten.
"When our school was founded in 1959, it was named after Stuart, a Confederate General, to protest the 1954 Brown vs. the Board of Education ruling that ended the segregation of public schools," they wrote. "Today, this school is attended by a diverse group of students who should not have to attend a school that bears the name of a man who fought to keep African Americans enslaved."
The Washington Post reported that 49 percent of the school's students are Hispanic, 24 percent are white, 14 percent are Asian, and 11 percent are black. Moore gave a statement to the newspaper further explaining her view. "We name our buildings, monuments, and parks after exalted and heroic individuals as a way to honor them, and inspire ourselves to do better and reach for more in our own lives," she said. "It is reprehensible to me that in this day and age a school should carry and celebrate the name of a person who fought for the enslavement of other human beings. I think the students of this school deserve better than that moniker."
Yahoo Celebrity