Healthy streak of creativity
By Duvindi Illankoon
The founder of Colombo Pinata speaks to the Mirror Magazine
View(s):
Dushika Perera has made somewhat of a name for herself with Colombo Piñata, a business she runs with a healthy streak of creativity and an undeniable sense of fun. In a quick email interview with the Mirror Magazine, the designer and entrepreneur shared her love for creativity and surprises that led to the founding of Colombo Piñata.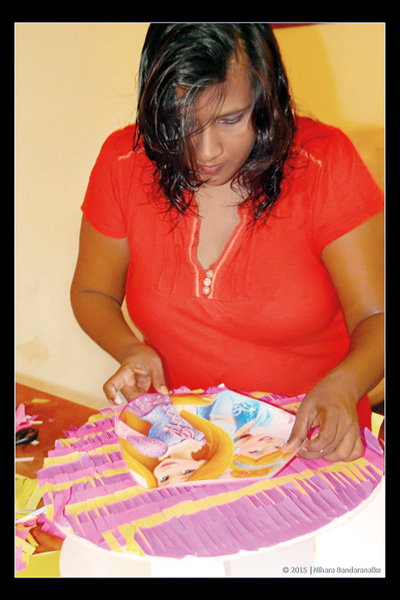 A Piñata is a container or box-like device made of papier-mâché, pottery or cloth that is decorated, filled with small toys/candy (or both) and then broken as part of a ceremony or celebration. The concept originated in Europe but found greater popularity in Spanish ruled-Mexico, where it was first embraced as a religious practice. Today it has lost the religious significance and has much more festive connotations around the world.
Dushika first made one for her son's birthday. She had seen it during her travels overseas and found it to be quite similar to the 'kana-mutti' game Sri Lankans play during the Sinhala and Tamil New Year. "The kids and the adults really enjoy it," she says "and I thought the piñata was quite similar except when you break it it's filled with special treats for everyone plus it's perfect to dress up any party occasion with a theme in place."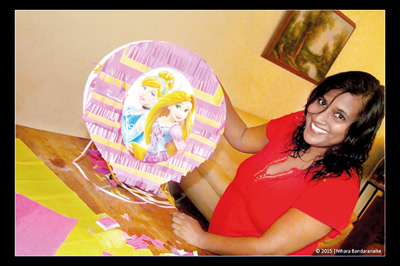 The logistics of designing and executing the piñata came easily, Dushika shared, as she has a strong design background. Her son's birthday piñata was an instant hit-"seeing how popular it was with the kids and adults and realising it wasn't available in Sri Lanka for purchase I thought it would be fantastic to provide the opportunity for anyone who might be interested in adding that extra spark to their party," she tells us.
Dushika customises the piñatas to individual designs and party themes for which orders may be placed through her Facebook page. A winning piñata is colourful, visually exciting and (or else woe betide you) filled with treats for all, she says. "I can't say I have a favourite as they have all been so different and unique. I cater to whatever theme is on order-Ben Ten, Frozen, Cars, Minnie Mouse and Disney Princesses…They are all my favourites and each time I finish a project I'm inspired with an idea for the next- it's something I really enjoy."
Learn more at https://www.facebook.com/ColomboPinata