A play on a party at Tower hall
View(s):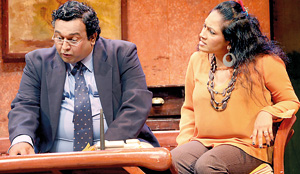 "Saadaya Maarai Salli Hamari", a Sinhala theatrical adaptation of British playwright Ray Cooney's 'Funny Money' will go on the boards at 3.30 and 6.30 on September 5 at the Tower hall in Colombo.Directed by Dharmapriya Dias, the play won the awards for the Best Actor, Best Actress and Best Stage management at the State drama festival 2014.
The cast consists of Gihan Fernando , Jayani Senanayake , Giriraj Kaushalya , Anuradha Perera, Dayadewa Edirisinghe,Dharmapriya Dias,Premjayantha Kapuge , Aloka Sampath and Anuradha Mallawaarachchi.
The adaptation is done by Saman Pushpa Liyanage while the stage lightings is by Ranga Samarakone. Set designer Wasantha Ratnayake, stage manager Aruna Jayasena, costume designer- Gihan Fernando, make up is by Prem Jayantha Kapuge and music direction is by Ruwan Walpola. The play is produced by Priyankara De Silva.