This article is part of a continuing series on Sri Lankan history
View(s):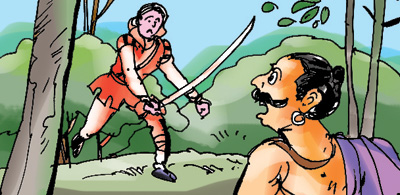 A Portuguese soldier chased Mudali Kulatunga and killed him. The soldier returned with the Mudliyar's head stuck on a spear. Meanwhile, Don Alexico Mudali, along with his soldiers fled to  the enemy side. The two Mudliyars,  Don Seeman Don Theodor and Don Balthazar too fled the scene.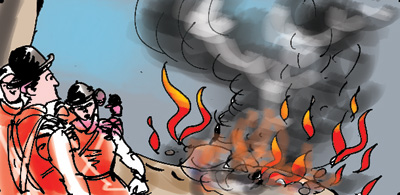 The enemy forces gave them a lot of trouble. The soldiers there kept food for each soldier enough to last for three days and burnt all the balance belongings. They started their journey early next morning. The king's army gave chase to this army.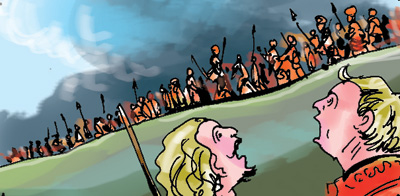 Those who fled, each one of them too about 500 mercenary soldiers with them. The Portuguese were simply shocked to witness this. All of them formed one big army, returned and reached the foot of a hill by nightfall. They took shelter there but could not escape.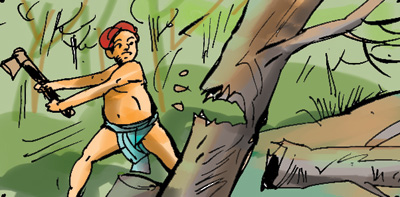 They then divided themselves into three units. The King's army, the fourth one, went and cut trees to obstruct their path. Eventually, they came to a strategic place and stood vigil. The Portuguese reached this point and there followed a severe battle.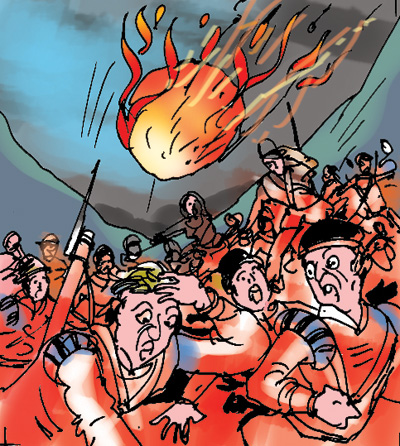 The Portuguese managed to escape from this fighting and came as far as Wellawaya – at the edge of the Uva boundary. Here they stopped on the slope of a mountain. At this point, the mercenary armies that came from Matara and Seven Korales, had to face a severe beating. Ultimately, these mercenary soldiers too joined the enemy side.
By Halaliye Karunathilake
Edited and translated by Kamala Silva
Illustrated by Saman Kalubowila