Bat and his bat
By Manoshi de Silva
View(s):
Bat loved to watch others play cricket under the big tree where he lived. Although the others in his family complained that the noise was disturbing, Bat didn't sleep a wink during day time when there was a match being played.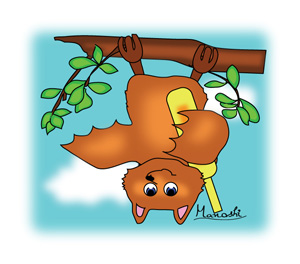 He hung upside down and watched, eagerly cheering loud whenever someone scored well. So it was no surprise that for his birthday present, Bat asked his dad for a cricket bat. And that's exactly what he got! Bat was so happy.
He waited till next morning and flew down to where the others gathered to play. "I have a new bat. Can I join you?" he asked the others. Everyone gathered around Bat's bat and admired it. "But how can you play with us?" asked Puppy, "you can't stand like us. So how can you bat?"
Bat knew that Puppy was right. He couldn't stand up like the others. "But we would love to play with your new bat!" said Kitty. Bat felt sad he couldn't play with the others. "That's alright!" he said, "You can play with my bat!" So he hung on a lower branch like he always did and watched the others play with his new bat. "I wish I too could play with them. But I can't stand like them. So I'll never be able to play cricket!" he thought sadly.
Puppy played really well and scored fours and sixes. He lifted the cricket bat at Bat and waved. "This is a lucky bat!" he shouted. He batted for quite awhile until Bunny caught the ball and Puppy was out. So he handed the bat to Kitty and came under the tree to rest. Puppy sat under the shade of the tree and wiped his brow. Everyone was shouting and enjoying themselves. Then a few drops  of water fell on Puppy's face.
"Has it started to rain?"
Puppy looked up. The sky was bright and blue, the sun was shining. He then looked at the branch above him and saw Bat crying. It was Bat's tears that fell on Puppy's face. "What's wrong Bat?" he asked kindly. Bat sniffed and said, "I feel very sad. I love cricket so much. But I know I'll never be able to play with you because I can't stand up the way others do!" Puppy felt very sad for Bat because Bat was nice. He even gave his new bat for others to play with.
The next morning everyone gathered at the ground to play as usual. Kitty brought the ball. Bunny came with one bat. Bat too flew down to the lower branch with his bat to give it to the others to play with. Squirrel cleared the ground and others looked around for Puppy. Puppy had the wickets, but he was missing today. So they all sat on the ground and waited for Puppy.
Finally they spotted Puppy with Calf. Calf was carrying the wickets and Puppy was carrying three long poles. "What are those for?" the others wondered, "Is he trying to fix flags or something?" When they came to the ground Calf fixed the wickets and Puppy fixed two poles on the sides in front of the wicket, not covering it. Then he fixed the long pole on top across the two poles. "What's this?" everyone wondered.
"You all know how kind Bat has been to us by lending his bat to play with. But he could never join us to play because he can't stand up like us," said Puppy. "He told me how sad he was that he couldn't play cricket, the game he loves so much." Everyone listened feeling sorry for Bat.
Puppy continued and said, "This structure will help Bat to hang on it and play with us. He doesn't have to be left out any more!" Bat was very surprised and happy. He flew down, hung on the pole and waved his bat around. Everyone cheered and felt happy for Bat. Bat thanked Puppy and everyone else. He was so happy he couldn't stop smiling.
When the match started Bat started to play like a pro. It was one six after another. Everyone cheered and Bat was ecstatic. "You did a good thing Puppy!" said Kitty, "You gave him an opportunity to do what he always wanted to do!" "And he's so good at it too!" said Squirrel and Puppy smiled.
"There are different persons among us. Not everyone is the same. Some can't do certain things that others can do with ease. But that doesn't mean that they are weak!" said Puppy. "Those who are differently-abled should be treated the same way you and I want to be treated and given the same chances you and I get. They should never be left out!" "That's true!" said Kitty, "Just because someone is a little different than the rest, it doesn't mean that they're not good enough!"
Watching Bat score another six, Puppy said, "Sometimes they're even better than others and have more talent doing certain things. We must help them when they need help but remember that we are all friends and we are all the same. Each and every one of us is very special in our own way!"