Squabbling for portfolios as 'home grown' democracy takes root
By Our Political Editor
View(s):
Cabinet of 33 from UNP and 12 SLFP to be sworn in on Friday; President to address Parliament on Tuesday
Sirisena consolidates party position, empowered to decide on portfolios and leader of opposition
The Sunday Times obtains names of likely ministers; UPFA's fate in the balance; Of 95 MPs, 70 back to sit in Government
A senior politician, now with the United National Front for Good Governance (UNFGG), was on a visit to the Greater Colombo suburbs to say thank you to his voters.  At one of the meetings, a supporter who is an engineer by profession, rose to his feet after their Member of Parliament had spoken. He asked "Sir deng yahapalanaya thiya nikam palanayakwath nehe ney" or Sir, leave alone good governance there is not even ordinary governance now. That succinct remark encapsulated the state of the nation for almost two weeks after the August 17 parliamentary elections.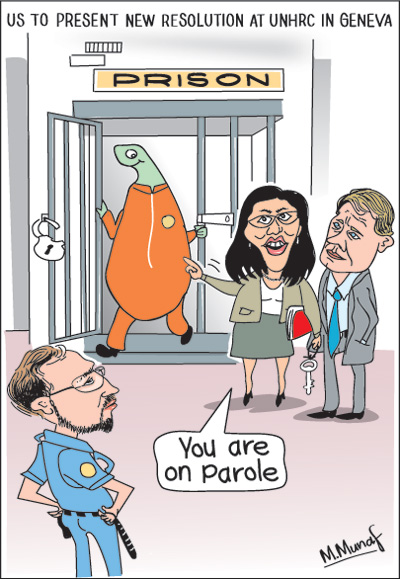 There has been no Cabinet of Ministers as protagonists, those in the United National Party (UNP), the pre-eminent partner in the UNFGG and the Sri Lanka Freedom Party (SLFP) jockeyed with each other for portfolios. Plans for Sirisena to swear in a team of ninisters representing a National Government of both sides on September 2 had to be called off. The 64th annual convention of the SLFP is taking place on that day at Kaduruwela in Polonnaruwa. Hence, there will be no Parliament sittings. All party MPs are being asked to be present for the convention. That indeed would be a happy augury for Sirisena, whose father Albert, a veteran of World War II, had received a five acre plot of paddy land overlooking the Parakrama Samudra from the late D.S. Senanayake, the first Prime Minister. It has since become his home base though Sirisena was born in Yagoda in the Gampaha District. On Thursday (September 3) Sirisena turns 64.
Parliament will, however, meet on September 1 (Tuesday) at 9 a.m. mainly to elect the Speaker. Prime Minister Ranil Wickremesinghe will propose the name of Karu Jayasuriya (UNP National List MP) – a choice that has been welcomed by both sides. Thereafter, the Speaker is expected to announce the name of the Leader of the Opposition. That name together with a Deputy Speaker and Chief Opposition Whip will be decided by Sirisena. The decision on this was taken by the SLFP Central Committee on Friday. Strongly tipped to become Deputy Speaker is former Minister and now SLFP National List MP, A.H.M. Fowzie.
A more significant event on Tuesday in Parliament is an address by President Sirisena. It will be at 3 p.m. and will be telecast live countrywide. He is expected to spell out the objectives of the National Government in pursuing the mandate he won at the presidential election on January 8.
On Thursday in Parliament, Prime Minister Wickremesinghe will move a resolution for the formation of a National Government. This is in keeping with provisions of 19A which stipulates that if it is a National Government and the Cabinet of Ministers is more than thirty, such number and those of deputies "shall be determined by Parliament." Premier Wickremesinghe is also expected to announce his proposal to appoint Parliamentary Committees with powers to assist in the working of ministries. Unlike the existing Consultative Committees, the new committees are to be tasked to closely monitor the working of ministries and report on any shortcomings. This way, Wickremesinghe not only expects to exercise Parliamentary control over the working of ministries but also greater participation by all MPs in the House.
Conscious of the resolution, the Janatha Vimukthi Peramuna (JVP) has called for a debate before it is put to vote. JVP leader Anura Kumara Dissanayake said yesterday' "We passed a 19th Amendment which restricts the number of ministers to 30 and deputies to 40. I cannot see the need to have a large Cabinet of Ministers at great cost to the tax payer." The JVP leader told the Sunday Times, "This exercise is to provide positions for politicians from the SLFP and the UNP and not in the best interests of the country or the people. If 30 ministers and 40 deputies are enough, why increase the number. For whose benefit?" With the passage of the resolution, Sirisena hopes to swear in the ministers later the same afternoon.
Since the elections, Sri Lankans have been treated to all the glamour and glory of a National Government. Yet, behind-the-scenes negotiations to decide on which side should get what portfolio have been no easy task. In meetings that President Sirisena chaired, Premier Wickremesinghe on occasions stood his ground firmly asserting that the UNP should be given its rightful share. At least on one occasion, a source said, he was to warn of possible consequences if the UNP's claims were ignored. He even pointed out that the UNP would be able to form a Government of its own with those who were willing to help. More so when the UNP had won the largest number of seats. "He did not hide his disappointment but placed his case politely," the source said. Those in the SLFP had pressured Sirisena, in the meantime, that if they were to heed his call for a National Government, they should not be served only with the "crumbs that were left over." They argued that they were a formidable political force and needed to be treated equally. Former President Chandrika Bandaranaike Kumaratunga was to strike a conciliatory note. She said that there was a need to take into account the UNP's higher number of seats. Most in the country were not aware of the haggling that has been going on.
In that backdrop, public utterances by both sides were to make it clear that all was not well. The first salvo came from UNP General Secretary Kabir Hashim. He told the media, "We have no difficulty in forming a government with about 120 members. We expect the co-operation of the TNA and the JVP. However it is important to have a National Government. We have to see how flexible the Opposition is. If there is any objection to it, the UNP can form a government," he told reporters outside the Grand Mosque at New Moor Street in Pettah. He had accompanied Premier Wickremesinghe on a visit to the mosque. That he made those remarks in the backdrop of his leader, Premier Wickremesinghe's strong assertions during talks over portfolios was clearly a message to the SLFP and its leadership. There is little doubt he would have had the concurrence of his leader to make these remarks. He referred to the SLFP as "the Opposition." Hashim also made another revelation either wittingly or unwittingly — that the JVP was willing to support the UNFGG Government. The fact that the JVP was tacitly defending the UNP during the parliamentary election campaign was seen as one of the causes for the JVP's poorer performance.
The protracted talks over portfolios ended with a decision on Tuesday that the UNFGG would have 33 ministers and the SLFP 12 making a total of 45. The numbers became lower than expected as the portfolios each minister was to receive were identified and divided among the two sides. That did not prevent the UNP from reminding the SLFP that "We joined hands to nurture the future of our nation without clinging on to our traditional political ideologies. Our prime concern has been to elevate the motherland to a higher echelon of development and not about ministerial portfolios and other perquisites."
A "special statement" issued this time by UNP Chairman Malik Samarawickrema said, "The United National Party during the election campaigns of the last Presidential and Parliamentary elections consistently stated that the entire Parliament would comprise the new government thus creating a new political culture and a system of a civilised form of governance. We also stated that we would form a national government at least for a period of two years to achieve this goal. Accordingly, a Memorandum of Understanding (MoU) was signed recently with the Sri Lanka Freedom Party.
"We came to an agreement subsequent to the friendly and comprehensive discussions held with the Sri Lanka Freedom Party to form a national government. The prime objective of the two parties is to serve the people. We joined hands to nurture the future of our nation without clinging on to our traditional political ideologies. Our prime concern has been to elevate the motherland to a higher echelon of development and not about ministerial portfolios and other perquisites. In this exercise both parties had to make sacrifices. All our sacrifices were made with the intention of creating a better future for our country. We are committed to work devotedly towards creating a new country within a period of 60 months through a new Cabinet and a new Parliament."
The statements from Hashim and Samarawickrema on behalf of the UNP did not go unchallenged. The SLFP's Acting General Secretary Duminda Dissanayake (Anuradhapura District) responded at a news conference on Thursday. He said: "Kabeer Hashim had said the UNP could form its own Government. My reaction is also that the SLFP can form its own Government. The UNP has seven members less for an overall majority of 113. We have 17 members less. Anybody can form their own Government. There is no problem in holding that opinion. However, at this point both parties have agreed to form a National Government. However, Dissanayake made no mention about the fact that all MPs, both joining the National Government as well as those choosing to sit in the Opposition, were elected as United People's Freedom Alliance (UPFA) MPs under the Betel Leaf symbol.
The question was raised at the news conference. Dissanayake replied; "The majority in the UPFA are SLFP members. Our party is well known. About 95 per cent of those elected are SLFP members. Do not get it wrong as the MoU is not on forming a National Government. It is on how these parties should act within a National Government……." Dissanayake added, "The people at the August 17 elections have not given any party the mandate to form a Government on its own. The UNP returned 106 members and the UPFA-led by the SLFP returned 95 members. The people have given a message to President Maithripala Sirisena to join hands with all parties and form a Government. President Sirisena has acted in accordance with that and will form the National Government."
Here is a brief account of questions answered by Dissanayake;
Q: Is there some agreement to change the Memorandum of Understanding?
A: Not to change the MoU, but to make additions. This is to improve it.
Q: What about the ministries?
A: There is nothing about the ministries. There is an addition about getting the cooperation of trade unions of both sides.
Q: What about criticism about including defeated members in the National List?
Legally it is possible to make such appointments. There is nothing unethical in it. They have been picked from the National list or from those defeated candidates. You may notice that senior members have been brought in through the National list.
Q: Is the National Government only with the SLFP?
A: There are discussions with other parties such as the Ceylon Workers Congress and Eelam People's Democratic Party (EPDP).
Amidst the high hopes raised by the formation of a National Government, the fact that the two sides were feuding over portfolios and even dominance was not good news. Added to that, they took public swipes at each other raising fears that even before a National Government is in place, differences were surfacing. Now that they have patched up matters over the composition of the Cabinet of Ministers, the swearing in on Friday will see how they perform collectively.
Although the portfolios each side will receive are mostly known, who will hold each one of them is still unclear. Both sides say some of them await finality whilst in case of others persons are yet to be named. Some of the names are mentioned below subject to change ahead of the day of swearing in. Three ministers – Foreign Affairs (Mangala Samaraweera), Justice (Wijeyadasa Rajapaksha) and Resettlement, Reconstruction, Hindu Religious Affairs (D.M. Swaminathan) were sworn in last Monday. This was on the eve of a visit to Colombo by two US Department of State officials. Here is a brief list:
United National Front for Good Governance (UFGG): Prime Minister Ranil Wickremesinghe is to hold the subjects of Economic Policy and External Resources; Finance – Ravi Karunanayake. He is to have the Treasury, the Customs, the Department of Excise and the Department of Inland Revenue. A new Ministry of National Enterprise Development may go to Kabir Hashim who will have under his purview, among others, state banks, SriLankan Airlines, Mihin Lanka, Pelwatte Sugar Industries, Sevanagala Sugar Industries and Litrogas,
A new Minister of Western Megapolis and Urban Development will come under the charge of Champika Ranawaka (Colombo District). Legislation is to be introduced to set up a dedicated Western Megapolis Authority (WMA) on the same lines as the Mahaveli Authority for undertaking the zoning of different parts of the Western Province. This will be on the lines of those in Singapore and Hong Kong. The new Ministry will also oversee the rehabilitation of shanty dwellings by developing new areas in the suburbs of the City. Another significant feature of this new Ministry are plans to call upon some 100 private sector companies to manage recreational facilities. One such case, for instance, would be a company developing the Vihara Maha Devi Park and generating income from the public who use it.
Rauff Hakeem (Kandy District) had appealed to Premier Wickremesinghe that the Urban Development Authority (UDA) be brought under his purview. An SLMC source said the Premier had agreed to do so in three months, soon after the legislation for the WMA is passed in Parliament. The Premier, the source said, would make a formal statement on the matter. Until then Hakeem is to be sworn in as the Minister of Cities Development and Water Resources Management.
International Trade and Investment Promotion – Malik Samarawickrema; Housing Sajith Premadasa; Health – Rajitha Senaratne, Public Administration – Ranjith Madduma Bandara; Law and Order -Tilak Marapana; Buddhist Affairs – M.K.A.D.S. Gunawardena; Ports – Arjuna Ranatunga, Women's Affairs – Chandrani Bandara; Highways – Lakshman Kiriella; Tourism – Gayantha Karunatilleke; Education and Cultural Affairs – Akila Viraj Kariyawasam; Plantation Industries – Navin Dissanayake; Home Affairs – John Ameratunga; Media – Sagala Ratnayake. Note: He is also to be a Deputy Minister in the Prime Minister's Secretariat; Telecommunications – Harin Fernando; Foreign Employment – Talatha Athukorale; Local Government and Provincial Councils – Vajira Abeywardena; Commerce and Industries, Rishad Bathiuddin; State Infrastructure – Palani Digambaram; and Posts – M.H.A. Haleem. Among others who will be ministers from the UNFGG are P. Harrison and Mano Ganeshan.
Former Opposition Leader Nimal Siripala de Silva is to be the Minister for Aviation and Internal Transport. Internal transport is to include state run bus services, private bus operations and the railway. The Samurdhi Ministry is to be re-named the Ministry of Social Development and the portfolio is to be assigned to John Seneviratne (Ratnapura District).
Petroleum is to go to former UPFA General Secretary Susil Premajayantha. Interesting enough, the Financial Crimes Investigation Division (FCID) is now investigating an alleged racket running into millions of rupees in the procurement of fuel. It is likely to interview Premajayantha. This was when he was Minister of Power and Energy in the previous Government. Last Tuesday Premajayantha arrived at the Dulles International Airport in Washington DC amidst reports that he had gone to renew his Green Card that enables him to have permanent residency in the US.
Among the SLFPers likely to receive portfolios are: Agriculture -Duminda Dissanayake; Fisheries – Mahinda Ameraweera; Higher Education – Sarath Amunugama; Labour – Mahinda Samarasinghe; and Sports – Dilan Perera. The other portfolios assigned to the SLFP are Parliamentary Affairs, Disaster Management, and Skills Management. Former SLFP General Secretary Anura Priyadhashana Yapa is also tipped to get a portfolio Former Speaker Chamal Rajapaksa is also to be sworn in as a Minister. In addition President Sirisena, leader of the SLFP, holds three portfolios – Environment, Mahaweli and Defence. They have been placed expressly in his hands under 19A.
Ahead of the swearing in ceremony of the Cabinet of Ministers on Friday, President Sirisena chaired a meeting of the SLFP Central Committee at his Colombo residence at Paget Road two days ago. Most participants expected him to reveal the names of the SLFP ministers but he did not do so. However, he did mention that a National Government was being formed and urged members to extend their fullest support.
There was a lengthy debate on who should be the Leader of the Opposition and also the Opposition Whip. Former President Kumaratunga and SLFP's Acting General Secretary Dissanayake suggested that the Central Committee should resolve that the decision be taken by the party leader — who is Sirisena. It was S.B. Dissanayake who suggested that instead, it would be better if an announcement is made that SLFP leaders would take a decision collectively. However, Kumaratunga was insistent that a decision should be made by Sirisena. Hence, an announcement was made accordingly. The name of Kurunegala District parliamentarian Dayasiri Jayasekera is mentioned as the Opposition Whip.
Though some Central Committee members said that it was morally wrong for the party to form the Opposition in Parliament when it had signed an MoU for a National Government, they were hesitant to raise issue when the CC met last Friday. One of them, a backer of former President Rajapaksa, said, "it is absurd to serve both in a National Government and at the same time function as an Opposition. It is against the mandate we received." A similar situation also arose in the UNP where a group of young turks wanted to ask leader Wickremesinghe about the fate of the party in view of the new partnership with the SLFP. Angered by the request, he refused to grant a meeting to them. Instead, he asked that General Secretary Hashim speak to them and say that the group should have confidence in the party and the leader.
Observances for Sirisena's birthday on September 3 (Thursday) were also noted. It was decided to decorate the Polonnarauwa area. SLFP General Secretary Dissanayake also met SLFP Colombo District organisers soon after the CC meeting to tell them to decorate areas in Colombo for Sirisena's birthday. Later that evening, Dissanayake was at a reception hall in Talawathugoda to meet former Chairmen and Directors of state corporations and other organisations to seek their support for the party.
The remarks Sirisena made to Rajapaksa when he greeted him by holding hands the day Ranil Wickremesinghe was sworn in as Premier became known only now. He had told Rajapaksa "Api hamu wenna oney" or we must meet. Sirisena did just that when he telephoned Rajapaksa moments ahead of addressing newly elected parliamentarians of the SLFP last Sunday. It was Rajapaksa who asked his successor whether he had to be present for the meeting since he had a number of other engagements. Sirisena replied that it was not that important for him (Rajapaksa) to attend.
The duo had a brief meeting on Monday, however, where a few issues were discussed. Rajapaksa appealed to Sirisena to call a halt to him and members of his family being harassed under cover of investigations against them. Rajapaksa was to ask what would happen to the party, if as Sirisena had declared, he was not going to contest a second term. Sirisena replied he had not said he would not contest but had only referred to a presidential election. Since the presidential system is to be changed, he said, he plans to remain in politics. President Sirisena was of the view that Rajapaksa should keep a distance from matters concerning the party and thus help others. Sirisena said that the official residence he occupied at Wijerama Mawatha, a little distance away from the British High Commission, would be handed over to Rajapaksa. The Constitution makes provision for previous presidents to avail themselves of an official residence and other perks.
In the light of these developments, the fate of the UPFA remains in the balance. One of its party leaders, Dinesh Gunawardena who heads the Mahajana Eksath Peramuna (MEP), told the Sunday Times "It depends on what the SLFP wants to do. At present all the 95 MPs represent the UPFA."
It will not be long before the issue surfaces. The National Government plans to conduct local elections within months. Elections Commissioner Mahinda Deshapriya is awaiting the gazetting of the Delimitation Commission report to make preparations for the purpose. How the major political parties will face the polls and a voter endorsement or otherwise of the new Government is bound to emerge.
General Secretary Dissanayake told Thursday's news conference that 70 SLFP parliamentarians have shown willingness to join the National Government. This would mean only 25 MPs who won on the UPFA ticket will remain in the Opposition with their leader being chosen by President Sirisena. Other than that, there would be the 16 from the TNA and six from the JVP. Sirisena has also picked on his men for a National Government which will function under him. How this new "home grown" democracy charted by an Executive President will function will not only be watched by Sri Lankans but also by the world outside. It has the unique feature of two parties fighting elections and joining together later to run the country for now, for two years at least. Even if the two sides disavowed claims that good governance and not portfolios was their prime objective, events in the past two weeks have shown it to be different. How it would play out in the next two years, no doubt, is a critical question.