Reforms difficult but essential; education for economic development
View(s):

Good economics is bad politics in the short run. Good economics is good politics in the long run. Since the perspectives of politicians are short-term, governments are diffident in undertaking economic and social reforms. Furthermore, our political culture and social milieu are often opposed to change.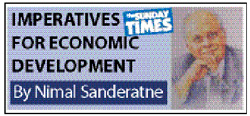 At this economic and political juncture when macroeconomic conditions are weak and wide-ranging, reforms are essential preconditions for sustained economic and social development. Reforms are vital to ensure increased productivity and maintain the momentum of economic growth. However, undertaking administrative, economic, educational and health reforms is difficult in our political environment. A long-term vision of national development and political courage are needed to strengthen macroeconomic fundamentals and undertake essential reforms.
Stronger government
The formation of a "national government" by coalition of the two main parties in parliament provides an opportunity for undertaking policies towards economic stabilisation and wide-ranging reforms. The Government's parliamentary strength that may even exceed a two-thirds majority provides political stability, strength and opportunity to undertake good economic policies and much needed reforms.
Precedent
The UNP government of 1977 with its more than two-thirds majority undertook radical economic reforms. Its structural adjustment programme diversified and transformed the economy and enabled an economic takeoff. Without these economic reforms the economy would have been stagnant and backward. Yet even today these reforms that liberalised the economy and transformed an economy with high levels of unemployment poverty and severe hardships into an outward looking vibrant economy are looked upon with disfavour by many. Political opponents even today consider these reforms as the root of all evil in the country. Providentially these moribund ideologues are in the wilderness or in a toothless minority in opposition.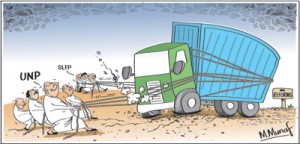 Challenging tasks
The new coalition government has the challenging tasks of fiscal consolidation and the undertaking of reforms to enhance productivity. Will it use this opportunity to adopt bold reforms in the long-term interest of the nation?
Reducing the fiscal deficit is an essential prerequisite for economic stability and enabling the government to increase expenditure on education, health and other infrastructure that are vital for long run economic development. Increased expenditure on health and education requires an increase in revenue from the current level of about 12 percent of GDP to about 15 percent. This requires significant tax reforms and increased efficiency in tax administration. Reductions of the public debt, decreasing the trade deficit and reducing foreign debt are closely related formidable challenges that require prudent and far-sighted macroeconomic management.
Reforms
Even more challenging than reforming the taxation system is the enhancing of institutional capacities, reforms in education and health and drastic changes in management of state enterprises which are a huge burden on the public finances. Without such reforms productivity cannot be enhanced to achieve the country's potential development. These reforms are difficult to implement due to political considerations superseding pragmatic economic policies.
Education and health
An encouraging development at the recent elections was the recognition of the need to increase public expenditure on education and health. Even the previous governing party that underfunded these for large infrastructure projects recgonises it. The UNFFG manifesto promised higher expenditure of 3 percent of GDP on health and a progressively increasing investment on education to reach 6 percent of GDP. These moves are in the right direction but their implementation requires finances.
Educational reforms
Increasing investment on education is necessary but insufficient to achieve the desired objectives unless accompanied by educational reforms that improve the quality and relevance of education for national development. Public expenditure on education must be reoriented to expand and improve education in science, mathematics, English, computer science and other useful subjects to provide skilled staff for the expansion of hi-tech industries and ICT services that enhances economic growth.
There is incontrovertible international evidence that improvements in education are crucial contributors towards growth. This is especially so in modern economic development where hi-tech and scientific skills are vital for developing industries and services that are powerful drivers of growth. Much of the county's investments on education do not provide the needed education and skills for productive employment.
Lop sided
Only about a tenth of the country's schools have science facilities at present. In the Institute of Policy Studies' (IPS) Talking Economics Series, Priyanka Jaywardena pointed out the lopsided nature of the country's educational facilities and graduate outcomes. He said: "Despite the rising demand for science and technological fields, there's a higher supply for graduates in the Arts discipline, which has a lower demand. As of 2013 university admissions nearly 1/3 are Arts graduates.
This is mainly due to the fact that only a small proportion of students pursue A-Level in science and mathematics subjects at school level." In 2013 almost half of A-level students were studying Arts, while only 24 and 27 percent respectively, were studying Science and Commerce. She also pointed out that despite Arts graduates employability being very low, the bulk of resources is expended on producing them. This wide discrepancy between skills demanded and educational opportunities and output, Jayawardena, has to be corrected through educational reforms.
She suggested "providing better opportunities to learn market-oriented subjects — CT subjects under the Arts stream that will reduce the skill mismatch between the demands of the market, and the skills of graduates."
Limited opportunities for science education in schools would require larger recruitment of science graduates and higher salaries for teachers with these skills. An elite education service to complement the present teaching staff and variations in salaries for teachers on the basis of subject areas and qualifications are possible reforms.
Bottomline
Good economic policies for economic stability and reforms in education, health administration, public services, state-owned enterprises and agriculture, among others, are needed to achieve rapid rates of economic growth. Without such reforms productivity cannot be enhanced to achieve the country's potential development. Most reforms are politically unpopular as there are built-in fears that resist changes.
The strong coalition government provides the opportunity to undertake reforms that are unpopular in the short run but benefits accrue in the fullness of time. Will the coalition government have a longer view and political courage to implement radical reforms?