MR's nightmare: Blues are waking up with the winner
View(s):

My dear Mahinda maama,
I thought I should write to you because very few people must be writing to you these days now that the elections are over and no one is talking about 'Mahinda samaga negitimu' (waking up with Mahinda) anymore. This must have come as quite a shock to you and we are all sorry about that.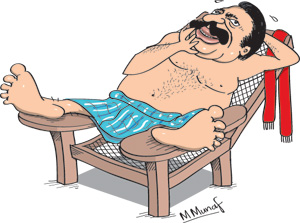 It all started to go wrong for you when you decided to call for elections two years earlier than when it was due. They say Sumaney advised you to do so but after forty five years in politics, you can't shift all the blame on to that man, can you? If you didn't call for elections, you would have still been the boss!
You expected Green Man to run against you and you thought it wouldn't be a contest at all. The Gang of Four — Wimal, Vasu, Udaya and Dinesh — was all set to stick the 'Koti' (Tiger) label on Green Man and you would have then won the race very easily. That was the plan, wasn't it, Mahinda maama?
It was then that Maithri decided to come out of the woodwork and take you on. Now who expected Maithri, who had been your loyal and faithful disciple for ten years, to betray you? But that is what happened and for once in her life, the usually late Satellite got her timing just right. The rest is history.
That was an error in judgment, Mahinda maama, and you had to pay for that. What I am more worried about though is what happened after that. Instead of allowing you to retire as the hero who saved the nation from terrorism, the Gang of Four dragged you back from Medamulana and did it all over again.
They knew that if they were to contest on their own from their tiny parties, they didn't stand a chance of entering Parliament ever again. So, they dangled the carrot of the Prime Minister's job before you and coaxed you out of retirement, and before even you knew it, you were on the campaign trail again!
At that time, all your skeletons were being dragged out of their closets and being paraded before the public. Maithri was pleading with you not to contest because it would split the Blues in to two camps. Yet, being seduced by the Gang of Four and the prospect of being PM, you decided to run — and lost.
We can't heap all the blame on the Gang of Four, too. The Blue candidates were also opportunistic. Except a few who still remain loyal to you, the others didn't really care whose name — Maithri's or yours — they used as long as they could sneak in to Parliament and, if possible, grab a ministerial post.
The results have been a disaster for you. The Green Man got the PM's job which you were hoping for and he wants to form a national government. The Blues lost the election. The Gang of Four and some Blues got elected using your name. And here you are, languishing as a mere MP for Kurunegala!
Having been in this game for forty five years, it is a pity that you didn't read all the signs which suggested that this would happen. The people had voted you out of office only seven months ago. There was no reason for them to invite you in again in so short a time but you didn't realise that.
We find those who shouted themselves hoarse about 'waking up with Mahinda' trekking to Temple Trees asking for a cabinet post in this national government that is being formed. I hope you are not shocked, because when you were the boss you too had no scruples about offering cabinet posts!
What is even more disgraceful is that Maithri is allowing those who lost at the election to return as MPs through the National List, as long as they are his supporters and not loyal to you. He didn't tell us about that when he was running for office and waxing eloquent about 'Yahapaalanaya', did he?
Even after all this, there are those who say that you should be the Leader of the Opposition. Others say that because the Blues have 95 MPs, you should get back to your old tricks of trying to win over some Greens to try and form a government of your own. My advice to you is, let sleeping dogs lie.
Mahinda maama, you have done enough to earn your place in our country's history. No matter what you achieve as MP for Kurunegala or even Leader of the Opposition, you will always be remembered as the man who saved the country from terrorism. So, it is important that you don't spoil that legacy.
After two defeats, you must have seen how Blues who said 'Yes, Sir' to anything that you said avoid you now and pay homage to Maithri but that is what they did when you took over from Satellite too. So, Mahinda maama, I hope common sense will prevail — and we will see you in a Medamulana soon.
Yours truly,
Punchi Putha
PS: When Kumar retired last week, he was given a right royal send off. True, he was a great cricketer, but isn't it strange that he gets a hero's farewell while the man who saved the country from terrorism hardly gets an ovation now? I think that is all about not overstaying your welcome, Mahinda maama!