Appreciations
View(s):

A rare friend who spread cheer in spite of her pain
Kanthi Gunatunga

Kanthi breathed her last in peace as she sat in the wheelchair where she spent more than 25 of her 52 years of life on this earth. I first met her several years ago in the basement of Mount View Residencies, a condominium in Kaldemulla, where we live. She had moved in here with her foster parents, Neville and Monica Asirvadem.

She had arrived at the Jehovah-fearing Asirvadem home in Sirimal Uyana as a pretty but semi-literate girl of 15 seeking work as a domestic. She was escaping a sordid life as an unwanted child in a distant village. She knew no father but knew her mother who was anything but a mother to her. The Asirvadem couple soon became her loving father and mother and the Asirvadem children her brothers and sisters. She lived with them for the rest of her life as a loving and loved member of a caring family, the likes of which is hard to know. She lived an active life, learning to speak, read and write both Sinhala and English, growing up in a caring atmosphere of culture and refinement filled with the good, the beautiful and the true.

And then in her twenties as fate would have it she began to be assailed by pain in the fingers and toes, and then in the wrists, knees, ankles, elbows, hips and shoulders. It was the debilitating rheumatoid arthritis that struck depriving her of the agility and movement she was used to. Consuming agues crept into her every bone and dwelt in her every vein.

She used to tell me, "Uncle, I can scream and groan. There is pain in every single inch of my body, from head to foot." But she did not whine or whimper but only smiled and chatted with me and expressed beautiful thoughts through her pain. I have not seen such cheerfulness in the face of such unspeakable agony stoically borne.

As she sat in her wheelchair equipped with pockets to hold her brushes and her mobile phone, she crafted beautiful greeting cards with drawings of birds. She chatted with hosts of people on her phone. She knitted and crocheted with her stiff fingers. She prepared delicious dishes. She had many friends. She preached the Bible. She was a Jehovah's witness. She brought for me the latest issue of Watchtower and Awake each week, helped by Malar and Lalitha at the beginning and later by Priya and Geetha -faithful and cheerful helpers from Hatton who cherished her throughout the day and teased her into bed at night and prepared her to face each passing day in her wheelchair.

A birthday card Kanthi did for our grandson Shivi stands prominently on his work table in his room in Perth and in the special card she gave me a few weeks before she was released from her pain at 7.30 a.m. on Tuesday, July14 she had written these words: "To loving Uncle. Thinking of you. Whatever you do, Wherever you go, Always remember Someone loves you." Both cards had the picture of a bird in flight.

This is the second time in the recent past that I watched the smoke from the chimneys of the Mt. Lavinia crematorium whirling and billowing up into the evening sky: the first at the cremation of a dear relative, who spent the last six years of his life in a wheelchair bereft of speech and memory, and I thought to myself "A merciful end"; this second time I was not sure I could think the same about a rare friend who enriched the waning years of my life.

Rest in eternal painless peace, Kanthi.
-C. N. S.
---
I know you will always be by my side
VICTOREEN M. HASSAN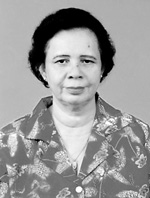 Seven years have passed since God called Victoreen to rest. Together we spent a happy and peaceful wedded life for almost 40 long years with fun, laughter and joy. Victoreen placed gold on my finger and brought love like I've never known, she gave life to our children and when I needed hope and inspiration she was always strong.
The promise we gave each other we always fulfilled. It broke my heart to lose her. She was loving, caring and my only consolation and the greatest blessing in my life. Through the years I had Victoreen to keep me happy. Hand in hand we faced tomorrow with no fears; side by side we walked the roads of life together, but now I walk alone thinking of all the good times we spent together.
Victoreen, you gave something time can never take from me. You gave me a light to guide me. When I close my eyes at night and go to sleep you are there for me – my favourite memory. Memories are all that you have left for me – no more will I see the love light in your eyes. The tender words you spoke to me so softly still run in my mind.
To know that we will meet some day is my only comfort. My undying love for you is there till that glorious day. I cherish all the love you gave me and thank God for the gift of your life. I welcome each new day with faith and hope. When I am sad I don't know what to do and that's the time I miss you so much as you were always there to listen to me. I know you are by my side guiding and protecting me.
Thank you Victoreen for the wonderful and generous sacrifices you made for me and our children and all the loving care and affection you showered on us. Thank you for loving me and for being what you were. Darling Vicky our special years will not return, when you were with me together but with love within our hearts you will walk with me together.Till we meet again.
Sadly missed by your loving husband.
- M. Kamil A. Hassan
---
Her indomitable spirit will be missed by one and all
Norma (Savitri) Devaneson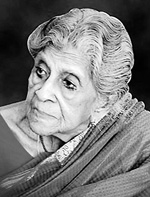 The departure of Norma, at the age of 99 – the oldest surviving member of the Goone-wardene clan leaves an unfillable void.
Hailing from a distinguished family, she was the daughter of eminent physician Dr. Simon Goonewardene of Panadura. I last heard from her over Christmas when, as usual, I received her personalized Christmas card with a verse composed by her in her inimitable style. This was a regular feature and this was the only Christmas, beset with problems as I was, that I did not respond.
My earliest memory of her at the age of 8 was of a vibrant personality who wrote a beautiful verse by Sarojini Naidu in my autograph album illustrated by a colourful village scene. I lost touch with her for many years but had heard of her storybook romance with Chand-ran Devaneson from Madras when she was a university student. They had met through the Student Christian Movement.
Dr. Chandran Devaneson was an eminent educationist who was principal of the acclaimed Madras Christian College for several years. Subsequently he was appointed Vice-Chancellor of Assam University by Prime Minister Indira Gandhi. Their attitude to life was conditioned by their strong Christian faith and values. Always attuned to the plight of the less fortunate segment of society, their help was unstinting, encompassing both individuals and charitable organizations.
For many years until her death, she worked untiringly for the organization 'Roofs for the roofless'. In addition, she was mentor, friend and guide to numerous Sri Lankan students studying in Madras (Chennai). In 1977, soon after travel restrictions were lifted by the Sri Lankan Government I decided to visit South India with my daughter. We were expecting to stay in the YWCA in Madras. On arrival fairly late at night we were told there was no accomodation available for us – we made our way to Norma's hoping she would know of a place where we could stay.
She welcomed us with open arms and was insistent that we stay with her. Theirs was a close-knit family; her two elder boys qualified as Doctors and migrating to Canada, Australia, decided to work amongst the indigenous tribes ( the Aborigines and Eskimos) perpetuating the family tradition.
The younger boy, Mithran, with whom she made her home was a playwright and dramatist. She never got over his death from lung cancer a few years back. Since I live in Kandy, it was difficult to meet on a regular basis, on her visits home.
In the last few years, she would always phone me on her annual visits to Sri Lanka.
Her vitality and strength of spirit belied her chronological age. Her death came as a shock to us all.
My sympathies to the members of her family.
-Dr. Premini Amerasinghe nee Goonewardene
---
We know you are still watching over all of us
Neville Pullenayagam
Every year on August 10, in remembrance of your birthday for all the special memories we've shared over the years, we dedicate a 'Thanks-giving' mass and thank the Lord for having blessed us with a wonderful father like you.
Nearly eleven years have passed since that sad day, when the one we loved was called away. Broken are the hearts that loved you; silent tears still fall. Living our lives without you and Mummy is the hardest part of all. Today would have been your 90th birthday- Dadda we really miss you as we stand by your grave wishing you a very Happy Birthday with a prayer.
Thank you Dadda for protecting and guiding us throughout your life! Whenever there was a time when I was in need- you were always there for me. Although you are no longer with us, we know that you are in a happy place- watching over all of us. The memories we've shared will always remain in my heart. Dadda- we will love and miss you forever! Goodbye and God bless you till we meet you on that beautiful day!
-Nirmalie Johnpillai