The Blue returns with a new look
View(s):

Nocturnal party people in Colombo well remember the Blue Elephant at Hilton, despite the venue being closed for the past three years. Now it's back with a more mature face after a Rs. 200 million face-lift. "It's called The Blue," announces Hilton's Director of Sales Conference and Events, Arosha Perera proudly.

After nine months of renovations, the former party hub is now a Multi- Event venue, Perera says. Operable walls which allow for five separate venues within The Blue, each sound-proof, equipped with drop-down screens and projectors suggest that the venue is now a more conference-friendly location. The Director of Events says demand for such a venue has been on the rise. "But we had no location, the Ballroom for instance is booked a year in advance." Depending on the style of seating, a client could now fit from 12- 25 guests in the smaller conference rooms he notes, and the entire premises, including the outdoor gazebos could easily host around 600 guests.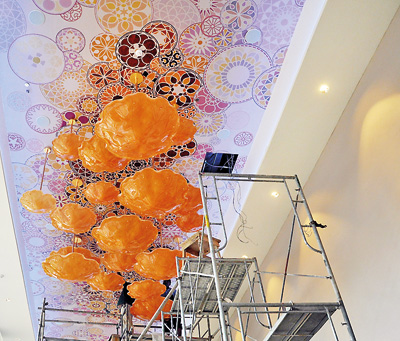 Although redesigned with corporate events in mind, there seems to be little that can't be managed by the five venues at The Blue. Around 50 hues of lighting come as a plus to any event planner's arsenal in an age when ambience is everything. Natural backdrops have become the new big deal at today's events. The Blue's stylized plant wall is a huge push for the former night club's transformation into modern elegance.
Keeping the stately vibe the Hilton is known for, gold-orange bowl shaped chandeliers dress the new ceiling which stands at 12-18 feet. Their purpose is twofold- aside from bathing guests in a regal glow, these are designed to illuminate the ceiling which features hand-stencilled art. Floating circles stained in burgundy, orange and yellow form patterns on the ceiling depicting lotus buds sitting over the chandeliers which form their leaves.
Accessible from the elevator from within the hotel, and through a glass wall from outside the premises, "It's ideal for pretty much any event" Perera shares. With the experience of hosting any event imaginable from weddings to fashion shows, he feels the new venue addition to the Hilton, "has a very cosy feel," making it the ideal bet for birthday parties and even showers. "Since there is an outdoor area, even kids parties can be done with bouncers and rides," he says. For those who feel glass walls let in too much of the outside world, "We could black-out the glass."
Marking the first phase of renovations at the Hilton which are expected to continue at least up until 2017, The Blue seems to foretell of modern yet ceremonious venues to come. Bookings for The Blue until January 2016 open on Monday, August 10.