Khan conducts Umpires' Workshop
View(s):

Internationally acclaimed cricket umpiring trainer and umpire Aurangzeb Khan on the invitation of the Sri Lanka Cricket Umpires' Association (SLCUA) conducted a one-day workshop on last Saturday at the Bloomfield Cricket and Athletics Club in Colombo. The workshop was attended by a large gathering of local umpires from all parts of Sri Lanka.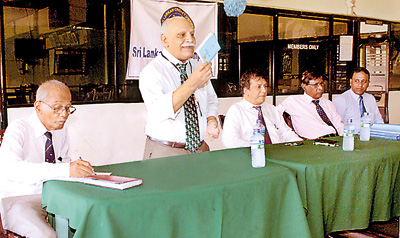 Khan, from Pakistan an ex-cricket umpire, a performing journalist, writer and a cricket historian is on a visit to Sri Lanka for two weeks and during his stay took the trouble to impart his knowledge on the game laws. Khan's first presentation was observed by all as a unique work of a cricket historian wherein he not only explained the background of the game ranging back to the year 1550. There on Khan appraised the large gathering of Sri Lankan umpires about of the laws of cricket in a defined booklet printed from 'Code of Laws 1755', a publication of and revision of 'Code-1744'. These copies were never made public but existed, he said.
Khan further mentioned of the incurious codes of cricket laws thereon as the 'Laws of Cricket Code' 1786, 1788, 1835, 1844, 1947 and 1980 to the presently praised 'Code of Laws 2000' whose fifth edition of 2013 is place for the whole cricketing world, applicable to all formats. At close of his two presentations and after an extensive question and answer session, Khan stressed on the point of maintaining the status of umpires and preserving the dignity.
"Due to his extremely tough task and great service to the game, when stood up and asked all to praise this man honour, as an umpire. He should be well read on the laws, keep a tab on the improving rules and changes and above all must be a broadminded character," Khan added.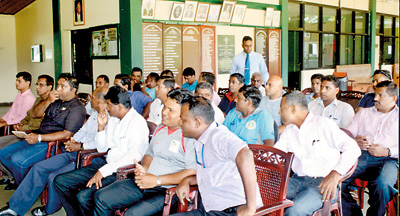 Khan is a frequent visitor to Sri Lanka, where he takes off his valuable time to conduct workshops on umpiring and other aspects of the game. He has been performing this duty since 2000 on an honorary basis. He conducted two sessions of over two hours each under topics, 'Background of the Game and the Laws of Cricket' and 'A qualified and confident Cricket Umpire'.
Ashroff Ghany, the President of SLCUA and the vice president of Bloomfield in his speech thanked the umpires for their interest in uplifting of the standards and extended his gratitude to Khan for his service to cricket, extending his vast knowledge to the upcoming umpires as an umpiring trainer and a cricket historian.