Incisive take on the rich and indulged
View(s):

Arun Welandawe-Prematilleke gets things rolling by encouraging the crowd to be"raucous and merry." This night's audience doesn't need to be told twice. Over the next hour the Mind Adventures Theatre Company presents 'Blowhards' – a trio of short plays, each taking for its theme a modern interpretation of an ancient malady. Narcissism, corruption, exploitation and ignorance all take starring turns. Welandawe-Prematilleke's script is light on its feet – and it's interesting to see the young director/playwright testing his own mettle with a foray into satire.

The first two of the three performances – 'Tea/Coffee' and 'Eco-Warriors' – are structured as intertwined monologues, while the third, 'The Corn' is a conversation between a mother and son. Some of my favourite actors are on stage tonight. Ruvin De Silva and Thanuja Jayawardene open the show, with Ryan Holsinger, Pia Hatch and Leah Bazalgette to follow, and finally Tracy Holsinger and Brandon Ingram to bring down the curtain.

Though they stand alone, the set of plays have much in common in terms of motifs and themes. Welandawe-Prematilleke parodies, I suspect, what he knows and encounters. The characters seem drawn overwhelmingly from the upper economic classes, propelled there by inherited wealth, native cunning or simple good fortune. The voices of the poor – be they the tea pluckers from the first sketch, or the downtrodden citizens from the last – are absent here. Instead, their concerns are interpreted through a foggy lens, and they themselves are only of interest in as far as they serve the interests of those with power over them.

Satire is incredibly hard to pull off, and credit goes to a cast that held nothing back from their short but vivacious performances. A study of young affectation,'Tea/Coffee'pitted Anuk (Ruvin De Silva) against Shehani (Thanuja Jayawardene) in a battle of the beverages. Each is certain they occupy the moral high ground – Anuk is a caricature of an enlightened tea drinker, a prayer-bead-encrusted kurta-wearing hippie who confesses earnestly that "tea is deep" and that "every sip of tea makes me feel more Sri Lankan."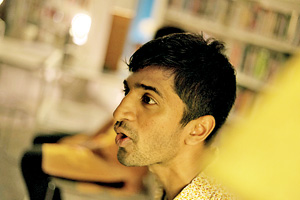 Shehani, who Jayawardene invests with a high strung, perpetually taut posture, is convincing as someone who is "angry all the time." Her rage encompasses everything from the poor wages paid to workers in the plantations, to the plight of the man who must harvest the jakfruit from the tree. De Silva's performance comes off as the more natural of the two, while Jayawardene is obviously charismatic, her portrayal sometimes feels too pronounced for such an intimate space.
'Eco-warriors' is less successful though it has its moments. Pia Hatch is Deshini, a pretentious, ignorant mother of three who names her children – Meadow, Canyon and Forest – after the places they were conceived in. Leah Bazalgette is Anna, who plays at being an eco-warrior, but whose privilege and class consciousness undergirds every yoga posture she adopts. Ryan Holsinger is sleazy, corrupt politician S.T.W.A. Amarasinghe, whose plan to cycle to Parliament and earn himself a reputation as a green hero backfires terribly and also produces one of the show's funniest moments in the form of an actual newspaper headline accusing him of creating a traffic jam.
Monologues are abandoned for a final sketch that presents a conversation between Anoma (Tracy Holsinger) and Jeevaka (Brandon Ingram). It has the most substantive premise of the three short plays, placing its characters in the aftermath of political upheaval. The father, a once despotic politician, is now languishing in prison, leaving his family to fend for themselves. His wife Anoma is taking it badly, descending into a morass of self-pity and despair as she almost lovingly nurtures a painful, disgustingly purulent corn on her foot. (Holsinger's rictus of pain is so good it induces a sympathetic twinge.) Her son, Jeevaka is idealistic enough to have voted for the opposition with the welfare of his country in mind, but is indulged enough to be appalled at the thought of abandoning an expensive university course and a vacation to Spain.
There is a rhythm to the frustrations of that relationship that more than one parent and child will find familiar and both Ingram and Holsinger are immensely watchable performers. But while the repetitiveness of their arguments might have been true to life, I thought the piece could have been improved by a sterner editor at the helm.
Taken together, the plays offered funny, clever and often incisive commentary on life among the rich and indulged in Colombo. Only one or two other local playwrights have attempted this with as much success as Welandawe-Prematilleke. There is a sense however, that this set is still a work in progress. The plays have the potential to be not just entertaining but genuinely surprising; to fulfil that promise they must tell us things about these caricatures that we could not know, and reveal depths that we do not suspect.
'Blowhards' is the second instalment in what will eventually amount to a dozen productions from the first local theatre company chosen for a year-long residency at the British Council. I have my reservations about this – would the British Council have contributed more to local theatre by inviting four companies to produce three pieces across the year instead? Or will this be the crucible that forges this theatre company, pushing them to do more than they have ever done before? However it goes, this will be an experiment worth following along on.