Culinary Art keeps the heat on among local chefs
View(s):

Chef's whites was the unofficial dress-code at the BMICH on the last weekend in July. Sri Lanka's biggest culinary competition, Culinary Art 2015 brought in 25 internationally recognised judges who meticulously went through the 2500 entries including those by homespun talent.

Cleanly piped cakes with intricate suspended sugar work made for a seemingly sweet welcome to the arena where heated rounds of competition saw dishes of international standard being plated up. Nervous contestants shaking-off an intense previous round, going over plating plans in their minds and tossing cocktail shakers in practice for what the competition had in store for them, were common sights across the lawns.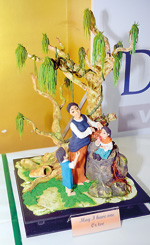 It was out of this type of pressure that Chairman of the Chefs' Guild of Sri Lanka, Chef Gerard Mendis garnered experience. This opportunity to prove themselves under international standards wasn't a readily available one for the young chefs of today until Culinary Art brought "international standards to the country," he said.
Canada's High Commissioner, Shelley Whiting was among the dignitaries at this Chefs Guild of Lanka event. Interestingly she had studied Food and Nutrition at the University of Alberta long before she joined the Foreign Service. The High Commissioner said the agro-food sector made for the largest trade relations between Canada and Sri Lanka. Coming from a country with a terrain as different as its population she said the many cultural ties between Sri Lanka and Canada extends to foods, like lentils which are imported from Canadian plains which go into the beloved Lankan preparation of dhal.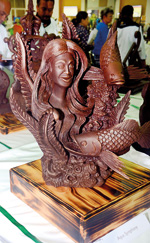 Representing the source of top notch produce she shared that it was encouraging that attention was devoted to nutrition but also to "the artistry behind it."
Tourism Development Authority Chairman, Paddy Withana said, he was "more proud to be here as a former chef." Highlighting the importance of tying-in cuisine with tourism he said, "A trip can easily be spoiled by just one bad meal." Delighted that these competitions were bringing Sri Lankan food one step closer to being an internationally popular cuisine he said Sri Lankan potential was never in doubt, even by the foreign chefs who set-up the profession many years ago.