8 days more to go and violence could increase – monitors
By Joshua Surendraraj
View(s):
Election monitoring bodies say going by the trend of past elections, there could be an increase in polls related violence in the final week of campaigning ahead of the August 17 General Elections. This is in spite of Police being tough with election law breakers with nearly 200 arrests being made this week.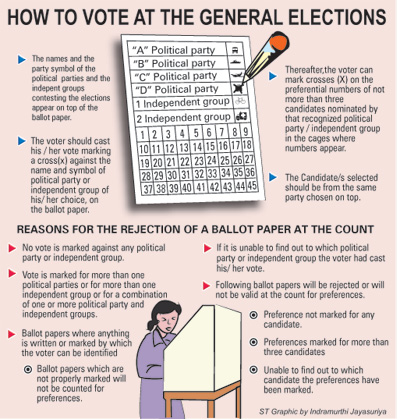 A recent concern for election monitoring groups has been reports of the involvement of several underworld figures in the campaigns. "Our informants tell us that this trend is seen mainly in the districts of Colombo, Gampaha, Hambantota and Kandy," Campaign for Free and Fair Elections (CaFFE) said.
According to CaFFE reports earlier the UPFA had made use of these very same underworld figures in election propaganda material such as posters to defame the UNP in Colombo, but following the change of Government these very same thugs appeared to have joined hands with the ruling party.
CaFFE also revealed that these thugs are being sent on door-to-door campaigns in the Gampaha district and they were the main culprits behind the electoral law violations in the district.  "We also received information about a long standing rivalry between two gangs in the Hambantota District.
This conflict had escalated resulting in a killin at the time Parliament was dissolved," CaFFE Executive Director Keerthi Tennakoon said.CaFFE reports show that nearly 1223 election related incidents have been reported to date islandwide. The figure includes 1130 incidents of election law violations and 93 cases of election related violence.
A majority of the incidents, more than 250 have been from Colombo District. Meanwhile People's Action for Free and Fair Elections (PAFFREL) has reported a total of 925 incidents of election violations since the dissolution of Parliament.  This includes 118 incidents relating to acts of violence, 117 incidents related to abuse of state power, resources and misuse of state sector employees and 690 incidents of other forms of election law violations.
The Police have conducted 179 raids and arrested 412 election law violators. They have also received 212 election related complaints. Police Spokesperson ASP Ruwan Gunasekara told the Sunday Times that nearly 200 arrests were made this week.