Election rhetoric and economic reality: Promises sans finances, vision without policies
View(s):

Last Sunday's column asserted that the election manifestos of the two main parties were for most part a catalogue of extravagant promises that were not financially viable. Most persons know that these promises, especially of the UPFA, are not financially feasible. Now that D.E.W. Gunasekera has pointed out that current government revenue was inadequate to implement the election promises, their credibility is shattered.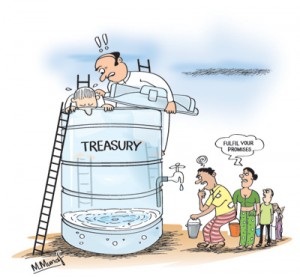 Former Minister and Communist Party leader Gunasekera, the Chairman of the Committee on Public Enterprises (COPE) till recently, challenged the two main parties to reveal how they were planning to increase state revenue needed for their implementation.
Last Sunday's Business Times estimated the cost of UPFA promises in detail. It estimated that their total cost of Rs. 404.2 billion would double government expenditure. The actual cost of implementing these promises would depend on the manner in which they are eventually implemented. What is indisputable is that with a financial situation where government revenue is hardly adequate to finance debt servicing costs, even the partial implementation of these promises would lead to a financial crisis and economic instability. In the event of a UNFPA victory, they would have to find a means of opting out of most of these promises.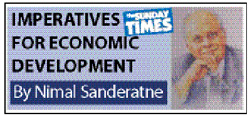 UNP promises
The UNP promises are in the nature of grand long term development projects that would generate employment, incomes and exports. Such grandiose schemes too need large scale financing that cannot be from the government budget that had a fiscal deficit of 5.9 percent of GDP last year and likely to be of similar or higher proportion this year.
The UNFGG has not indicated specific means of financing its development programme, but implied the investment programme would be mostly foreign funded. It expects foreign direct investments to flow liberally when it assumes power.
They could probably cite their implementing the Accelerated Mahaweli Programme with massive foreign funding in 1978. Global conditions are however different and FDI investments would be determined by the attractiveness of the country to foreign investors. Not having a clear majority for the UNFGG that would enable a stable government could be the main obstacle to foreign investment.
JVP's approach
The Janatha Vimukthi Peramuna (JVP), the third force at the forthcoming election, has no pretentions to forming a government. It has taken a different approach of presenting a vision statement rather than a range of election promises. The JVP's objective is to become the decisive factor in the formation of the government and wants to be the tail that wags the dog, whether it is green or blue.
By becoming the decisive factor the JVP wants to ensure that the public receive sufficient relief from the government. According to Tilvin Silva, "None of the governments that were in power had provided relief to the public without being forced. We as the JVP would force the Government for better changes. All the political victories such as the 19th Amendment are results of struggles."
The JVP's political position and the stance on the economy could be important if either of the two alliances do not get a clear majority in parliament. It could be a destabilising factor as its policies are likely to conflict with those of the majority party.
'Accord of Conscience'
The JVP manifesto 'Accord of Conscience' is a holistic and idealistic vision to develop the country during the next five years. Its programme consists of five basic features: Administrative structure, fundamental rights, national security, national unity and foreign policy. Under its programme of 'A superior human resource', health, water, food, nutrition, sanitation, sports & physical fitness, science and technology are discussed. Under its theme 'modernised and industrialised country', it discusses industries, agriculture, livestock industry, fisheries & aquatic resources, plantation industry, tourism, lands, water management and irrigation, local & foreign trade, monetary sector, power & energy, transport and roads, housing, environment employment, Sri Lanka expatriates and rural development.
Under its theme 'A Just Society', the JVP discusses human rights, the judiciary, crimes & prisons, women's & children's rights, the aged, the disabled & citizens with different needs, Social welfare, wastage, prevention of frauds & corruption. It also discusses the task of the private sector, the family and individual's responsibilities as components of a just society. It even discusses how aesthetics and other sectors could be made independent of state intervention.
Economic policies
The JVP manifesto is a vision for a better society. Despite the comprehensiveness of the manifesto, there is no straightforward statement of its economic policy framework. Is it for state control of the economy and nationalisation of private enterprises? Will it ensure property rights? Will it adopt inward looking import substitution strategies rather than open market policies? Given its political past the JVP should clarify these issues.
The JVP is not for a capitalist system. Neither does it support neo liberal economic policies. It is impliedly for a home grown socialist system. Is it for inward looking economic policies and ideologically committed to import substitution. Has the JVP taken a leap forward into the realities of the global economy and understood that the country's future lies with the expansion of exports that requires open market liberal trade policies. These are issues on which the JVP should deepen their understanding of economic issues and formulate internally consistent economic policies, if they are to form a government in 2020. The reforms of former communist regimes such as China and Vietnam that have adopted pragmatic economic policies should be a guide.
Political parties have once again promised heaven on earth. Their promises of higher incomes and salaries, employment for all, particularly the youth, improvement of education and health and a growing economy require resources that are extremely limited. Most of the promises of the UPFA cannot be implemented or if implemented by "printing" money would lead to financial chaos and economic instability.
The vision of the JVP is admirable but unambiguous pragmatic policies are needed.