Better red than politically dead
View(s):

My dear Anura Kumara sahodaraya,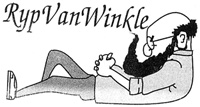 I thought I must write to you even though you and your rathu sahodarayas are quite busy these days campaigning for an election where you believe you will make a significant impact — or even decide who will be governing the country for the next five years.
I must say many people are impressed by your performance so far in leading the rathu sahodarayas. When you took over from Somawansa sahodaraya, there were many who thought that your party will be a spent force, because he was the last of the original leaders of the rathu sahodarayas.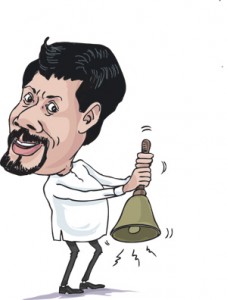 In hindsight though, Somawansa sahodaraya's retirement appears to have been a blessing in disguise: These days he is fasting unto death and making curious statements. It appears as if all 'Wansas' are destined to leave the rathu sahodarayas, stage fasts unto death and then call it off!
Why you have been popular so far is because people have found your arguments reasonable and you seem to back them up with facts and figures — both inside and outside Parliament. You are also quite calm in your manner — in contrast to Wimal, for example, whose hobby is hurling insults at people.
We know that you and the rathu sahodarayas are quietly optimistic of having more than a dozen sahodarayas in the new Parliament after next week's election. While you and your party deserve that, you should also thank the Blues and the Greens for their contributions, if you do achieve that target.
The Blues did well under Mahinda maama until he won the war. After that, they became a law unto themselves believing that they will never ever lose another election, simply because Mahinda maama gave leadership to the war effort. I think even Mahinda maama himself miscalculated his chances.
After Mahinda maama lost in January, they have made more mistakes. Instead of allowing Maithri to clean up the party and contest the elections with a set of fresh faces, they have opted to run with the same old crooks, thugs and thieves. That of course has made your much task easier, sahodaraya.
On the other hand, when the Greens were asked to form a government by Maithri, there were high expectations. After twenty years in the opposition many were hoping that the Green Man would lead from the front and that they would deliver on the promises that they made from election platforms.
They couldn't keep all of their promises because they didn't have control of Parliament and they did do some good deeds in the last six months but some of their actions — like how they handled the bond issue at the big bank — have been disappointing and could cost them dearly on the seventeenth.
Because of all this, Anura Kumara sahodaraya, a good percentage of people are now saying 'unuth ekai munuth ekai' — that they are no better than the other — and that you too deserve a chance because you haven't had a real opportunity before though you once had close to forty MPs in Parliament.
If I were you, I would aim to be elected on your merits rather than because the other two major parties are not good enough — and I believe that is where your problem lies. You need to think about that, sahodaraya, and about why most people would only vote for you as a protest against other parties.
I suppose that is partly because the older voters in the country clearly remember the horrors of '71 and '89. Many of those who lived through those dark days will still have reservations about voting for your party. You need to reassure them that you will never ever seek power through the gun again.
There is also a belief that your party tries to shy away from responsibility, sahodaraya. For instance, at the last election campaign, you never asked people to vote for Maithri although you did ask them not to vote for Mahinda maama. You said you were "not sure" of the goods sold in Maithri's shop!
When Maithri formed his government, you didn't want any representation in the Cabinet. It was the same story ten years ago, when you helped Mahinda maama win his first election but refused to join his Cabinet. Many find this baffling and because you hesitate, some have lost confidence in you.
I think it is time to explain, sahodaraya. If you want to make a lasting impression at this election, you also need to tell the people whether you still subscribe to purely socialist policies when most of the world has opted for a different path. That is another reason why many are reluctant to vote for you.
Think about all this, Anura Kumara sahodaraya. You have done well in the last few years but there is still a lot of work to do. Your party's role is important because, at next week's election, not only should our country get the government it deserves, it should also get the opposition it deserves!
Yours truly,
Punchi Putha
PS: Although you are campaigning against both the Blues and the Greens at this election, one of them will have the most number of seats in the next Parliament. That is when you will have to decide who you would support to form the next government. If you avoid that responsibility, Anura Kumara sahodaraya, Sampanthan seeya will decide who governs our Paradise for the next five years!