The sounds of Musicmatters Festival once again!
By Namali Premawardhana
View(s):
It's that time of year again, when for a couple of days on end, you get yourself steeped in the cutting edge of global experimental music. The Musicmatters Festival is the biggest annual event MusicmattersSri Lanka puts together. So far, this year they have walked through several small concerts, CD releases and most excitingly, the beginning of a new collaborative project, Musicmatters Transcoastal Collective, with musicians from the Swami Vipulananda Institute in Batticaloa. As much as the 2015 festival will be about celebrating these achievements (students will perform at the festival as usual, and also Musicmatters Transcoastal Collective and many other local artists), it will also stay true to the festival's original challenge, with a few significant tweaks.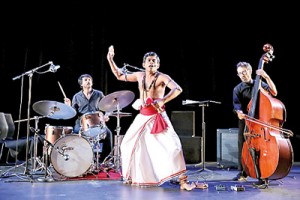 "The main thing we're trying to do is earnestly develop a good music scene in Sri Lanka and Colombo," says Director of the school, Sumudi Suraweera.  "We've always had people who have never seen anything like it, and even been shocked," he continues, "and we expect to keep doing that at least another five years.
Apart from staying true to the festival slogan "Beyond the Mainstream", the festival is also big on presenting a wide variety of music spread across a number of genres. This year's featured international artists come from a variety of backgrounds in musical training and history, including jazz, rock, pop, and eastern and western classical. What they have in common though is a track record of well-grounded improvisation and experimentation, and what Suraweera calls a "strong voice".
This year's featured international artists at the Musicmatters Festival include Brooklyn based singer, multi-instrumentalist, composer and improviser Leila Adu, Berlin based Xu Fengxia's Shangyin Trio, Australian double bassist Clayton Thomas and Austrian pianist David Six. Local artists at the event will include Eshantha Peiris, the Brahminy Kites, Larry T Hill, Sakvala Chakraya, Amila Sandaruwan, the Prasantha Ru drum ensemble, contemporary low-country ritual group Baliphonics, Musicmatters Collective dance ensemble Colombo 00800 Kinesthetics and progressive rock fusion group Thriloka.
Musicmatters students in the 10-15 age group will also perform original music at very short rock-pop sessions tinged with a bit of jazz. Look out for exclusive interviews and more information on the artists in next week's ST magazine.
Musicmatters Festival 2015 runs from Thursday, August 13 through Saturday, August 15. Tickets are available at takas.lk and Musicmatters. Call 0112686615 for more info.