Floating Space pins you down with Forgetting November
By Purnima Pilapitiya
View(s):
In 2007, Ruhanie Perera and Jake Oorloff staged "In a Shadow" at St Andrew's Scots Kirk. Aptly named, their theatre company "Floating Space" has since cemented itself in Colombo's artistic circle. Known for their unconventional performances, original work and creative use of their surrounding environment, the troupe is back this month with a new project.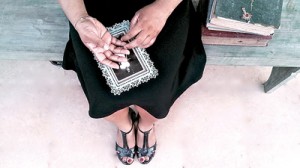 Still a working title, "Forgetting November" promises its audience a chance to delve into the abyss of memory and remembrance. Since their inception, Floating Space remains loyal to its concept; providing artists with a chance to express themselves without creative compromise.
Their previous productions include The War Reporter, My Other History and more recently- Overwrite. Floating Space literally stretches their boundaries in terms of the physical form of theatre, their pieces are highly emotive, bridging the gap between actor and audience.
"So it's a natural progression," explains Jake, on why they chose to centre their newest work on memory. Very similar to their past work, Forgetting November will invite audiences to a fictional country and three characters. The characters; a young teacher, an older male writer and older woman are at the drama's core. Although they are still in the thick of writing, Paula- the older woman is proving to be a favourite. "Her story is about a failed political struggle she was part of," reveals Jake. The shifting narrative between her former self and a now older, reality-stained adult makes her one of the play's complex characters.
Their previous productions have seen real life stories providing the basis for many a plot. "We try to make it as accessible as possible," Ruhanie tells us. Interestingly, Paula and the other two characters are not inspired by local stories. But that doesn't daunt the two. "I think what fundamentally ties us is that we are human beings. For us it's important to tap into that humanity."
Forgetting November is billed for August 15 and 16 at the Harold Pieris Gallery, Lionel Wendt Art Centre. The production is a part of 'Watch this space: Framing the past, untying the future' curated by Groundviews, and is supported by the Centre for Policy Alternatives. Tickets will be available at the Lionel Wendt from August 8.