Channa, Bhatiya and Santush take Sydney by storm
Kala Korner by Dee Cee
View(s):
July 18: The day marked the tenth death anniversary of the much-loved pioneer of modern dancing, Chitrasena. It was a sheer coincidence that one of his bright pupils, Channa Wijewardena was performing that evening in Sydney. The Channa-Upuli troupe gave the predominantly Sri Lankan audience an evening to remember. Since I last saw the troupe perform, Channa has come a long way. While maintaining tradition he has cleverly innovated dances to catch today's moods.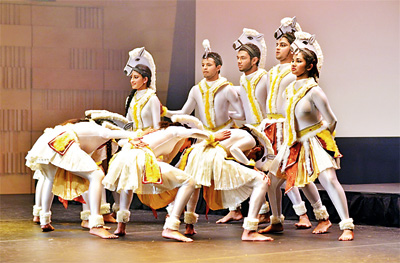 The evening also featured Bhatiya and Santush who have deservedly gained recognition as master entertainers. In between Channa and Bhatiya, a talented young couple, Saranga and Umali took us to the golden era of Sinhala arts when Saranga's father, Narada Disasekera gave us the unforgettable 'Galanagangakijeevithe' in 'Ranmuthuduwa' – the best song of the day at the first Sarasaviya film festival in 1964.Narada, along with Nanda Malini won awards for the Best Male and Female singers. It was Pandith Amaradeva's debut as music director in films. While being singers Saranga and Umali are both well versed in acting too with Saranga already making a mark in Sinhala cinema having won a couple of awards. Umali being a pupil of Premasiri Khemadasa shows her confidence in facing audiences. They were thus able to give the near full posh concert hall 'The Concourse Chatswood' in a Sydney suburb something much more creative than merely holding a microphone and sing a song. They sang 'Galanagangaki' and another of Narada's popular songs 'Aadara nil dese', along with a few new compositions adding lot of colour with stage movements showing signs of a bright future.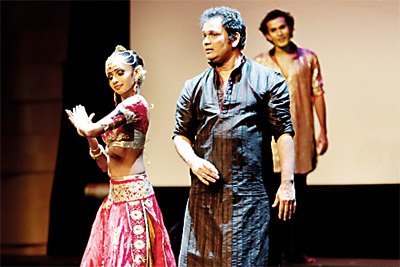 The show titled 'Rasanjali' was arranged by the Sinhalese Cultural Forum of New South Wales to mark the Forum's 25th anniversary. The first half featured items by students of Kandyan dancing schools in NSW.
Starting off displaying ' the Pearl of the Indian ocean', the troupe performed 'Anothaththavila' based on the well rendered song by Amaradeva whose clear voice in the background added colour. Channa's troupe's performance in 'Thelme' and 'Thala' demonstrated their versatility and professionalism. There was ample variety in the Kandyan and low-country dancing techniques the dancers offered. The 'Taste of India' was a mix of oriental dance forms well performed. The ever-popular Gajagavannama was presented through the 'Search of the Tusker'. An excerpt from 'Daskon' created by well-known drama producer Champa Buddhipala, now domiciled in Sydney set to a song by Amaradeva demonstrated the intrigue in Sri Veera Parakrama Narendrasingha's palace and the romance between Daskon, the palace courtier and the queen. Channa and his daughter presented 'Piya Bole' – a symbol of affection based on a popular hit from a Hindi movie.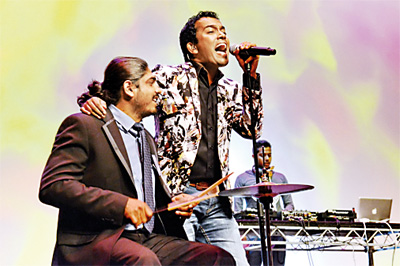 It was a fitting climax to the grand evening when Bhatiya and Santush came on stage and in their inimitable style started off with 'Hoiya, Hoiya' giving their own version to the fisher-folk song popularised in 'Karadiya'. It was followed by 'Master Sir' – a tribute to creator Nimal Mendis who passed away recently – in its original words presented in the typical BS style. On their invitation, the audience thereafter joined in to sing 'Tananeantamdenana', 'Jeevityhe Mal' and many more, ending with 'Baila remix'.
In between Bhatiya related interesting experiences during their not so long but eventful career. He remembered how he and Santush went to meet the Torana chief to discuss the possibility of cutting their first CD. "He wanted us to wait for a while. So we waited. Then we noticed someone coming past the Torana boss who asked him something. 'They are good,' he said looking at us. That person was Rukantha Gunatilleka and it was on his recommendation that we got our break," Bhatiya said with a sense of gratitude.