Appreciations
View(s):

A vibrant personality with a zest for life
Dudley Nihal Fernando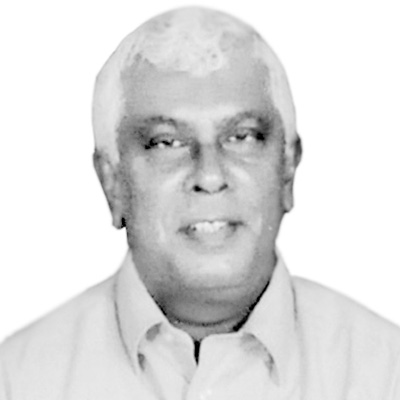 The sudden demise of Dudley Nihal Fernando, eldest son of P.J. and Blondina Fernando of Bopitiya, Pamunugama, was difficult to come to terms with, for his family and friends, as he was a vibrant personality with a zest for life.
A product of De Mazenod College, Kandana, Dudley was an engineer by profession and was attached to Colombo Commercial Co.(Engineers) Ltd where he served in Colombo as well as in outstation areas like Ratnapura, Badulla, etc. He excelled in whatever work he undertook displaying his leadership qualities and won the respect of everyone. Later on he joined the Hayleys Group where he served in the Engineering Department for a long time.
Subsequently he and his brother Srilal (my husband) formed a company of their own under the name Elemech Engineers (Pvt) Ltd and brought up the company to the status of a Grade 1 construction company.
Being the eldest in the family where he was known as "Nihal" he was greatly respected by all family members and was "Loku Aiya" to the other siblings and their spouses who all looked up to him for advice, support and guidance. The good values inculcated by his parents were evident as he was a very dutiful eldest son who did more than his fair share of looking after his parents, ensuring that they got the best medical treatment in private hospitals whenever it was necessary and always included them in family outings.
As a dutiful father he ensured that both his sons received a sound education and even sent them abroad for further studies. He and his beloved wife Nilanthi affectionately known as "Chuti" with their caring nature were instrumental in keeping this closely knit family together. The annual family outings during the Sinhala and Tamil New Year were always looked forward to by everyone.
Loku Aiya, you always made it a point to ensure that all family members were present. Your three younger brothers with their families and your only sister Sirima remember with gratitude all the assistance and guidance you gave them and. There is a saying that "a family that prays together, stays together". The pilgrimages to Madhu Church, St. Anne's Church Talawila and St. Mary's Church Matara were much loved by all where all the family members used to kneel and pray together.
Loku Aiya, my heartfelt gratitude to you and Chuti for being a pillar of strength to me during my difficult times; especially when my son's student visa was getting delayed. In the absence of my husband who had travelled ahead of us, I was desperately going from pillar to post and both of you took me and my son to whatever church I wanted to go, whether in Matara, Marawila, Kochchikade, Panadura and Seeduwa.
My father-in-law used to reminisce with pride that even as a youth you had actively taken part in church activities and had designed the church of Kindigoda upon the request of Fr. Ernest Poruthota. A few years ago acceding to requests made by the relevant parish priests Loku Aiya and my husband were instrumental in refurbishing the sanctuary of St. Nicholas' Church, Bopitiya and tiling the sanctuary of St. Joseph's Church, Kotelawalapura.
As an active charter member of Lions Club of Ratnapura of Lions Clubs International District 306, "Lion Dudley" as he was well known amongst the Lions was the recipient of the most outstanding Secretary of the District award. Subsequently he joined the Lions Club of Moratuwa-Ratmalana where he actively participated until his demise. For three and a half decades he gave much of his time, energy and resources with great commitment and held many portfolios under numerous District Governors; Cabinet, Cabinet Treasurer, Secretary Convention Steering Committee etc.
His pet club project was "Sri Lankan Masterminds" a quiz competition which was carried out for nearly 17 years. I know the hard work he used to put in, in gathering data to formulate the questions for this project which was no easy task. The members of the Lions Club of Moratuwa-Ratmalana I am sure have happy memories of the Christmas Meetings followed by lavish fellowship hosted at his residence where the entire Lions Family of Moratuwa-Ratmalana used to sing Christmas Carols as part of the entertainment.
The golden heart of a loving husband, caring father, doting grandfather, dutiful son, devoted brother, benevolent uncle and genuine friend was stilled forever a year ago, leaving a void in the lives of many who closely associated him.
Eternal rest grant unto him O Lord and let perpetual light shine upon him and may his soul rest in peace.
-Swarnamalie Fernando
(Sister-in-Law)
---
Consultant Physician who really understood his patients
Dr. R.S. Thanabalasundaram
July 16 was the birth anniversary of the late Dr. R.S. Thanabalasundaram the well known Consultant Physician. Born in Jaffna in 1922 he was the eldest in a family of eight. He was the son of Chelliah of Kokuvil who was a Registered Medical Practitioner, (RMP) well recognised at that time in the medical field since qualified doctors were limited.
The early education of Dr. Thanabalasundaram was at St. John's College, Jaffna and for secondary education he entered Royal College in Colombo through a competitive scholarship examination. He had an excellent academic record at Royal College winning many prizes including the Turner Prize for outstanding academic performance.
Pursuing higher studies he entered the Faculty of Medicine of the University of Ceylon and graduated with first class honours which included distinctions in Medicine, Surgery, Gynaecology and Obstetrics. Joining Government medical service he served in the outstations including Jaffna, Rambukkana, and later at the General Hospital, Colombo. Proceeding to London for post graduate studies he was conferred the Fellowship of the Royal College of Physicians (FRCP) and later obtained a Doctorate in Medicine (MD).
In June 1956 he married Pamathy, daughter and only child of N. Sivagnanasunderam, retired District Judge from Point Pedro. She herself had a good academic career with a 1st class degree in Sanskrit and thereafter a Masters Degree. For a short period she taught at Ladies' College, Colombo and was also a Visiting Lecturer in Sanskrit at the Aquinas University in Colombo. She died somewhat pre-maturely of cancer in January 1978.
I came to know Dr. Thanabalasundaram through one of his sisters, Dr. Gnanes Selliah, later Balasubramaniam, with whom I was associated in London in 1969/70 when she was pursuing post graduate studies in Medicine and I was following a Diploma in Development Administration while in the Public Service in Sri Lanka. I came to associate with Dr. Thanabalasundaram very closely after the demise of Pamathy and his children pursuing studies overseas. I used to visit him very often in his Horton Place residence where he has treated numerous patients over the years.
I live in Pamankada and often when I came to the heart of Colombo for Buddhist engagements and other activities I visited him and we engaged in long discussions on a variety of subjects including Buddhism. Although he was a Hindu, he was interested in Buddhism especially in my work in that field. He often read my Buddhist articles to the press and Buddhist journals that I edited, namely, the Annual Vesak Sirisara and The Buddhist, the quarterly Journal of the Colombo YMBA. Often in the evenings returning from meetings of the Colombo YMBA, I used to meet him at his home. If he was attending to patients at home or visiting nursing homes I attended to my own work. His residence became a second home to me.
Dr. Thanabalasundaram retired pre-maturely from Government service when private practice for Government Consultants was withdrawn by the Government and developed a roaring practice as a Consultant Physician. At that time with limited specialists in the medical arena a Consultant Physician treated a large variety of patients. The hallmark of medical consultation was the physical examination where the Physician carefully observed the reaction of the patient to pressure exerted on the body. This is in contrast to the situation today where the side bed to examine patients is hardly used and doctors rely on medical reports from laboratories. An error or mix-up of reports could lead to a wrong diagnosis.
He visited numerous homes to treat patients and fees at that time in the early 1960s was Rs. 20 for consultation at the residence of the Doctor and Rs. 25 for a visit to the home of the patient. I had been his patient and close friend for over 35 years from early 1970s until his demise in 2007. I miss him very much as a patient. He understood my medical condition so well that often for not too serious ailments he prescribed treatment on information provided over the telephone.
A competent Consultant Physician he was devoted to his profession and the welfare of his patients. Dr. Thanabalasundaram had three children and all are overseas. During his last illness for almost three months at least one of them was in Colombo despite their commitments overseas. His son Sudarman Thanabalasundaram is in UK while two daughters Suchita Srikanthan and Sumangala Santiapillai are in the USA and UK respectively.
Dr. Thanabalasundaram was born as a Hindu, lived, as a Hindu and died as a Hindu. So I wish him Moksha. However, taking in to consideration his interest and reasonable understanding and appreciation of the Dhamma I wish him the supreme peace of Nibbana.
-Rajah Kuruppu