Relive 'A Taste of Switzerland' at MLH once again
View(s):

There is something exceptionally delectable about Swiss fare that continuously draws one to it. Therefore Mount Lavinia Hotel together with the Embassy of Switzerland will be hosting a traditional Swiss food festival, 'A Taste of Switzerland', from 30th July to 08th August, inviting all Swiss food lovers to indulge in yet another memorable gastronomical experience.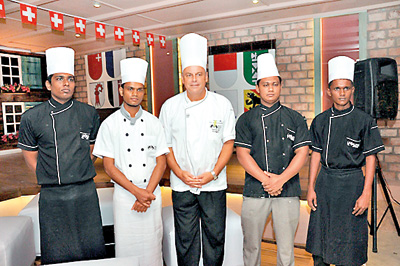 This year, Mount Lavinia Hotel's own Executive Chef, Michael Goeggerle will head the team along with Chef Jean-Pierre Frampton who will fly down from Switzerland especially for the promotion. Chef Mike's international exposure coupled with his previous experience in one of Colombo's leading restaurants specialising in Swiss cuisine, and Chef Jean- Pierre's culinary heritage from the French speaking part of Switzerland will strike an ideal balance in creating a traditional Swiss spread.
The ever famous Raclette and Fondue will definitely be present without which no Swiss meal is complete. The delectable menu also includes, Zurichoise, Appenzeller Cheese Spaetzle, Thurgauer Sourbeef, Berner Roesti as well as Apple or Blueberry Waehen, Swiss Carrot cake and homemade Cassata for dessert.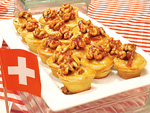 The Sunset Chalet, aptly named to compliment the Swiss food festival creates an intimate atmosphere dressed up in traditional Swiss cowbells and the 26 Canton flags decorating the walls. The Swiss folkloric music band 'Edelweiss' will be performing at the festival until 6th August. The band was established in the early 90s and performs in Switzerland and other countries. The authentic Swiss country music formation includes 4 musicians who play the clarinet/saxophone, accordion, piano, singing saw, melodies with little bells, alphorn and the typical Swiss yodel.
Head to the Sunset Chalet at Mount Lavinia Hotel for a truly Swiss experience. 'A Taste of Switzerland' at MLH will come alive at the Sunset Chalet (near the Paradise Beach) from 7.00 pm to 10.30 pm on each day till 8th August.
Call 0112 711 711 for more details