Appreciations
View(s):

A humanist who inspired us
Tima Lazarus
Tima belonged to a generation of Sri Lankans who were idealists, who travelled the world with little in their pockets, but with the single thought, expand their horizons. He also belonged to those idealists, fewer in numbers, who returned to their home country, decades later, to give back what they had learned to the land of their birth.He returned to Sri Lanka in 2003, and set up Investor Service Asia (Private) Limited (ISA) as the sister company of Eastbound that he had established in 1998, in France.

Tima lived not one life, but many lives. He lived in many countries, in many epochs, with people from different social milieux, cultures, and historical backgrounds. I had the privilege of knowing Tima all those years, from when he was my brother Udaya's best-friend at St. Thomas Prep School.

Tima was principled and selfless, giving more than he took. He was a humanist. He loved the simple people, always on the side of the underprivileged and the downtrodden, the victims and the innocent. He lived simply. In doing business, he shared what he earned with the dispossessed, making sure to give back to Mother Earth what others destroyed.

He was deeply committed to change, which he insisted would require collective effort. It is a responsibility "not just for politicians," but a collective responsibility, he said in an interview to Business Today. In that interview, Tima gave a glimpse of the change he dreamed of: "There was a time in this country when trees flourished, life was less complex, boundaries were blurred and one man was as good as the other. Now is the time, to bring back those simple joys and the beauty of this land before it was touched by tragedy, to rethink our values and to rediscover our essence."

Tima's strong sense of social responsibility resulted in developing creative tourism and launching a"Plant a Tree Campaign" in collaboration with Rainforest Rescue International. He also initiated various other programmes amongst them to help schools in underprivileged areas, distribution of dry rations among flood victims, and donation of life jackets for fishermen.

Tima's commitment to a just society goes back to the young Tima. In Australia, his restaurant was also the meeting place for the anti-apartheid movement. In Lyon, as a teacher, he sought to inculcate social principles and values to a new generation of youth, who would assume leadership in the private and public sectors. As CEO of ISA and Travel Development Lanka, when asked by Business Today, why social involvement was important, Tima responded simply, "for me, CSR is linked to my own life, not a recent fashion." "This is where my heart is. I've had wonderful opportunities and I would like to pass on some of this to the next generation."

His main objective was to live his life in a way that would serve a purpose. When he left us, Tima's urgent desire was to make a film, based on a story he wrote of a little boy who was killed in a bomb explosion that had killed the President of the country. He was outraged and hurt that the media had not noticed the little orphaned boy. For Tima, that boy symbolised the hundreds of thousands of innocent dead, in wars fought around the world in their name, but not for them, that politicians so shamelessly dismissed as "collateral damage"!

Tima will be terribly missed. He had a larger than life presence that would light up every space he walked into. Humble and self-effacing, he made each of us feel unique and worthy. Tima lived with dignity; Tima left us with dignity. He will continue to live through the thousands whose lives he touched, and he will continue to inspire us with his example.
-Tamara Kunanayakam
---
Mother Theresa of Sri Lanka
SISTER RITA PERERA

There were seven in our family, five boys and two girls. I am writing this as the eldest Dr. brother. Rita was the fourth in the family, born on April 11, 1934. My mother and father were both teachers, strict disciplinarians. Rita had her education at the Sacred Heart Convent, Galle, by the then Belgian Sisters of Charity. She was the bridesmaid at my wedding in 1952.
She entered the nunnery at the age of 19 in 1953 and had her training at SHC Galle. She was a science teacher in the school. She fell ill in 1955 with a peptic ulcer of the stomach and was treated by Dr. P.R. Anthonis, the well known surgeon who admitted her to the nuns' ward at General Hospital, Colombo. At that time the treatment of peptic ulcer was by surgery and she had a gastro-entorostomy done.
She developed complications and started vomiting blood for which blood transfusion was given and she had a second surgery to stop the bleeding. Ultimately within one year she had further surgery for the third time, ending up with doing a partial gastrectomy, removing 2/3rd of her stomach. After that I went to UK for my postgraduate studies in Liverpool, and she went to Dublin in Ireland to do her science degree. There she fell ill and was admitted to a hospital in Dublin and I had to fly to Dublin and discuss with the doctors there regarding all her surgeries and to manage her without doing any operations. I came back in 1960 and she also returned and was a science teacher at the Galle Convent. She was later transferred to the Matara convent to teach there and came back to Galle.
She was again admitted to the General Hospital Colombo with intestinal obstruction due to bowel adhesions following the previous operations. She was operated again for the fourth time by Prof. R.A. Nawaratna and recovered. I was appointed to Galle General Hospital as a consultant in 1968. She used to visit me at the Galle hospital and discuss the problems she was facing in the convent. I advised her to leave the nunnery which she did in 1969. She came back home and remained with my mother.
She was very close to the Jesuits in Galle, especially Fr. Chianase and he brought a proposal of marriage from one Marcus Perera from Kalutara, and she got married at the age of 37 in December 1971 at St. Mary's Church Dehiwela.
Marcus was employed at Associated Motorways at Kalutara. They lived in a house on St. Sebastian road at Katukurunda. They had no children. She however fell ill again, this time with glaucoma of one eye. It was too advanced by the time I got her seen by an eye surgeon in Colombo and they had to remove her eye and give her a glass eye.
She again fell ill with pulmonary TB and stayed in my house for nearly three months. Marcus died in 1982 and and she decided to do social service work and went for advice to the then young parish priest at Payagala Fr. Malcolm Ranjith, who advised her to visit Nagoda hospital and be of service to the poor patients there. This she did very diligently in 1982, till one day a leper approached her and she put up a cadjan shed and looked after him, dressing his wounds and giving him shelter and food. She named her house Marcsri combining the two names Marcus and Rita and it was later registered as a social service institution named" Marcsri Sarana Seva Niwahana" in 1983.
She appealed to the then Archbishop of Colombo Nicholas Marcus Fernando for financial help to construct a permanent building to house the many inmates who came to her for help. The Archbishop appointed Fr. Julian Thissera who was the parish priest in Katukurunda full time to help Rita, as he was also very keen on working with the poor.
As a medical man I am amazed that she lived up to 81 years and did this tremendous work, which no one in this country has ever done, with all her illnesses. She did all these with implicit trust and faith in the providence of God Almighty, single-handed as a one woman show for the past 32 years.
Her love for the unwanted, mentally retarded and disabled children who were dumped on her doorstep by mothers, was great. She gave them an education. Many of them have been given in marriage and she has built homes for them.  Many philanthrophists from Sri Lanka and many from abroad have helped her over the years to continue this work .
Her final obsequies on the 28th afternoon was something that I had never seen in my life for an ordinary laywoman like Rita, where five Bishops, the Cardinal, Archbishop, two Archbishops Emeritus and two other Bishops concelebrated a Eucharistic celebration with a large number of priests, nuns and laity who filled the Marcsri Niwasa. Three other Bishops from Galle, Kurunegala and Anuradhapura paid her homage and conducted services earlier.
My sister Rita had implicit trust in God Almighty to run the home when she is gone. I am quite certain that she will intercede from heaven to continue this tremendous service to humanity . Her motto was " What you do to the least of my brethren, you do it unto me".
-Wilfred Perera
---
The greatest mother in the world Chandra Wijayakoon
It is with profound sorrow that I write a few words in appreciation of my loving mother-in-law Mrs. Chandra Wijayakoon of Dehiowita who passed away after a brief illness on July 4, at my home in Bandaragama. She was 94 years. Her demise has brought deep sorrow to all of us.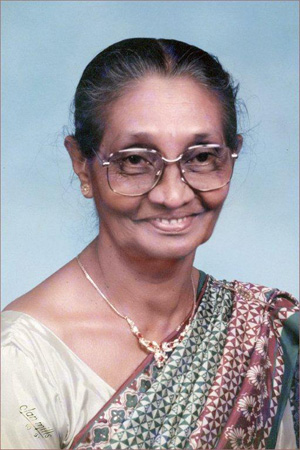 She hailed from a very distinguished Sinhala Buddhist family. She was born on November 12, 1920, the third in a family of ten and educated at Musaeus College, Colombo. She was blessed with four children, three daughters and a son – Hemamali, presently living in America, Chithra, Jaliya and Anoma. She was also blessed with ten grandchildren and two great grandchildren.
She lived with her son Jaliya, daughter Chithra and also with my wife Anoma. She had been with us at Bandaragama for nearly six years until her death. My sons and her other grandchildren were very fond of their `Grandma'. During the time when she was with us we took her to various places, including to tourist hotels down South on holiday. My sons Panduka and Jatila enjoyed her company. Chocolates were her favourite and whenever her daughter visited from the States she used to ask her to bring chocolates.
She was the pillar and key to the success of her children and gave them the best of education. Her husband, Jayasinghe Wijayakoon predeceased her five decades ago and her late son-in-law Siva who was a tower of strength to the family also passed away.
I remember my wife Anoma saying, "My amma was the root for our success. She encouraged me to do a job in the Government service and for me, my amma is the best mother in the world, no one can replace her in my heart."
During her twilight days, all of us were privileged to learn valuable lessons from her. "Roses may bloom and die, but the fragrance of it never fades and your life was a sweet memory to many. You gave us everything, but never asked for anything back. To me you were the best and the greatest mother in the world, like my mother Kusuma Kannangara who passed away in 2004".
Your departure is indeed a loss to your loved ones.
As a Buddhist I would like to say "May she attain the supreme bliss of Nirvana".
- Ananda Kannangara (son-in-law)
---
A gracious and kind lady
Ruby Aluwihare (nee Nugawela)
Another gracious and kind lady of vintage times and the last of the elder generation of the Nugawela clan who lived and grew up in the historical and salubrious little village of Eladetta, Randessa, passed away recently after a brief illness at the ripe age of 96. Ruby Aluwihare was a daughter of the late T.B. Nugawela and Meraya Keppitipola Nugawela Kumarihamy and was sixth in a family of eight. She received her entire education at  Good Shepherd Convent, Kandy and lived a happy, comfortable and quiet life. She married Vincent Aluwihare of Matale who predeceased her. A mother of three sons and three daughters all of them being professionally qualified and successful in their chosen fields made her immensely proud.
Night had quietly replaced the gloaming in an already tranquil Lewella when I arrived to pay my respects to this gracious lady who was about the last of our generation. And as she lay in gentle repose surrounded by flowers in her beautiful home I had once more come to say farewell to the past and for an era that had bonded our families firmly and when our lives had revolved on a different plane altogether. It was sad recalling those far-off times when I would go to Eladetta with my parents to spend the day and then be taken in charge of by Ruby my senior by several years, and plied with food and drink that simpIy overwhelmed me. And those were the times she lived with her siblings and led a rather cloistered life under the warm wings of their parents in their elegant home at Eladatta which oozed history from its four corners.
In the years that followed, she grew old gracefully and had not lost the old world charm that was part of her. Cared for and showered with immeasurable love by her children she lived a quiet, sedate and sequestered life and in the closing years her inability to walk without assistance was hardly an affliction but was more an endowment granted by time to the aged which she accepted cheerfully.
Seemingly sad though it may be, death is inevitable and having led a sublime life her request that her obsequies be held privately was all about her humility and thoughtfulness. She has only passed on leaving indelible memories of her life and times in the hearts of her loved ones and on those who shared her warm hospitality and friendship.
May she attain the Bliss of Nirvana.
-Donald Nugawela
---
He was a tower of strength to us all
H.M. Premarathna
As a soft spoken father, unforgettable brother, helpful relative, and cheerful friend, I remember him forever. So it is my privilege to write a tribute to my brother H.M. Premarathna (Loku Aiya) often called Prema by his friends and relatives. He passed away after a brief illness on August 1, 2011.
Premarathna had his early education at St. Thomas' College Matale where he excelled his studies in the late 1940's under veteran principal Charle's Robinson. He was in the senior cadet platoon and was a keen sportsman too. He took part in sports in college as well as in the public services sports club and societies. He founded a community centre at Harasgama, and put up a building for the welfare of the centre, and formed a volleyball team of which he was the captain.
His team managed to win the Matale district 'Paramanathan' challenge shield and later all island championship challenge shield, which was presented by the then prime minister Sir John Kotalawela. In his professional life he served in the clerical staff of the Matale election office at the start and as an acting election officer at Polonnaruwa office. He was later an immigration officer and served in the post until his retirement.
He was an avid reader and had a collection of English as well as Sinhala books on many topics.
He was a tower of strength before and after we lost our dear parents. He was a loving husband to his wife Indrani and a loving father to daughter Arosha, sons Sidath and Nishantha who is in London and loving grandfather to Ronali in London, Sachiththa in Australia, Amiththa, Nisal and Shenali also in London and father-in-law to Janak, Manjula and Sathya who too is in London. They all cared for him until his demise.
Many are the cherished memories I have of my dear brother. Though he is no more, his soul is with us all.
May his sojourn in sansara be brief and with the least amount of grief until he attains Nibbana, that ultimate sublime bliss.
'Death leaves a heartache no one can heal'
'Love leaves a memory no one can steal'
-Ever loving brother,
H.M. Karunarathna
---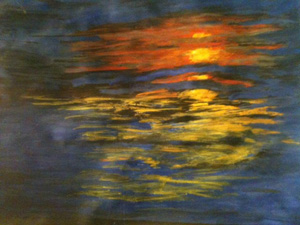 A sad, sweet memory
KANTHI Gunatunga
I met Kanthi just once; for coffee and a chat, just a few weeks ago. She smiled through immense pain, and talked about her love for art and her chosen faith. She was wheelchair bound and ailing.
Her caregivers, Monica and Neville, took her in 35 years ago. She was absorbed into the family of seven and treated as one of their own; she gained five new siblings, and a new pair of caring "parents". Time passed.
I had a mere brush with Kanthi's life, but it touched me deeply and is probably one of those sad/sweet memories that will linger forever. Some lives are hard to forget. In general, people tend to complain about just about everything – the weather, food, relationships and petty differences – but here was a woman who had transformed immense misfortune into a blessing, providing a blueprint for those in trouble. Kanthi's life was rich with stories of hope, faith, perseverance, courage, and above all of a quality rare and precious: unconditional love.
The Kanthi I met smiled sweetly. Her face was a little swollen and her body misshapen. She could hardly move – not even her head – without feeling the searing pain of arthritis everywhere. Even powerful painkillers could not suppress her agony. The painkillers had terrible side effects. She could not even hold a pen in her fingers, and yet she held paint brushes in a pincer grip of bent middle and ring fingers of one hand – the only hand she could use – to copy perfectly images from books onto cards that she would sell to friends. She found solace in her faith, and would call a single number from the telephone directory daily to share her good news. Trapped in a vortex of pain, she discovered a talent for art and immersed herself in it. Her face showed love, and not suffering. In this world of imperfect lives, she elevated her troubles to inspiring perfection. In that all too brief meeting, we talked about a mutual passion – painting just for art's sake.
Kanthi died on July 14. Her pain is over. Those fortunate to have met her will remember her as a blessing and reminder of the preciousness of the human spirit and its capacity to cope and rise even above the most trying circumstances. Now that Kanthi has completed a difficult life with noble spirit, may she know peace of body and mind.
-Daleena
---
My dear 'grandfather clock'
Eardley de Silva
My grandfather clock was too large for the shelf/
So it stood ninety years on the floor/
It was taller by half than the old man himself/
Though it weighed not a pennyweight more/
This is how the familiar Johnny Cash song "My Grandfather Clock" begins. You may wonder what this song has to do with my grandfather, Eardley de Silva, but it has a special significance to the relationship my sister Dinusha and I had with him.
Almost twenty years ago when Aththa underwent heart surgery, part of the procedure involved replacing his Mitral valve with a prosthetic valve to strengthen his heart and aid blood flow. This valve made his heart beat with an audible metallic tick akin to the quiet ticking of a wrist watch or wall clock. You could hear Aththa ticking when he walked toward you and it was most discernible when he stood next to you. And sometimes, if everything was still, we could hear him "ticking" even from an adjacent room. Aththa's ticking heart intrigued us and as young children, Dinusha and I affectionately called him our "grandfather clock." He embraced this endearment and would ask us to monitor his ticking. He'd want to know if it was louder or faster than usual. He would ask us: "Can you hear me ticking?" It saddens me that this familiar ticking is no longer a part of our surroundings.
But, as I reflect on the kind of life Aththa lived, I can easily identify the ways he has influenced my own life and thought. I know my mother, sister, uncle, and cousins can attest to this as well. There are so many great experiences and lessons with Aththa that I could relay, and yet what stands out to me are some of his strongest qualities. Even as young children, he encouraged us to have integrity, to be hardworking and dedicated but not be overworked, to nurture our talents and give everything our best effort, to be responsible, and to treat others with respect and kindness.
It wasn't just his character that left an impression on us. We were also strongly influenced by his interests. Aththa's love of music is something that passed down the generations. Though not all of us turned out to be musical prodigies like my uncle Neranjan, a deep appreciation for the creative and transformative potential of musical expression is something he urged us all to recognise. He played music in the living room almost every day. As a child, I remember going through Aththa's record collection and I often organised his CDs. From Mozart and Bach to the Three Tenors, to Boney M and The Beatles, to choral arrangements of hymns and gospel music including Amy Grant's rendition of "Thy Word," (which was one of his favourites), and Broadway musicals, instrumentals and even some pop music (he was a big fan of Celine Dion), I remember being in awe of the expanse of his musical tastes. I don't think I've ever met anyone else with this kind of enthusiasm for such a diversity of genres! He talked a lot about music and even listened to my Mariah Carey CDs!
Aththa's support and faithful attendance at his children's and grandchildren's musical performances encouraged us to pursue these interests further. He took great pride in our achievements and routinely bragged about us to his colleagues and friends!
Reading was another one of his interests. Aththa was an avid reader and had a vast collection of mystery books. His favourite was the Agatha Christie crime novel series. As a young girl, I used to borrow copies of these books from the Ladies' College library and when I was done reading a book, sometimes Aththa would also read it. This gave us a lot to talk about – the plot, the writing strategy, what was effective and what wasn't. When I was a little older, Aththa let me raid his collection of Christie novels. This was a treat because he owned some of the original editions of these books.
His love of reading was also tied to his love of history. I first learned about the two World Wars through anecdotes that Aththa shared. He explained the global scale of their social and political effects and helped us wrap our little minds around this mass atrocity. Nazi Germany and the Holocaust were particularly fascinating to him. I remember watching at least two documentaries about the Nuremberg Trials with Aththa.
And then, at various points in time, he and Athamma took us to Kandy, Anuradhapura, Polonnaruwa, Dambulla, and Galle so we could experience the richness of local history in tangible ways. I was the designated "navigator" on these trips, talking to him and keeping him awake while Athamma and Dinusha slept in the back. My memory of these trips are so visceral and a great reminder of his generosity and love. Aththa was an important father figure to Dinusha and me and these adventures greatly complemented our school-based learning.
He also had a great sense of humour. Aththa inspired in me an enjoyment of satire through British comedy. As teenagers, he introduced us to some popular British TV shows like "Mind Your Language," "Yes, Prime Minister," "Allo Allo," and "Fawlty Towers." Now as an adult, I still watch "Yes, Prime Minister" and I'm constantly reminded of my dear "grandfather clock."
But of all the wonderful and vivid memories I have of Aththa, the most significant one has to do with my son. April 21st was Aththa's birthday. My son, Tesla, was also born on April 21st. He arrived three weeks before the due date, although there was no indication at any prior point that he would be an April baby. When Aththa heard the news of Tesla's birth, he was ecstatic and I'll never forget what he said: "This is the best birthday present I have ever received!" Little did I know at that time that Aththa's joyful words foreshadowed the special bond my son would go on to have with his doting "Grandpa GG."
Aththa took great pride in being a great-grandfather and made concerted efforts to play an active role in Tesla's life. My son is blessed to have known "Grandpa GG" in these formative years of his life. I pray he grows to be as wonderful a man as Aththa was. It pains me to think that my world is now empty of Aththa's active presence, but I know he is in a better place. And I know he will provide the spiritual guidance I need to move through life.
Even though his spirit has left this earthly realm, his life is indeed something to celebrate. I pray that as we grieve his passing, we also find solace in how great a life Aththa led and how much he imparted to us all. I give thanks for the fullness and richness of his life. I give thanks for the life he created with my grandmother and for the sacrifices he made. I give thanks for the experiences he exposed us to and the constant guidance he offered. I give thanks for his enduring wisdom when adversity befell us. I give thanks for his unconditional love.
Dearest Aththa, our beloved "grandfather clock," we are better people because of everything you were. May we uphold your legacy! May you rest in peace!
-Sureshi Jayawardene (eldest granddaughter)