Royal did the correct thing by playing in the Knockouts
View(s):

Royal had a dream School Rugby season despite not being favourites to win the Singer Under-20 League championship after recording a historic win at the Bradby Shield, which made its journey back to Colombo from Kandy after four years. Last week, Royal, had the opportunity to withdraw from the Milo Schools Knockouts but appeared in the semi-final game against Science after receiving a bye in the quarter-finals.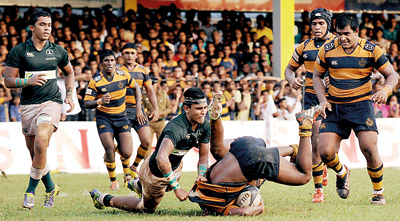 Science, who eventually made history by winning their first major title in School Rugby defeating Isipathana 21-18 in the knock-out final, beat a Royal side that did not field 10 of their top performers at 52-26. There were many who criticised Royal. A few remained firm that the League champions did the correct thing.
The Principal of Royal, Upali Gunasekara had his Rugby administrative team comprising of Sudath Liyanagunawardene – the Senior Games Master, Sanath Martis – the Head Coach, Anura Wanigasekara – the Master-in-Charge of First XV and Gamini Sarathchandra – the Master-in-Charge of Under-18s to explain the matter on what really made them field a young team in the Knock-out semi-final.
"We are with the Schools Rugby Association. Winning or losing is part of sport. We don't want to win at any cost, or by hook or by crook. If that is so, we are setting a bad example to all Royalists. It was a collective decision" Liyanagunawardene stated.
After going through a mixed season of emphatic and dominative wins, close shaves and narrow escapes Royal beat Isipathana in the decider to take the 2015 Singer League title. By that time, according to Coach Martis, his players were not in a position to even move on.
"We have nothing to hide; it's a genuine case. As our Principal said it's our social responsibility to appear in the competition as we have already confirmed our participation. The boys have been training hard and playing rugby since July last year, two weeks after last year's knock-out final. Our main goal was to win the Bradby, so we trained hard with that in mind, not the League or the Knock-out titles at the beginning. After the League championship as much as 10 of our boys were down with injuries. Many of them were going through this when the League season was on."
Martis explained that at the start the team was not performing as expected so with the Bradby coming up he had to pressure the boys with more training – seven days of the week. With the performances of first three games against St. Anthony's, Science and Dharmaraja being below par and a game looming up against S. Thomas'. The next game was the first leg of the Bradby, which Royal won by one point. They had a week off before taking on S. Thomas' before the Bradby second leg and a morale boosting 52-0 win was what they really needed.
"We trained and came out with a fine performance beating Trinity by 49-0 in the return, winning the Bradby after four years. We had to play Kingswood, St. Peter's and St. Joseph's, all tough games and the game against Isipathana, which became a decider. We had to strain our boys to go for wins. They were determined not to lose a single game. The boys have been training without a break from April 16 to June 20."
"We are talking about schoolboys here. As coaches we know that a boy could hit the peak in fitness and strength but they cannot maintain it for long. The average a boy could hit the best rate is twice within a phase of months. We took them to the peak thrice, which means after the Isipathana game, the boys were stressed. Going for another competition meant, you are inviting injuries."
"During the last four games, we had many injuries. Against St. Joseph's, our two props couldn't practice the whole week. After the St. Peter's game four players were admitted to a private hospital due to concussion."
"Some of the boys wanted to get back to their classrooms. Some were forced out due to injuries. As the coach, and as the person who is dealing with the boys on the ground from dawn till dusk, I knew their physical shape. So I told my Master-in-Charge, that we should tentatively hold back our appearance in the knock-outs. However the Principal had confirmed our participation. I met the Principal personally and explained the situation and said that we should pull out. He said, "No we have given our word. People may say Royal is not ready to take defeat."
"Even the 10 senior players, who had to stay back in the knock-outs, came down for the semi-final game against Science to help the second string team. The boys took the defeat with good spirit." "These are boys, who have done their school proud. They were exhausted. Many are still recovering from injuries. They have other ambitions, and there is very little time for some of them. We should not squeeze them and risk their lives, just for another title."
Liyanagunawardene explained that at Royal College, they have an advisory committee, which looks into the school's rugby.
"We put this forward for their recommendation. They gave permission to play. We appeared as a team to play the match. We gave the young players an opportunity to experience a game and enjoy it. The parents were with us. We all went through a tough time until we got the League title. We can't be greedy for titles and victories and risk the boys who had already strained themselves a lot. Parents send their sons to Royal for studies. We as coaches and administrative staff we have been able to add value to their lives. We have to thank the parents," Liyanagunawardene stated.