Taking restaurant business to a new level
View(s):

To have your cake and eat it too is tricky business when it comes to running a restaurant. Restaurant technology company Leapset recently launched in Sri Lanka, offering the latest innovations in restaurant technology to allow restaurant owners to focus on what matters – the food, the service and enjoying that proverbial piece of well-deserved cake.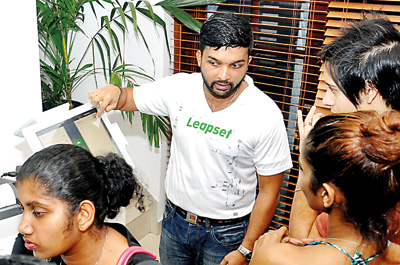 Leapset's holistic, fully integrated restaurant operating system runs the gamut of restaurant management from the discovery of the restaurant on social media, making a reservation, online, mobile ordering, restaurant operations via their advanced POS, payments, customer retention and loyalty.
A single app allows customers to order from any restaurant with ease. Restaurants, in turn, benefit from an immensely simplified process of order taking allowing service staff to focus on creating a pleasurable experience for customers. "We follow a very similar model to how Apple produces their technology; there is tight integration of the software and hardware and the products are built with simplicity in mind. The hardware and software design happens with the team based out of Silicon Valley with the engineering done in Sri Lanka and the hardware manufactured to order in Taiwan," said Shanil Fernando, Managing Director for Sri Lanka and Senior Vice President Engineering at Leapset.
Leapset plans to introduce new products and enhancements first in Sri Lanka, and its Flower Road Engineering Centre will house a centre for innovation and customer care. Leapset currently employs a staff of over 350 in both Sri Lanka and the States.