Seeking solace in the words of Marcus Aurelius
View(s):

I was brushing my teeth the other day when half of one of my molars fell out. The surprise was great because there was no indication of trouble before. After a moment of shock I gave a call to my good friend,the best restorative dental surgeon in the country, who noting the anxiety in my voice kindly gave an emergency appointment. I had rather a long drive to the Navy Hospital Welisara where my friend was seeing patients that day which gave me an opportunity to contemplate my distress. I was in an existential crisis, the realisation that I was no longer young but getting on in my years and parts of my body were falling off!

Irwin Yalom, emeritus professor of psychiatry, University of Stanford introduced me to existential psychotherapy. A type of psychotherapy that helps patients to deal with the four main existential anxieties – death, being alone, freedom to choose and meaninglessness of life. Of the four, death anxiety is the chief cause of such anxiety.

I had just finished reading Yalom's latest book Creatures of a Day: And other Tales of Psychotherapy where he describes his psychotherapy with 10 patients. Yalom is now 82 years old and fighting his own battle with death anxiety. In the course of therapy he suggests to two of his patients they read Meditations by Marcus Aurelius.

I took my rather dusty copy of Meditations from my library shelf and had a look. Who was Marcus Aurelius? He was the last of the so called five good emperors of Rome during whose time span of almost 200 years Rome was prosperous and at peace. He was the adopted son of Emperor Antoninus Pius and came to power in 161 AD and ruled until 180 AD. In addition to being Emperor he was also a Stoic philosopher and wrote the Meditations in Greek, not for publication, but for himself.

On opening the Meditations you will find a long dedication to each and every person who was important in his life, from his relatives, his friends, his teachers, to his Gods. That is an important trait and good practice. To acknowledge and be grateful for all you have received from people around you. Here is what he says about his father. 'He was neither a superstitious worshipper of the gods, nor an ambitious pleaser of men, or studious of popular applause; but sober in all things, and everywhere observant of that which was fitting; no affecter of novelties: in those things which conduced to his ease and convenience … he did freely enjoy them without any anxiety or affectation when they were present; so when absent, he found no want of them.' A man with good self- esteem not dependent on the praise of men or gods and able to enjoy what he had without guilt but also a person who did not hanker after what he did not have. In other words the definition of a man with sound mental health.

Later on I found this passage. 'I have often wondered how it is that every man loves himself more than all the rest of men, but yet sets less value on his own opinion of himself than on the opinions of others.' Paradoxical indeed. Human beings above all love themselves. Yet our actions are determined by the opinion of others. We constantly worry about what others will think of our actions rather than whether what we do is right and virtuous. Throughout his book Marcus Aurelius emphasises the importance of acting virtuously in our dealings with our fellow human beings. 'Never esteem of anything as profitable, which shall ever constrain thee either to break thy faith, or to dissemble, to lust after anything, that requireth the secret of walls or veils.'Here Marcus Aurelius is showing us how to create a positive image of ourselves. Rather than the image of ourselves in the minds of others (including the therapist). It is the image of ourselves that we have in our own minds that matters.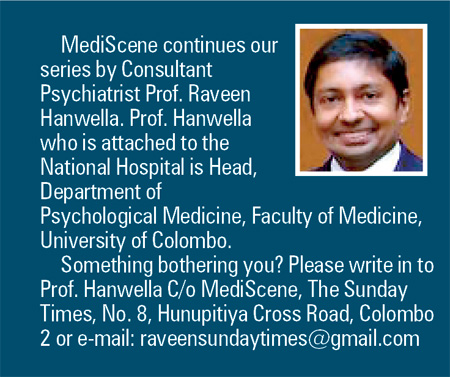 In part 5 of the Meditations I come across this passage. 'Take away thy opinion, and then there is taken away the complaint, "I have been harmed." Take away the complaint, "I have been harmed," and the harm is taken away.'" A profound passage, a most useful one for my patients who have problems with anger management. I recently saw a couple where the husband had uncontrollable outbursts of anger during which he assaulted his wife. He immediately regretted his action and apologised profusely for his behaviour but the damage was done. Looking carefully,what really triggered his anger was his feeling that his wife did not respect him or take him seriously.
This is the root of most situations where we become angry. I get angry with the driver who cuts in front of me because he has disrespected my right to passage on the road. I get annoyed with my trainees when they present a poor history or fail to answer my questions because I feel they have not taken me seriously as a trainer. "Take away the complaint, "I have been harmed," and the harm is taken away.'"
But I still have not found anything to comfort me in my anxiety. Book 8 section XIX I read, 'This life is short. Both he that praiseth, and he that is praised; he that remembers, and he that is remembered, will soon be dust and ashes.' A lesson in humility. A reminder that you are not that important in this world but hardly comforting to someone in an existential crises.
Marcus Aurelius spent the last decade of his life fighting the Germanic tribes along the Danube. Here was a man who became a reluctant emperor but once given the responsibility did not shirk his responsibilities. An admirable quality in a ruler. I can imagine him sitting in his imperial tent, on the banks of the misty Danube, in the city that would one day become Vienna, writing the Meditations. In the end he was a disappointed man. He realised that his son Commodus whom he had chosen to be emperor after him was not suited for the task. Yet he could not – though strongly advised to do so – dispose of him in the good old Roman fashion of assassination, perhaps by poisoning.
Reading on finally I find a passage to help me, the same as found by Yalom in his book. 'Pass then through this little space of time in harmony with nature and end thy journey in contentment, just as an olive falls off when it is ripe, blessing nature who produced it, and thanking the tree on which it grew.'
At last I am comforted by the wise words of good old Marcus Aurelius – he was 56 when he died.