When a cough and cold could be more than just that
In the wake of two children succumbing to Respiratory Syncytial Virus (RSV), in 2014, Head of the National Influenza Centre of the Medical Research Institute, Dr. Jude Jayamaha, discusses what steps have been taken to curb the spread of the infection
View(s):
Coughing, sneezing, a runny nose and fever – these could be symptoms of any of the many respiratory illnesses that do the rounds regularly. "Be aware though that if it is a Respiratory Syncytial Virus (RSV) infection, babies less than a year-old and those less than three months old could become quite ill," says Head of the National Influenza Centre of the Medical Research Institute, Dr. Jude Jayamaha.
The early pointers to an RSV infection are laboured breathing and an in-drawing of the tiny chest, explains this Consultant Virologist, helping parents in the identification of what ails their babies. If the baby is within the first three months after birth, RSV could warrant ventilation in an intensive care unit after hospital admission, MediScene learns.
According to Dr. Jayamaha little ones born prematurely or with less birth-weight are at a higher risk of getting infected. They would also be more vulnerable to serious long-term complications such as asthma and not gaining weight. Another high-risk group is children younger than two years old with chronic lung or heart conditions and those with weakened immunity.
He says that Sri Lanka launched surveillance of RSV in 2010 and strengthened surveillance after two deaths from this infection in Nuwara Eliya in July-August 2014.
Brazil, meanwhile, had reported more than 500 deaths in 2014, in the wake of which the World Health Organization (WHO) had decided on the need for more investigation and attention to combating this virus. Sri Lanka, thereafter, began the collection of samples, in this case naso-pharyngeal aspirates, which were then subjected to the Direct Fluorescent Test at the National Influenza Centre for diagnosis of RSV infection.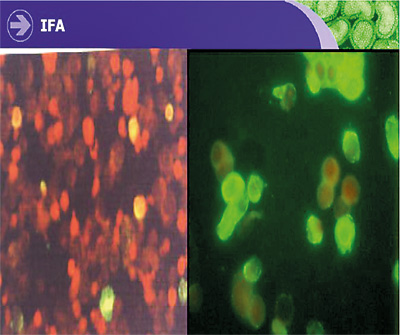 "The green fellows are the virus," says Dr. Jayamaha, pointing them out on the computer, adding that according to their surveillance, July-August are the months when RSV is active. Sri Lanka is providing information on the data collected through this influenza-like illness surveillance to the WHO so that policy decisions may be taken.
Sri Lanka had been recognised as an RSV active surveillance site in Asia at the WHO conference in March, this year, it is learnt.
The WHO also has ambitious plans to develop a vaccine by 2020 to prevent this infection which causes serious illness, rather than many deaths, resulting in hospitalization. It also causes long-term illness.
This is why Dr. Jayamaha is planning to introduce the highly-sensitive standard benchmark PCR testing for this infection at the National Influenza Centre.
Symptoms of the infection
RSV infects the lungs and breathing passages, says Dr. Jayamaha, pointing out that though healthy people recover in a week or two, in infants it can cause inflammation of the small airways in the lungs (bronchiolitis) and pneumonia.
The symptoms which manifest about 4 to 6 days after exposure to RSV are:

A runny nose

Coughing and sneezing

Loss of appetite

Development of fever about 1 to 3 days later

Referring to how RSV spreads, Dr. Jayamaha says that when an infected person coughs or sneezes into the air, droplets contaminated with RSV can infect those around if the droplets come into contact with their nose, mouth or eyes.
Infection can also result from direct and indirect contact with nasal or oral secretions from infected people. Direct contact, such as kissing a child on the face, can spread the virus, while indirect contact is when environmental surfaces, such as doorknobs, get contaminated. In both these, infection-transmissions take place when a child touches the secretion and in turn touches the nose, mouth or eyes, he points out, stressing that on hard surfaces such as tables the virus survives for many hours.

The simple way to prevent the spread of RSV is valid for any other respiratory disease. If a person has cold-like symptoms, he should cover his coughs and sneezes; wash hands frequently with soap and water for at least 20 seconds; not share cups and plates; and refrain from kissing others, says Dr. Jayamaha, adding that precautions such as cleaning contaminated surfaces (eg. doorknobs) could halt the spread of RSV.