Summing it up
By Adilah Ismail
The Mirror Magazine speaks to two young brothers behind 'Cleverweek' an independent game development studio and their first game 'Two Digits'
View(s):
Recently, two boys breathed a sigh of relief as they finally released their first game after four months of testing, developing and hard work. 'Two Digits' is a game developed by 15 year old Shenal Santhush Kotuwewatta and his brother, 11 year old Sithija.The Kottuwewatte brothers are the very young duo behind 'Cleverweek', an independent game development studio and 'Two Digits' is their first official game.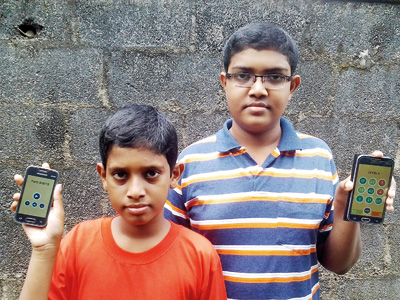 'Two Digits', in the simplest terms, is a game about adding numbers. It includes 250 hand-crafted levels and a random level generator and is a minimalist, simple game. Shenal, a grade 11 student at Royal College, Colombo, combines his twin interests of mathematics and programming when developing the game.One of the youngest Sri Lankan medalists at the International Mathematical Olympiad last year, Shenal is a frequent participant at international mathematics competitions around the world. A problem presented at the Asian Pacific Mathematics Olympiad last year began to ferment in his mind and posed an interesting challenge to Shenal – what if, he thought, he could make a game out of it? And so he did.
Shenal grew curious about game developing around three years ago, when he began to be inquisitive about how the games he played were made. Propelled by curiosity, he started learning about the mechanisms of various game engines and software. Soon it was a matter of time before he started developing his own games as a hobby, and 'Cleverweek' was inaugurated in October 2014 as a result of this curiosity and self-learning.Shenal works on platforms such as PC, Mac, Linux and Android but prefers Android. Says Shenal: "We had developed many games before, to practice game development – and Two Digits is the first "serious" game we developed. We do everything ourselves – coding, creating art, level design, bug testing, marketing, everything. So we are truly indie.  Usually my brother does level design and I do everything else." Their process is clean cut and simple. They toy with interesting game ideas and test its feasibility. If it works, they begin development and if not, the idea is mentally bookmarked, swiftly discarded and the brothers move on.
"Our first year has been really great. We were able to launch 'Two Digits', and we have received good comments and praise from gamers. Now we are more motivated to develop more and more games. We learned a lot about the workflow of creating a complete game, from prototyping to selling," says Shenal, adding that the knowledge gained through their trial-by-error process will now accelerate future projects and lead to less mistakes. Sitting for his O/Ls this year, Shenal devotes about one and a half hours day towards developing games. Cleverweek's first year has not been without its share of challenges. Developing the core mechanics was tough and there were multiple times when the brothers had to wearily go back to the drawing board when encountering bugs. The boys persevered though. "I knew I could do it, so I tried and finally did it," says Shenal.
While the development had its fair share of challenges, the duo then had to contend with commercial nitty-gritties such as marketing and selling. "Any desktop game, to be a success, has to enter Steam, the largest game distribution portal. To distribute a game on Steam, we had to submit our game to Steam Greenlight. Only if enough people are interested in it, will it be Greenlit and then published on Steam," explains Shenal. Shenal points out that to submit a game to Greenlight, one has to make a non-refundable payment of $100. Once you submit a game, there is no guarantee of being Greenlit and some games stagnate for years in Greenlight. So far, no game by a Sri Lankan developer has been published on Steam. Taking a big risk and a considerable leap of faith, the brothers submitted the game with trepidation, making the non-refundable payment with money from their savings. 'Two Digits' was Greenlit in just 12 days. After polishing the rough edges of the game and with feedback from gamers, they added it to Steam on May 22 making 'Two Digits' the first Sri Lankan game on Steam.
Currently, 'Two Digits' is the only game released by 'Cleverweek', but the brothers inform us that two other exciting games are on the drawing board (both puzzle-based games and one, a physics puzzle) and will be announced on their website and social media pages."Our goal is to make Cleverweek a world-famous game studio. That's what we are working towards," says Shenal.
Cleverweek's website is http://cleverweek.com/ while 'Two Digits' is available on http://twodigitsgame.com/, Steam, Humble Store and Google Play.