'Chef Charles Dissa' launches infused virgin coconut oils
View(s):

New York based, famous celebrity Chef Charles Dissanayake was in Colombo last week to launch an innovative range of 'flavour infused coconut oil' by Ceylon Coconut Company (CCC).

Popularly known as Chef Dissa was the top attraction at this ceremony, prepared few of his popular dishes using these specialised coconut oils. He also mentioned that he hope to use this infused oils in his cuisine in his New York restaurant. He credits this crafted oils as one of the main ingredients which help make his creations remarkable each time.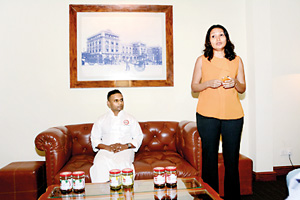 Charles is a Multi award-winning, self-taught chef and culinary artiste in global contemporary cuisine and the proud owner of One World One Kitchen, which caters to an exclusive New York Clientele including celebrities such as Neil Patrick Harris and top fashion designers Naeem Khan and Tyler Alexandra Ellis. Charles is also the Executive Chef of Vis-A-Vis, a high-end contemporary French restaurant in Brooklyn.
CCC said they are proud to introduce Chef Charles' special hand-crafted blends via three of his favourite flavour profiles. A Sri Lanka snake chili and coriander and galangal infused virgin coconut oil, a delicious Thai chili, lemon grass and kafir lime leaf infused coconut oil and his special rosemary, lemon and thyme infused oil that work really well in Italian and French dishes.
CCC believes in health, nutrition, naturalness and purity in its coconuts and oils for a good lifestyle.
Chef Charles' special blend of cuisine is created with influences from French, Italian, American, Japanese, Thai, Chinese and Mediterranean along with his roots in South Asian cooking.The Ceylon Coconut Company was founded in November 2014 by Chamila Wickremasinghe, Avantha de Zoysa, cricketer Kumar Sangakkara, Gehan de Alwis and Vemindra Sangakkara.