Ashoka introduces relaxing music to Sri Lanka
View(s):

Dharshana Ashoka Kumara's second music album with relaxation music will be launched at 3 pm on July 23 at the National Library and Documentation Centre Auditorium.  The album with original compositions by Ashoka contains five pieces of music each of which runs for around 15 minutes.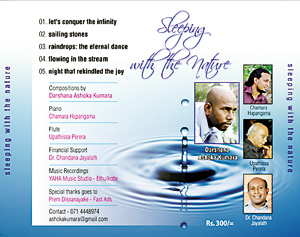 The music pieces plays with piano and flute by Chamara Hapangama and Upatissa Perera respectively and they are followed by a short English narration by veteran SLBC announcer Bevil Palihawadana. "The aim of this album is to help Sri Lankan people to get out of their stressful lives and held them to relax through music", Ashoka said.
He said that he got this idea while listening to various genres of music found around the world. "I found that many people use music to relax and calm themselves from their busy lives," Ashoka, a journalist attached to Sri Lanka Broadcasting Corporation and a university lecturer in media said.
"There is hardly any original relaxation music in Sri Lanka. So I thought it would be good to introduce this type of music to Sri Lanka whose traditional life styles have changed. For this I used different methods like getting some essence of Karnatic and Hindustani Ragas as well as other music styles" Ashoka explained. "This music style will be very helpful to Sri Lankans as they are fed up with noisy music.
At the launch Prof. Praneeth Abeysundara and critics K. K. Saman Kumara and Dr. Chandana Jayalath will deliver speeches. "I must specially thank Dr. Chandana Jayalath without whose support I would not have been able to release this album, Ashoka said with gratitude.
Ashoka earlier released an album with songs he has written lyrics and he has composed nearly 100 songs.