AIESEC organises Global Village 2015
View(s):

Bringing a unique cross cultural experience to the Sri Lankan general public, AIESEC Sri Lanka will host 'Global Village 2015' on July 24 at the Arcade Independence Square Colombo, from 3.30p.m onwards.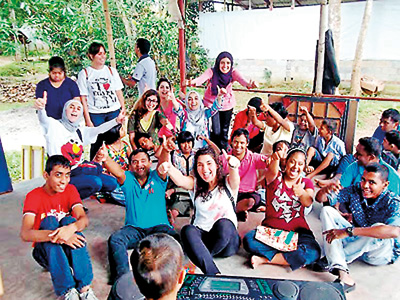 AIESEC Sri Lanka is the local charter of the world's largest student run organisation that facilitates exchanges for both local and foreign undergraduates through community development projects and corporate internships. A key event in the AIESEC calendar, Global Village brings together all AIESEC student leaders who engage in various community development projects in Sri Lanka, on a common platform to experience and showcase different cultures, says the Vice President-External Relations Global Village 2015 Organising Committee of AIESEC in Sri Lanka, Sahangi Dassanayake.
Attending the Global Village 2015 will be more than100 undergraduates from 29 countries such as China,Taiwan, Russia, France, UK, USA, Thailand, Indonesia, CzechRepublic, Poland, Malaysia, Lithuania and India, who will showcase their traditional costumes, authentic food, international games, song, dance and musical instrument performances. The event will give the participants and the general public a chance to experience different global cultures in one single location, says Sahangi.
Running parallel to the event, is the Global Village Selfie Challenge – a public competition held via social media.
Those who are interested can take part in the competition by sharing a selfie that depicts a moment where they are enjoying a different culture, along with a caption, on the global village fan page: https://www.facebook.com/aiesec.srilanka.global.village using the hashtag # AIESEC # globalvillageSL2015.The name of the competitor whose photograph receives the most number of 'likes' will be announced and awarded a gift at the Global Village event.
Global Village 2015 is open to the public and is free of charge. For more inquiries call 0774522889.
Dhananjani Silva