Kids Essays
View(s):

The person that I most admire

The person that I most admire is my grandfather. His name is Tissa Wijenayake. He is 80 years old. Even though he is 80 years old, he is very active and does a lot of social work. Whoever comes in need of help,with a requirement or a problem, the way he helps them is incomparable. Even without taking his meals and medicine he engages with these people.
He has a vast knowledge of everything. My father says that he is a walking dictionary. Since he was a government agent he knows all the laws and methods of helping poor people in the village. Whenever people return from Aththa, they bless him with long life and nirvana.
One day I also want to be a person like my Aththa as the way he lives his life is happy by helping others. Therefore the person I admire most in my life is my Aththa.

Dilmi Wijenayake (12 years)
Musaeus College
---
Let's help each other
It was a Monday morning. I was walking to the bus halt. Suddenly it started to rain. Then I used my umbrella and stood in the bus stop waiting for a bus. An old man was getting wet in the rain. So I ran to him and said, "Uncle, please stay with me for a while, you are getting wet." Then he said to me, "No dear, I should go to my sister's house. It's very close, can you drop me there?"
"Oh, no problem, it might take me only five minutes," I said to him. Next I dropped him there. He thanked me a lot.
The next evening, they came to my house. They gave me a lot of gifts and thanked me. So I was very happy.
Aadhila Anees (11 years)
Muslim Ladies College
---
The farmer
The farmer ploughs the field. He sows grain and harvests them. He works in the field every day. He works very hard. He has much work in the harvesting time.
The young men and women in the village help him to reap the paddy. He reaps the paddy and threshes it. He grows vegetables. He rears animals. He doesn't sell all of his paddy and vegetables.
The farmer is self sufficient in food.
Bihadu Bethmage (7 years)
Nalanda College
---
My father
My father's name is Priyantha. My father is very honest. He gives good advice to us. He helps us in our lessons and other matters. For special occasions he takes us out for dinner. He loves all our family members. He does not smoke.
My father loves sports and to play badminton and indoor cricket. We all respect our father. I love my father more than anything and I'm very lucky to have a father like him.
Mehansa Samaradiwakara (8 years)
Visakha Vidyalaya
---
I like to collect stamps
Stamp collecting is the most popular hobby in the world.
I like to collect stamps because it does not need money like other hobbies. We can ask our friends and relatives to give us stamps that they receive with their letters.
We can learn about historical events, people and places of our country and the world. Stamp collecting makes learning fun.
I joined our school Philatelic Club because then I can meet friends from other classes and exchange extra stamps with them. I encourage my friends to collect stamps because it is a hobby that one can learn
something every day.
Menul Ranwala (9 years)
Royal College
---
Importance of saving money
Everyone should realize the importance of saving money. Today, we can see most people are wasting money for unwanted things. While some people work hard to earn money, they shouldn't forget to put by some money for their children and for their old age. We must learn to save money in savings banks and other banks.
When you keep Rs. 50 in a purse without touching it, that will still only be Rs. 50 in five months. But when we deposit in a bank, then we can get more that Rs. 50 in five or ten months. If you want to save money you must have a plan for it. We mustn't beg for money. So, let's save more money for our future.
Nuwan Ranasinghe (13 years)
St. Michael's College, Homagama
---
Ramadhan
Ramadhan is the ninth month of the Islamic calendar. It is believed that during this month that Prophet Mohammed (sal) received the first words of Allah – the Quran.
Muslims fast during the month of Ramadhan from dawn till dusk. There are many reasons for Muslims to fast, mainly to stay true to Allah and realize the hunger of the less fortunate.
Muslims spend a lot of time in prayer and acts of giving during this holy month. To mark the end of 29 or 30 days of fasting, the Ramadhan Festival is celebrated, called Eid-ul-Fitr.
Ryaan Bishri (8 years)
Ilma Int. Girls' School
---
Why English becomes useful to mankind
English is a widely known and used international language. Though English is not our mother tongue, it helps us in many ways, like for communication, technical and economic development, business activities and also to gain a higher status in society.
English is the most popular link language used in communication. It helps us to interact with each other from anywhere in the world. Not only in communication but in your business affairs to organize trade meeting zones, trade zones or even to communicate with other businessmen.
It may also be useful to you when you take an advanced step in technology and economy. Because in today's world technology and economy are based on an effective communicative mode and English helps to bridge this gap. English may make up your personality by making a big change. It may change you in all aspects like language, culture, habits, traditions and many others.
English must be known as well as learnt. You will now realize how important English is as a language in the context of globalization and man cannot be isolated. Learning English will definitely help you to be a better and groomed citizen.
Savindu Herat (Grade 9)
Royal Int. School, Kurunegala
---
The Sun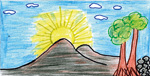 The sun rises in the morning from the East.
First of all we get light, heat and energy from the sun. In fact, sun gives us cheerfulness, brightness and happiness. The light of the sun is very important for living in the Earth.
The Sun is also important for plants' photosynthesis. Earth gets lots of benefits from the Sun. It is a very beautiful sight to see the rising, shining and gleaming of the Sun in the East. One of the sunbeams has a bunch of rays. We can see the sun during the daytime but not directly because of the sun's strong rays.
Lots of people wear sunglasses to protect the eyes from the hot sun. During the rainy season or cloudy season, the sun is hiding among the clouds. The sun is very useful for us.
Jeiyachandiran Sharan (Grade

St. Anthony's College, Kandy
---
My father
My father's name is Saranga.
He is a driver. He is thirty-six years old. He is handsome. He is tall. He is kind. He works hard. He is a good person. He loves our family.
I love him very much.
I will look after my father in the future. My father is my life.
Diwyangi Nanayakkara
(Grade 4)
St. Anthony's M.V., Alagolla
---
Flowers
Flowers play an important role in modern society. Also flowers are a gift of Mother Nature. There are many varieties of flowers such as Roses, Jasmine, Dahlia, Cannas, Orchids. We use flowers on different occasions. Some of them are weddings, funerals, birthdays etc. Buddhists offer flowers to Lord Buddha.
Butterflies, bees and insects are the creatures that come to suck nectar from flowers. Nectar is used as a medicine to treat patients. Flower turns into a fruit after sometime. Hence we can say the important part of the trees is flowers. Every flower has a beautiful and colourful corolla.
Lochana Ganegoda (Grade 7)
Ananda Sastralaya, Matugama
---
Kitty
It was a sunny day. A grey coloured cat came to our house and when we went to the garden, the next door aunt said that there is a box next to their gate. She said that someone had left a cat and three kittens in it.
My mother and father were not happy about the cat's visit. But I liked her very much and called her Kitty. As we heard she had kittens we fed it. So for every meal, she came to our house. But we never saw the kittens and still we do not know what happened to them.
However, the mother cat stayed at our home. A few months later she gave birth to three kittens. They look quite similar to Kitty. I am happy now as we have three cute kittens at our home.
Shakya Karalliyadde (Grade 5)
Hillwood College, Kandy
---
The year 2050
In the year 2050, the earth will be a wonderful place. We would see high technology improvements in the year 2050. Robots would do everything. When we get tired, we would switch on the button and robots will start to work. He will sweep, wash clothes, clean the garden and also he will look after the babies and old persons.
And also, we would see robots working outside. They will work at markets, hospitals, shops, banks, schools, railway stations etc…
He will be working like a human being. In the year 2050, we will not worry about remembering things. When we give instructions, robots will store them in their memory.
We will not need servants to do our work and we will not worry about anything as it will become a robotic world in the future.
Sherminda Perera (Grade 5)
Jennings Int. College, Nainamadama