Visal's dream of living Rossi
By Naushad Amit
View(s):
Dreams and goals make people live and stay positive. This is what exactly Visal Fernando has been doing all these years, despite leaving all his
dreams behind to start a new life in Italy. Seven years ago Visal, now 33, had pride and glory in him as a top racing rider in Sri Lanka but once he settled down in Milan, he began to think fresh of riding. The other end, as he aims is to reach the MotoGP or World Super Bikes series, the world's best a rider could reach.
Seeing racing bikes move around in the vicinity of Milan, Visal's age old dream started all brand new. After a long pause Visal returned to Sri Lanka and wowed the entire motor racing fraternity at Katukurunda last year. That start gave him the much needed go and now he rides in Milan, but with bigger dreams than he usually had.
Last month Visal had a rare opening he was longing for – to compete at the world renowned 'Autodromo di Monza' or the Monza International Circuit, where the Italian Formula1 Grand Prix is held. Visal found a berth in Gully Racing – a well-known Italian racing club for bikers. He was enrolled as a novice as the club officials knew little about Visal's background and after his overwhelming performance he was granted to race in the 1000cc category.
"During the past five years following my favourite rider Valentino Rossi on television was my best and only past time. I used to observe every single move he made on the track, on how he changed gears at different corners. I used to imitate those moves sitting on my couch dreaming of a day when I could hit back the racing track," Visal stated.
With very little hope in him for racing when he touched down Italy, Visal looked into possibilities of keeping in touch in riding. He made it a point to attend almost all the 'Speed Festivals' in Italy and not to miss a single raceday of MotoGP. These engagements made him very much involved in riding despite Visal could not physically do the acts he had already mastered on track.
But a vacation to Sri Lanka after five years changed his life totally. Visal thought of hitting the racing track again and so he did. His experience, the imaginary moves and the exposure he gained in racing at top level, even as a spectator, not only made him the best from the rest, but gave him wins in all four categories he contested at the Sri Lanka Super Series Circuit Meet 2014 in Katukurunda.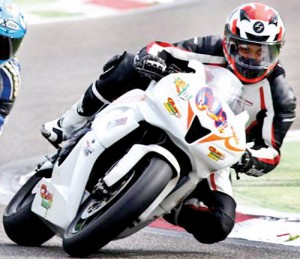 "It looked so tricky at the start and before the race but when I took off I felt like home, though not racing or riding on a motorcycle for five years. Being able to win all four races was a bit of a surprise but considering the fact that other competitors were not what I expected I can easily say that even watching racing and learning the technical maneuvers is still alone enough to make the difference. But I was really surprised by the standards of the other riders, whom I thought were better than me earlier. That gave me the idea to go ahead with racing when I came back to Italy. It's just the start, hoping to go steady and reach my goal," Visal explained.
Visal's family and his close relatives are right behind his vision, which if he reaches there could make Sri Lanka proud. The outset Visal had done may be the first a Sri Lankan rider has achieved outside the country, especially at top level. His father, Stanley Fernando, who fully backs Visal, related the latest development of his son's second life.
"Whatever I'm getting to hear now from Visal is really overwhelming. The club he is attached to gave Visal the chance to compete, but as a novice. They had wanted to check his capabilities and the first impression has been really good. He was then drafted to the contesting level at the Monza track and after the first round itself he was placed fourth. This has opened the avenues that Visal has been looking forward for. Now he has been drafted to compete at future events. I'm sure he can build up from there and move forward," Stanley stated.
If Visal goes along the path he regained, at this pace, the upcoming races could earn him a slot in a racing team that competes at MotoGP or Super Bikes levels. But Visal hopes to take things as it comes, gradually building up his image as a competitive rider and someday end up where his hero, Valentino Rossi once toyed the two-wheeled monster to take the checked flag.