Unity SC endeavours to take Matara's netball talent to National level and beyond
View(s):

Unity Sports Club Matara in its endeavour to take local netball talent to national level and beyond organised a junior netball tournament to select thirty budding netball players to the Matara District Junior Netball squad. The Unity Challenge Trophy Southern Netball Festival was held at the German Sri Lanka Football Grounds in Uyanwatta last weekend.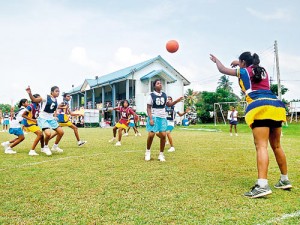 The tournament was held for the Under-15 and 17 age groups with teams from Keerthi Abeywickrema Vidyalaya, Godapitiya Central College, Pallegama Vidyalaya, Sujatha Vidyalaya, Yatiyana Maha Vidyalaya, Karagoda Uyangoda Vidyalaya, Vijitha Central College, Godapitiya Junior School, St. Mary's Convent, Kotapola National School, Narandeniya National School and Methodist College were invited to participate in the Under-15 age group. Keerthi Abeywickrema Vidyalaya, Godapitiya Junior School, St Marys Convent, Karagoda Uyangoda Central College, Sri Sumangala Vidyalaya, Godapitiya Central College, Radawela Vidyalaya, Pattigala Junior School, Sujatha Vidyalaya, Kotapola National School and Yatiyana MV participated in the Under-17 age group.
H.D. Sanduni and D.G.A. Dilma of Vijitha Central College, Hiruni Hansika Wellappilli, Sandali Lakshani and Dumindi Nirasha Hettiarachchi of Godapitiya Junior School, Himashi Yasodha, Achini Tharushika, Rasodya Udayangani, Thilini Udara Madushani, Lalani Pavithra and Shaini Malsha of Keerthi Abeywikrema Vidyalaya, Tharushi Dilmika, Sapthala Dhanithri Senanayaka, Kithmini Geethadewa, Tharushi Asheena Nilaweera, Induni Pathirana and Dhanushki Dehara of St. Mary's Convent, Piyumi Hemantha, Chathurika Sewwandi, Hasini Maduwanthi and H.A. Maheshika of Kotapola National School, Krishani Namodika of Radawela MV, Tharuka Shehani and Piyumi Thathsarani of Sri Sumangala BV and Maheesha Piyumali Kidikara, Wathsala Siriwardhana, Madushi Jayantha, Nithmi Ruvindya, Rashmi Prabodha and Javindi Thathsarani of Sujatha Vidyalaya were identified to have potential and talent by National Netball selector Sandya Jayasuriya. The selected players were presented with certificates and gift vouchers by Southern Province Minister of Sport Weerasumana Weerasinghe.
­- Text and pix by P.D. de Silva