Kalpa and Sasha win at Karate
View(s):

Kalpa Basnayake and Sasha Kodippili emerged winners at IFK 2nd Oyama Junior Karate Championship held at the Lion's Activity Centre in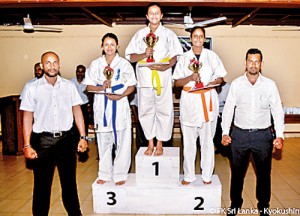 Kotte. Kalpa won the Boy's Under-17 category while Sasha impressed in the Girls Open category at the championship which had nine different categories in total.
Sahan Sandeep won the Boys Under-15 category while the Under-13 category was won by Bhanuka Prabath. The Girls Under-13 category was clinched by Jessica Gomez.
In the Under-11 age group Rishan Rajapakse won the Boys segment while its Girls championship was won by Tahira Jayasinghe. Hayleie Mirihana won the Boys Under-9 title while R.A. Nissarani won its Girls event.
The IFK 2nd Oyama Junior Karate Championship was organised by IFK Sri Lanka-Kyokushin under the guidance of Sensei Sampath Lasantha. The objective of this event was to nourish the talents of the young martial artists while developing their personal confidence, self-esteem and self-respect.
– NA