It's good to lose at times
View(s):

By the way Sri Lanka happened to lose the third and series deciding Test match against Pakistan by seven wickets and the visitors re-wrote cricket history while racing away to score the required 378 runs for the loss of only three wickets.In the hindsight, if Sri Lanka had won the Test match it

would have been misconstrued to prowess and strength – an ingredient that is worth discussing about in Sri Lanka cricket. I personally think, the result was good enough and now we have the material to ponder on how to construct and pave the Lankan future cricket so that it stays afloat akin to prevailing international standards.

Initially, there were moans and groans about Sri Lanka going into the unknown without the customary presence of their two stalwarts – Mahela Jayawardena and Kumar Sangakkara. Yet, in this match I felt the players that mattered shouldered the wheel and helped skipper Mathews to plough the field well enough in both innings with reasonable totals. The argument proves itself when one brings out the point that the number of runs on the board was sufficient to defend and win the match generally with a comfortable margin. But, that did not happen so.
Upfront we will analyse the batting which was exposed to thehilt without the presence of the Sanga-Mahela duo – as they say, for the first time after fifteen years.

Once again it must be stressed, both openers Kaushal Silva and Dimuth Karunaratne, have done enough justice to the faith that the selectors and the team hierarchy have kept in them, though it was sad to see the lowest aggregate in a match by Kaushal Silva. Scores less than ten generally are not associated with his dogged character and he always puts a huge price on his scalp.

Filling Sangakkara's void, experienced Upul Tharanga did not do that badly when you consider the scores of 46 and 48 that he made in the two innings. Yet, as a Test number three, how convincing he was, is a another question to answer – this is without putting Tharanga in the same frame as Sangakkara – an equation that would be squarely unfair by Tharanga.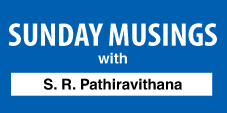 At number four stylish Lahiru Thirimanne failed in all three Tests and in a series this is not a rare phenomenon. I have seen many a great batsman struggle through some series. Yet some also say that he is bugged by the curse of the post of Sri Lanka Test vice-captain.
Yet, honestly he is still young in the Test arena and he may have a problem with his grip. Let me tell you in Greg Chappell's own words. He once went on record saying "Don Bradman was not an easy man to get on with. But, one encounter with him stayed with me for the rest of my international career. Once I came back to the dressing room after a low score and the Don was standing by the dressing room door. When I approached him he without mincing his words said 'you have a flaw in your bottom hand grip and I would have held the bat this way' and he showed me a grip. Yes, I tried it and ended with a string of huge scores".
Thirimanne may have failed, but, skipper Mathews, Dinesh Chandimal and Jehan Mubarak managed to move the total with some purposeful batting.
I was rather impressed with Chandimal who scored a dogged half century. He was batting against a lot of odds. In this series, he was down to the slot of a wicket-keeper batsman, but, some low scores with the bat may have been curtains for him. Gladly he understood his plight and tried to keep his bat on the 'V' as much as could.
It was also glad to see skipper Mathews also getting back into his old stride and batting with the courage of a lion and the stubbornness of a mule. There is no fluidity in his batting that the Indian sub-continent is famous for, but, he compensates that with the no-nonsense stroke play of the South Africans or the Australians.
For the Lankans, their 'Old mother Hubbard's cupboard' has been its bowling. It is not a void created during the last match. Since 2010, when Muttiah Muralitharan retired, the Lankans have been groping in the dark to concoct a bowling combination that could take twenty wickets in a Test match on a regular basis. Not for once I am taking away the good wins that they have accomplished against South Africa in South Africa and the away win in England. Yet, they have come in pauses and commas.
What happened on Tuesday was not a new experience. This was the second time that Pakistan scored over three hundred runs in the fourth inning to win a Test match. Then one also might remember in one of their latter tours to Sri Lanka, the Bangladeshi batsmen forgot the art of getting out. Then during the last New Zealand tour, the poor connection in the Lankan arsenal was the bowling.
Yes, during the series, Dhammika Prasad, Dushmantha Chameera and Tharindu Kaushal (in the second test) bowled well. Yet, by the third Test second inning, the pattern had changed.
Good that the SLC hierarchy has included the injury clause in players' contracts. In terms of the clause, now they have to go on taking part in the Test matches if they are to be paid in full. Now we also can see some players who generally walk off with injury halfway going through the entire series.
Yet, at the same time, it also must be asked, even if it is the captain who requests, should a player who has not recovered from injury one hundred per cent, be included in the side. We saw in the last Test, Suranga Lakmal bowling through last few sessions at half pace and struggling and when we went deep into the matter we found out that he had not fully recovered from his groin hamstring injury that has bugged him for some time now.
Wouldn't it have been prudent if the Lankans played veteran Rangana Herath in that game, instead of an injured Lakmal. Bowling mostly less than 130kms per hour, it was pathetic to see, a good bowler in the calibre of Lakmal just struggling.
Once again it is good that Tharindu Kaushal is always put in an odd end in cricket. First he was chosen to play on the unresponsive New Zealand wickets in tests where Brendon McCullum came on a heap against his bowling. Then he was played in the vital World Cup match against South Africa which Sri Lanka lost.
Even in the last Test we could see him groping for variation. Somehow his first spell in the Pakistani second inning was bad as he was trying to bowl flat and fast. In reality, it was the time that the two Pakistani batsmen Shan Masood and Younis Khan settled in after being 20 for 2 at one stage.
Another significant factor is the Lankan approach towards the game. Here in this game, too, in spite of having a lead of 377, we hardly saw skipper Mathews attacking with all the fury in the world. Remember even when Mathews and Chandimal were gradually taking the game away from them, the Pakistani skipper Misbah-ul-Haq kept pressure on, with leg spinner Yasir Shah attacking from one end and close in fielders waiting like hawks.
Mathews made this same mistake when he lost a Test match in Sharjah. Being too defensive does not yield positive results on most occasions; he should be prudent enough to learn that by now.