Appreciations
View(s):

L.S. Perera

A partnership that grew from our Thomian days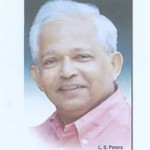 When Rohini asked me to deliver an eulogy at this service, I obliged without any hesitation. We are gathered this afternoon to pray for his soul and bid farewell to a very dear friend of ours.
Lasantha, better known as L.S. was my opening partner. Our partnership did not commence in 1963. It was cemented many years before in the Fives Courts at College. Five days a week every term, Aubrey Kuruppu, Ranjith Ranasinghe, L.S. and I used to battle it out from 7 in the morning till the bell rang – playing cricket with a bed pole and tennis ball.
This great partnership grew beyond the Royal/Thomian up to the time he passed away last Monday morning. As a cricketer, L.S. was a gutsy player who gave it all. He was an absolute headache to the opposition, be it batting or bowling. He possessed an excellent cricketing brain – being smart and a shrewd tactician. As Premalal's Deputy, he contributed much to our success in the 1964 Royal/Thomian.
L.S., after leaving school, opened batting for SSC in the 'Sara Trophy' with Nihal Kodituwakku.
Although L.S. left Sri Lanka in the late 60s, he continued to be engaged with College through active participation in the UK OBA where he served as President for three years and a Committee Member for several years. His contribution to the needs of College was much appreciated by the Past Wardens.
Extracts from an eulogy delivered by Kumar Boralessa
(Eric) A.C. Bandaranayaka 
Pillar of the Labour Department
I was grieved when I heard of the demise of (Eric) A.C. Bandaranayaka who was a great but quiet pillar of the Labour Department. I knew him from the time he joined the Labour Dept., way back in 1950. He hailed from Kandy and from beginning to end was a Trinitian. He played cricket for the school and was very popular.
After graduating from Peradeniya he joined the Labour Dept. as Labour Officer Kandy. He rose to be Acting Commissioner General at one time, but let the post go to someone else.
He was a great conciliator. He did not crave for positions.
The most gentle gentleman I have seen he was detached from all bonds. In all disputes he always took a detached view. His attachment was only to his family and truly so. He never displeased his subordinates or other people.
Although there were no hosannas for him, every one adored him. May he rest in peace.
G. Amadoru
HEMA LIYANAGE
The many lessons our father taught us
My father was born in Galle. Pilana was his native village. He moved to Kandy with us in later life when we children were quite young.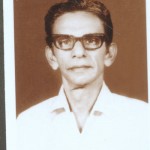 In the 1960s, a southern schoolboy by the name of D.K. Podi Mahattaya rose to fame as a sprinter. He was from All Saints' College a.k.a. Galu Madhya Maha Vidyalaya (GMMV) in Galle. Podi Mahattaya captained the college cricket and football teams and steered them to glory, winning accolades as a "wonder boy" in the sports arena. (He later carved a successful army career for himself as a Brigadier.) Podi Mahattaya's Sports Master at GMMV was Hema Liyanage. Hema was my father. Much is remembered by his peers in Galle about his unparalleled work to produce some of the finest sportsmen in GMMV's history. Cricket remained his passion into the twilight of his life.
Little is known about father as a family man and of the efforts he made to further the cause of education through reading. He had been educated at St. Peter's College, Colombo, and Richmond College, Galle, and became a trained English teacher while later serving as the Circuit Education Officer in Minipe and Senkadagala. A fervent believer in the power of the intellect, he brought home an abundance of books among which were English literature, Sinhala translations of famous novels, poetry, history and science books, biographies of renowned people and so on. We literally grew up with books and were free to roam the world and its wonders through this remarkable medium. There were many outside recipients to whom he distributed books in good faith of fostering the love of reading.
No sooner we were old enough, father made us members of libraries. In an era yet to hear of television and the world wide web, books were our entry into the real and the make-believe world. They stirred our imagination, shaped our creativity in adult life and roused in us a thirst for knowledge and a spirit of adventure.
Every morning, he would read English poetry to us and make us memorize them. Two such poems are "The Lady of Shalott" and "The Solitary Reaper", still evoking wonderful memories. He was a marvellous storyteller, reading to us from English books and we children would lap it all up. Thus, a deep love for the beauty of the English language took root in me. Not one to neglect our Sinhala education, father regularly had us reciting verses from "Lo Veda Sangarava", "Vadan Kavi Potha"and other Sinhala canon.
Our sitting room was always strewn with newspapers as father followed one of his idols Bertrand Russell's philosophy of collating "information" and putting it through the paces of debate with his friends on the telephone, in order to glean "intelligent knowledge". Indeed, the days of debate now seem a thing of the past!
Father belonged to the old school of teachers, adhering to the ideal of "service before self". Being widely read endowed him with excellent writing skills, an uncanny political acumen and empathy for the deprived strata of society. To many who knew him, he was a charming "old gentleman". His father was Mahajana Hinni Mahattaya, Buddhist and social worker from Pilana, Galle, and his mother, a devout Buddhist devoting her life to meritorious deeds.
Father lived to the ripe old age of 91. His longevity was because he was a health addict. Yet, ironically, when he passed away on May 25, it was an untimely death, as he would have lived longer had he been more vigilant about his health. Sadly, he was too weak during his last days to follow a health regime. Father was alert, discerning and in control of his mental faculties to the end. We believe his lucidity was a product of his practice of cultivating the mind for many years.
Galle was his home soil and he yearned to be back. A fitting epitaph for him in Galle would be,
"Here he lies where he longed to be,
Home is the sailor, home from sea
And the hunter home from the hill."
He is certain to recall his recitations of Robert Louis Stevenson from a bygone era!
- K.