Unacceptably high levels of crime worry analysts
By Chrishanthi Christopher
View(s):
Almost 51,000 recorded grave crimes, an average of one for every 400 people, were committed last year, a tragically high figure blamed on a weak police force, the effects of civil war and a lack of attention to rehabilitation that sees a high rate of recidivism.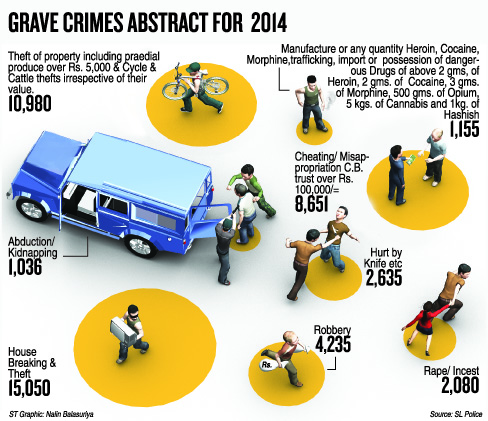 Political corruption was also to blame, a former high-ranking officer said, but a leading lawyer heading a corruption watchdog agency sounded an optimistic note, saying matters had improved with the new government being appointed this year.
Police statistics for 2014 show there were 548 deaths from "homicide/abetment to commit suicide", 2008 reported incidents of rape and incest, 1,036 abductions and kidnaps, 2,635 stabbings, 15,050 house-breaking and theft offences, 4235 robberies, 10,980 theft offences and 1,155 drug crimes. In all, "grave crimes" totalled 50,962, a drop from 55,349 in 2013
White collar crimes are not included in this list.
The police service is weak, said retired DIG Crimes, H.M.G.B. Kotakadeniya – "They do not prevent crime nor do they detect them".
Dysfunctional appointments had caused much of the problem. Mr. Kotakadeniya said that he had found competent and experienced persons being posted to inappropriate branches while inefficient personnel were given important tasks. "An inspector investigates minor crimes while a sub-inspector is put in charge of the Special Crimes Division. This is favouritism," he said.
Bribes were linked to some appointments of OICs (Officers in Charge), he said.
Such appointments had been made during the time when Gotabaya Rajapaksa had been defence secretary and appointments had been made by a co-ordinating officer in the ministry who was also a captain in the army. Mr. Kotakadeniya said the Inspector-General of Police (IGP) had never been consulted over the appointments and questioned how an army officer could be in charge of police appointments.
Mr. Kotakadeniya said despite the new rainbow administration nothing had changed in the police department. Today the IGP could not take independent decisions. "If he cannot function independently he should resign," he said.
Transparency International Sri Lanka chief, J.C. Weliamuna noted, however, that since the new government took over on January 8 political patronage of criminals had decreased.
He said even white collar crimes are being investigated and those responsible were being interrogated and taken to task. "Many ministers, politicians and secretaries who were seen as good people because of their power and money are being questioned," he said.
The magistrate's courts were now full of cases being heard, and murder cases that had gone into hibernation during the previous regime had re-
emerged. "Even murders of Raviraj and Lasantha Wickrematunge are being heard," he said, referring to the shootings of TNA MP Nadaraja Raviraj in 2006 and the homicide of the editor of the Sunday Leader in 2009.
"Crimes are being investigated and people are getting more faith in the investigation process," Mr. Weliamuna said.
He said the planned establishment of an independent police commission under the 19th Amendment would give the police greater opportunity to pursue legal action against criminals.
Former DIG Kotakadeniya said an independent police commission was the need of the hour but pointed out that although the 19th Amendment had been approved by parliament the Constitutional Council (CC) linked with it had not yet been set up and this was delaying the setting up of the police commission.
Professor Siri Hettige of the Colombo University, Sociology Department said there was no proper rehabilitation process. "The return to crime rate among incarcerated persons is high," he said.
Prof. Hettige said the state needed to address a gamut of issues including caring for families and children of criminals who were in prison. "Their wives and children suffer without the breadwinner," he said, and, when released, criminals returned home economic pressures pushed them back into crime.
A social democracy was needed, where higher taxes are levied to cushion the economic burden of poor people, he contended, saying this would alleviate problems such as crime and violence.
He also believes the 30-year civil war greatly affected society. The war shaped the lives of people in the country, he said, adding. "We cannot draw a line and say it is over and put it behind us. The root causes have to be addressed."
The war has contributed greatly to the increase in the crime rate in the northern region, said former National Child Protection Authority (NCPA) Chief Jagath Wellawatte.
The lack of law and order in wartime and the change in the social conditions of families who have lost fathers, husbands and sons have led children to crime, he said.
Mr. Wellawatte also said that in rural areas such as Ampara, Moneragala and Polonnaruwa children from poor families, under pressure of the cost of living, were deprived of education and opportunities for advancement. Most of them became victims of physical and sexual abuse and easy targets for drug peddlers both as addicts and pushers.
Mr. Wellawatte called on parents and teachers to stop thinking of school as an institution to pass examinations but as a centre for inculcating good values and culture to students. "Children need counselling in schools to set them on the right path," he said.