Rural school sans its own instruments Runners-up at National Music competition
View(s):

Students of Wattahena Sri Sucharitha Vidyalaya, Elpitiya, were Runners-up at the All Island Schools Music Competition, which is a remarkable victory as the school which does not possess musical instruments, performed on instruments borrowed from neighboring schools.
The competition was held for schools with less than 1,500 students, and 8 schools from 8 provinces participated in the competition held on June 28 at Dharmapala Vidyalaya in Kottawa.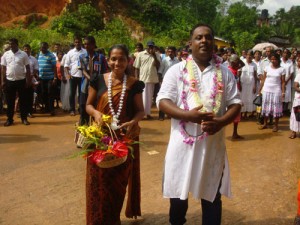 The genre for the competition was old Sinhala songs of the Sarala Gee genre.
In its history of 80 years, this is the first time Sri Sucharitha Vidyalaya won at an All Island Competition. The school, with only 230 students and 18 teachers, is the most rural school in the Niyagama Educational Division.
On July 8, a felicitation ceremony organised by Principal C. Vitanachchi and Chief Incumbent of the village temple Ven. Ragama Vineetha Thera was held at the school for the young winners. The students who sang in the competition were A.M. Tanasha Janinduni, K.M.G. Prarthana Sewmini, Hashini Chamodya, Hiruni Dharshini, Hiruni Wasana, Imashi Sandunika, Deshani Vitanachchi, Dineshi Lakmini, Kavindya Thathsarani, Sachini Nisansala, Sachini Prarthana, Sachini Ayesha, Champika Sanjeewani, while Dinuka Rasanjaya, Thushara Sampath and Saranga Prabash provided the accompaniment.
The Principal C. Vitanachchi said the winning team sang Sunil Shantha's "Hath Paatak", popular in the '50s, at the competition.
Education officials who spoke at the felicitation ceremony, said the students can achieve greater things if authorities or philanthropists would help the school which lacks many material amenities.