Where will your next meal be ?
By Vinusha Paulraj
The minds behind the 'Plated' concept at Trekurious tell the Mirror Magazine about their latest initiative
View(s):
If you take food seriously, deciding on where your next meal is coming from can be stressful. Grabbing a quick, yet satisfying bite for lunch by yourself or playing host to a more official gathering can have serious effect on ones otherwise reliable decision making skills. Trekurious seems to understand this.
The company's newest service, 'Plated', offers curated meals at featured restaurants which can be booked the previous day. For those who enjoy the prospect of a particular combination of dishes for lunch, or simply prefer not to be surprised the website- www.trekurious.com – lays out the full menu. Featuring three courses, starters, mains and desserts, the menu could be purchased by midnight to be devoured the next afternoon. "We work with restaurants that have been forthcoming" Head of Lifestyle Experiences, Aarthi Dharmadasa tells us each menu is tailor-made for Trekurious.
"There has to be value for money," she says and including vegetarian options for each course the specially designed menus "are made so that no one feels cheated." Little to no attention to vegetarians is not the only standard that doesn't sit well with their new product. "We are very particular about service" she shares.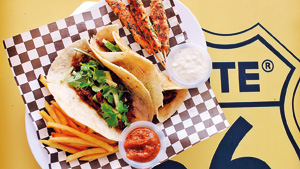 Once the online booking is made and payment is confirmed all you would need to do is produce a provided code at the location and enjoy your meal. This convenience is only available for lunch as of now, but this is "just a trial period." There has been some apprehension on the part of restaurants to come on board given the novelty of this system, and initially there were a few glitches Aarthi admits. The team have now taken a step back and they are happy to note operations are running smoothly. "It is encouraging that restaurants which normally only do dinner have opened up a lunch service just for us."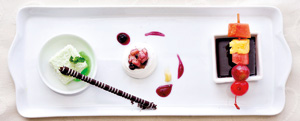 Keeping the three courses to a ceiling of "about 1500 per head" Plated currently features only one restaurant at a time. Hoping to expand this in the near future Aarthi discloses that the ultimate destination is "a Plated Mobil App."Noticing the influx of younger professionals and those genuinely interested in the "lifestyle experiences" they offer, 'Plated' is essentially a means of opening up new experiences for the foodie in everyone.
After fully immersing in the all things culinary, one curated plateful at a time, this isn't the only food related project up their sleeve.The next project which is to take off soon for team Trekurious is 'Boxed', which is a service offering lunch boxes.