Water's Edge awarded TripAdvisor Certificate of Excellence 2015
View(s):

Water's Edge has been honoured with the TripAdvisor Certificate of Excellence award for the year 2015. The award tributes to excellence in hospitality in areas of customer service, culinary excellence and  hygiene via consistent positive traveller reviews from around the world.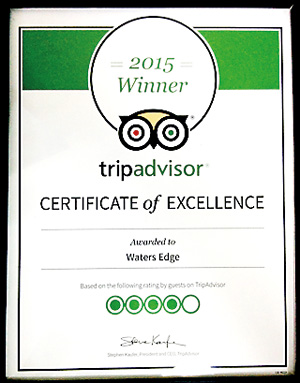 Water's Edge has projected immense growth in the past year. The hotel has portrayed international culinary trends, novel and intriguing food promotions, large themed events and a myriad of wedding clientele. This includes corporate seminars and conventions that have induced raving reviews from local and international guests alike.
'Firstly I would like to extend my heartfelt gratitude to all our guests who took the initiative and time to rate and review us. We are extremely appreciative of the feedback both negative and positive as it empowers us to continuously improve our standards, learn and reach for higher goals. On that note I would also like to acknowledge my hospitality team for continuously striving to produce nothing but the best' said General Manager of Water's Edge Rohan Fernandopulle.
Situated in a quaint location the hotel proposes various islets of beauty, comfort and wellness, offering its guests a spacious, state-of the-art fitness centre, a large pool to relax with family and friends and a plush spa specialising in a total rejuvenation for mind, body and soul, gourmet dining options and over 7 events and convention space making it a perfect getaway for guests.
Although this expansive estate was once rooted as 'Members Only', today it's considered to be the culinary and event hub of Sri Lanka, providing the country with a myriad of events and food and beverage experiences.